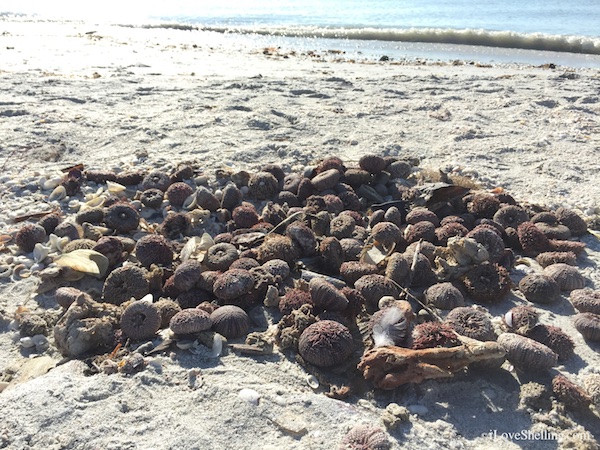 All along the shore this week, SEA URCHINS have washed up on the beach (along with all sorts of other cool things!) after strong winds last week.
Have you ever seen the inside of a SEA URCHIN? This one had been crushed (and decayed) but the only thing that happen to be still in tact was its mouth laying on the beach. When we see just this part of a SEA URCHIN we call it the ARISTOTLE'S LANTERN.
We don't see the ARISTOTLE'S LANTERN laying alone on the beach completely in tact very often since each part of the mouth like the five teeth that it using for chewing will get very brittle and fall apart after it dries out. In the next photo, on the left you can see the crushed TEST (the shell-like part) exposes the ARISTOTLE'S LANTERN and the one on the right has only a small part of the center mouth showing because its TEST is completely in tact.
You can see the teeth showing in this SEA URCHIN (this is the opposite end of ARISTOTLE'S LANTERN thats showing in the previous photo)..
This next photo is what it looks like completely out of the SEA URCHIN. The bottom part  is where the teeth come out (like in the above photo) and the top end is what's showing in the example of the one laying on the beach (on the left) two photos up. See? It sure does look like a little lantern to me… and it even has a little candle on the top- heehee.
Cool, huh? There are so many awesome things that wash up on the beaches!!!
Can you tell if a SEA URCHIN is alive or not? Watch my video to show the difference…
Don't miss the boat for future iLoveShelling Shelling Adventure excursions….  reserve your spot now-  CLICK HERE for more info.