"It is perhaps a more fortunate destiny to have a taste for collecting shells than to be born a millionaire!" — Robert Louis Stevenson
Recently written about Pam….
The New York Times got it right when they said, "Now Mrs. Rambo is a sought-after figure on the island – a shell-ebrity, if you will – because of her popular website". As the popularity of iLoveShelling.com has increased, Pam truly has become the local shellebrity on Sanibel. She regularly participates in local shelling events on the island, sharing her love for shelling with fellow shellers and igniting the spark in those new to discovering the treasures of the sea.
To read the rest of the New York Times Article…  CLICK HERE
 ***
Pam Rambo has combed the beaches almost daily, building her collection and fostering her love for shells. Pam doesn't limit herself to shells found locally, she and her husband travel the world's beaches seeking out seashell treasure.
A native of Virginia Beach, seashells and the act of collecting them, also known as shelling, is second nature to Pam. As a young girl, Pam and her family would fill their home with the shells they found while vacationing at the beach. It wasn't until after her move to Sanibel Island with her husband Clark in 2001 that Pam's love for shells turned into an insatiable passion.
Her passion for shelling and the sea life was what inspired Pam to start blogging. In October of 2009, Pam started a blog, iLoveShelling.com. A lifelong artist, Pam found her creative outlet in sharing her insights and love of the seashells she found with her readers. She also enjoys turning her beloved shells into beautiful works of art, like the notable two-by-four foot mirror frame Pam created using more than one thousand worm shells.
In 2016 Pam created Shell Love Bug- a car shelldazzled with over 20,000 seashells.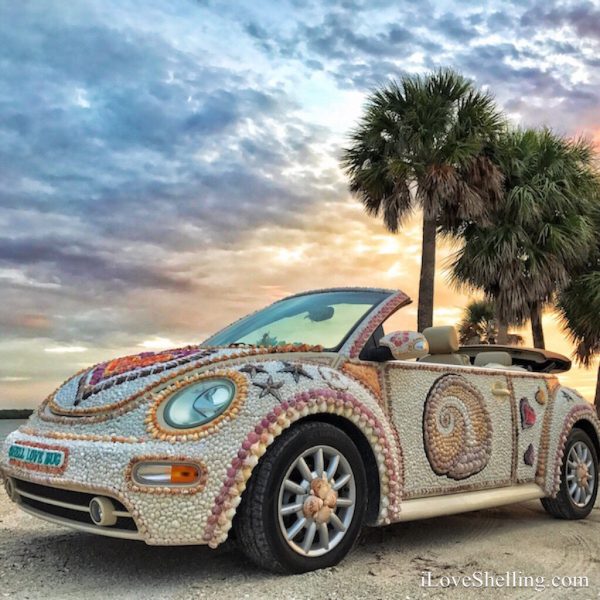 In 2017, she published her first book Pam Rambo's Guide To Speaking Shellanguage. It's a whimsical look into the "shellanguage" she created over the years while writing her blog. "It's a shellarious little $12.99 book with plenty of shell puns and shellnanigans to make you smile." 
Pam Rambo's Guide To Speaking Shellanguage – to learn more CLICK HERE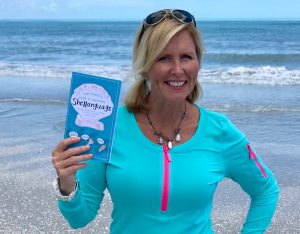 National Geographic gave Pam the #2 spot as "A Shellebrity" for their article 10 Reasons to Visit Fort Myers and Sanibel, FLorida. 
"Recently Rambo designed the shell-bedecked Shell Love Bug, a volkswagon encrusted with over 20,000 locally found shells, it looks like a rotund rolling wedding cake: a 'shellebration' of a lifelong passion. She lives on Sanibel, where she's routinely stopped by fans and asked for daily beach updates and tips, as well as photographs" Read the whole article CLICK HERE
The genuine joy that she has for shelling comes through in her blogging and has gained notoriety with fellow shellers throughout the nation. Her expertise has led to national media attention, including an appearance on CBS Sunday Morning with correspondent Bill Geist, appearance with Ginger Zee on Good Morning America and interviews with CBS Travel Editor Peter Greenberg,  as well as the Swedish Television Network SVT.
"It's great to have a reason to be out on the beach—it's not complex, it's relaxing," says Pam. "Shells are nature's treasures, and shelling is a great treasure hunt."
To read her blog CLICK HERE. More about Pam Rambo, CLICK HERE
Check out my Shelling Shop that includes tee shirts, mugs and calendars
Go to ShellLoveBug.com for more information.
SaveSave
SaveSave
SaveSave
SaveSave
SaveSave
SaveSave