iLoveShelling Events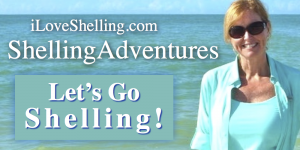 SHELLERS UNITE!
Join Pam Rambo on one of these adventures to do some shelling… some boating… some sightseeing… some learning… but most of all, to have some fun!
Hop on a boat to go shelling on the Out-Islands of Sanibel with Pam!
On EVERY iLoveShelling cruise with Pam Rambo,
Every passenger will receive a $25 gift certificate for Sealife By Congress Jewelry store!

Sight Sea-R Adventures– $50 for 4 hour shelling cruise with iLoveShelling cruise with Pam. Call 239-765-7272 or CLICK HERE .
If you can't make one of these dates to go shelling with Pam, hop on one of  Sight Sea-R Adventures regular cruises – call 239-765-7272 or go to Sight Sea-R Adventures website at https://www.saltysamsticketing.com/cruises/
Captiva Cruises – $52  for 3 hour shelling cruise with Pam . Call 239-472-5300 or CLICK HERE and tell them you want to join the iLoveShelling Shelling Cruise! Reminder: Please mention iLoveShelling when you call to reserve- otherwise, they won't let you reserve a space until one week before the cruise date. So please mention iLoveShelling – you will be a VIP for reservations!
If you can't make one of these dates to go shelling with me, hop on one of Captiva Cruises regular cruises- call 239-472-5300 or go to Captiva Cruises website at http://captivacruises.com
**************************