When shellers get together at Shellabaloo, incredishell things happen.
Seashell creativity gets shellsational!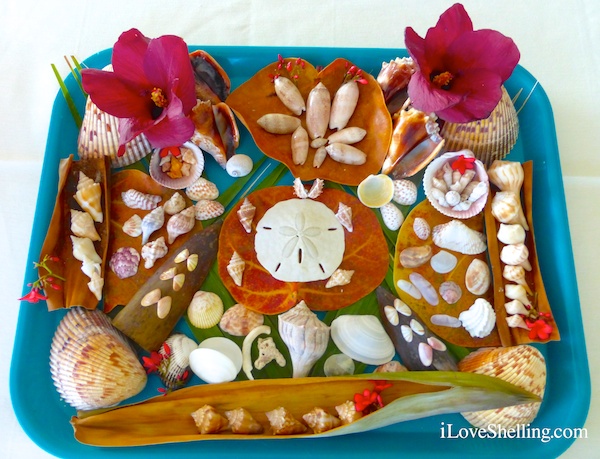 Shellers turn into Michelanshello…
Leonardo Di Vinshell…
Pablo Picasshell…
Jackson Shellock…
Marc Shellgall…
Paul Shellzanne…
Mary Shellsatt…
And Shellgar Degas…
Our Shellabaloo Shell 'N Tell at Island Inn turned into a shellorama of artistic fun! Let me re-introduce you to the arteeeests.
John captured his masterpiece with a palette of seascape undertones…
Carol shared her shell perspective with an esthetic splash of color with a mixed media using orchids and butterfly ALTERNATE TELLINS…
Malgorzata's avant-garde creation illustrated the many possibilities of collecting miniatures…
The Texas sisters Lisa, Sunnye and Suzanne shared an assemblage of shell variants in their gallery of abstracts…
Iron Man Bill chose to compose his canvas with his minimalist perspective from shelling while water snorkeling. (Oh and btw, -stepping out of the silly "artsy" language for a minute- he truly is a competitive Iron Man- wow!)
Cindy's three- dimensional masterpiece exhibited blended lifelike designs…
Suzi's impressionistic style set off by brilliant pigments, designed a collage of remarkable beauty.
Didn't you enjoy the Shellabaloo Shellartist Gallery? LOL
On our last night together after drooling over all of the amazing shell displays, we had a Shellabaloo prize! This stunning Sanibel Island Junonia necklace from Sealife By Congress is the perfect keepsake for Sanibel shellers so it was a perfect piece for remembering Shellabaloo. I wear mine every day!
Suzanne was the lucky winner of the Sealife By Congress necklace! Congratshellations Suzanne!
Our time together was priceless.
We collected lots of shells and memories together.
Four perfect days…
to the last perfect sunset at the Island Inn Beachfront Resort.
Clark and I thank each of these amazing people for joining us!
What exactly is Shellabaloo? Its the most spectasheller shelling event on the planet! CLICK HERE for more info
PS- Unfortunately, I don't have any dates for a future Shellabaloo but I do have a few other Shelling Adventures set up – CLICK HERE
*