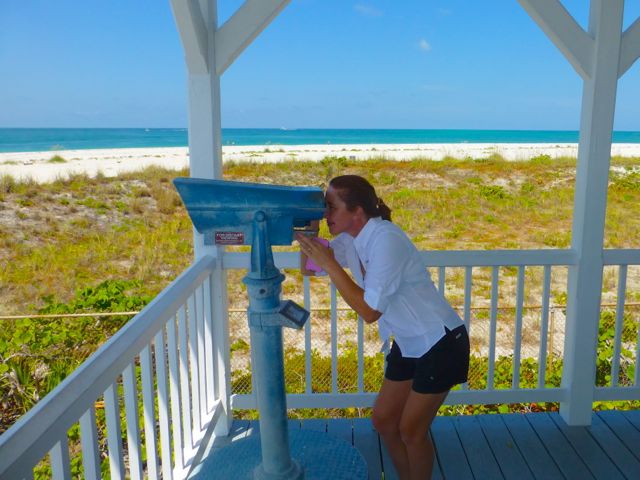 I couldn't be happier to have another Shelling Sister that just moved to Sanibel! I feel like I've found my long lost Soul Sister… Susan. Of course she wanted to get the whole shelling experience on the Out Islands of Sanibel…. so before I knew it, she hired Capt. Brian for a shelling trip and she invited me to go along.
We left the dock at 8 am but unfortunately the tide was too high to find good shells at that time so Capt Brian took us about an hour north to the beautiful town of Boca Grande on Gasparilla Island to show Susan a few landmarks by golf cart.
We saw the Gasparilla Island Light…
We went to the Boca Grande Historical Society…
Brian's friend Kim showed us fossils and artifacts on display at the sweet little museum…
We went to the Port Boca Grande Light…
Then we hit the beach!
Where we sifted for SHARK'S TEETH…
Susan found a few FOSSILS like SHARK'S TEETH, fragments of STINGRAY BARBS and BONES.
Along one of the beach paths we found a NICKERBEAN VINE with the prickly sea pods that host SEA BEANS which wash up on the beaches at times.
These local gray drift seeds are called SEA PEARLS. So… now we know where they come from!
I found a few WHITE MELAMPUS shells that were only 1/2 inch to 3/4…
 But Susan found the grandpappy WHITE MELAMPUS weighing in at about 1 and 1/2 inches.
UPDATE 6-21-12 – Susan H commented on Soul Sister Susan's WHITE MELAMPUS saying "it looks as if Susan found a World Record Size (WRS) one. I'm serious, the largest size listed on Malacolog is 27 mm, which is just about an inch".
So I got serious and dug through drawers of Clark's dad old tools he inherited and found some very cool old calipers. Susan brought her shell over and we measured….
Her WHITE MELAMPUS measured in at 30 mm. A World Record Size shell!! Thank you Susan H for giving us a heads up on this exciting news!
 I found a bivalve shell (it has a small hole in the top but it's still pretty) that I didn't recognize so after looking through all of my books… it looks like it's a JUVENILE SOUTHERN QUAHOG. It has thin raised ridges that seem too delicate to be called a QUAHOG but I'm sure that's what it is.
 When we got back to Captiva Cruises, the MANATEES were waiting for us!
We couldn't have asked for a prettier day so thank you sooo much Soul Sister Susan for letting me tag along and to Captain Brian for guiding our gorgeous day.
PS- Just if you are wondering…. Yes! Super Sheller Clark helped Soul Sister Susan and her beautiful family find their island home in paradise.  (I know, shameless plug …but hey, do you blame me?)