Archive for Sea Pearl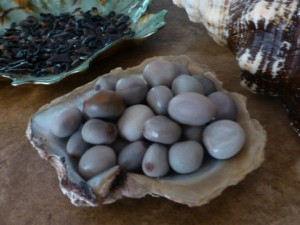 Life has been hustling and bustling with holiday festivities so to sink my toes in the sand yesterday was heaven on earth. Just to breath the sea air and hear the water lapping on the shore gave me the peace I needed. I had no expectations to find any rare collectables but the actual combing of the beach is what I knew I needed. Ahhhhh. Mother Nature always seems to give me the perfect gift of the sea. Yesterday's gift was a handful of SEA PEARLS!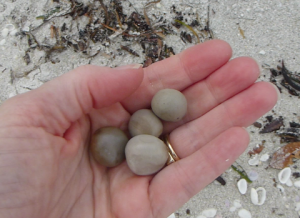 A few weeks ago, I had a local fella who grew up on Sanibel come to the house to fix a few things. As soon as he saw my little "dish" of SEA PEARLS, he started laughing and told me those "Hot Rocks" brought back funny memories of his boyhood life growing up on the island. He said they would rub the SEA BEANS back and forth at a fast pace on the sidewalk, jeans, wood or just about anything to get those PEARLS hot as the dickens. Then they would touch the "Hot Rock" on the skin of their unsuspecting victim to shock them with heat. LOL Boys will be boys! Thank goodness, they aren't hot enough to do any damage other than the other boys ego after screaming like a "girl". hahah Okay, yes, I tried it just to see how hot is gets. It's just hot enough to give a little startle….but I see why it was a kids game on the island. I've heard them called "Burn Beans", "Hot Beans" and "Burner Seeds" but that was the first time I heard them called "Hot Rocks"- thanks Paul!
Want to find a few SEA PEARLS  too? Then talk a walk with me at the Lighthouse Beach by clicking the next image…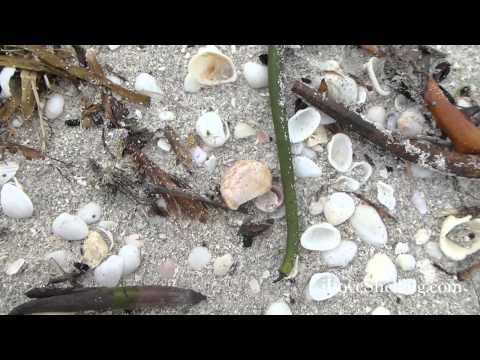 PS- I know that little rope bracelet looks a little ratty now but I can't bring myself to take it off because I still love it too much and it still makes me very happy. I wrote about it in May… "While on our trip to Thailand, we were blessed by a Monk who wrapped this string with a knot around our wrists. I was told it was called a "spiritual line" and we are to wear it until it falls off and not to cut it off. It is for good luck, good health and to remind us every day that today is special so live it that way. I immediately thought of those strings I used to tie around my finger to remind me to do something. So every day now when I look at this string on my wrist I am reminded that today is a gift."