Archive for Fargo Worm Shell
As you know, I couldn't wait to post Clark's 14″ HORSE CONCH (and the video) he found on Saturday. That'll go down in the ol' memory vault. What a find! WooHoo! Oh, What's that you said? You want to see the pictures of the HORSE CONCH all cleaned up? Oh alright, if you insist…..
Pretty, huh? Clark soaked it in a weak bleach solution for a couple of days to get the barnacles softened up to be able to pop them off. It worked! All I had to do it run a metal dental pick over all the crud and it all came right off.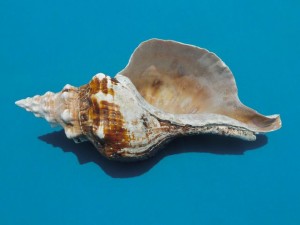 I love the little curve of the tail (anterior) of "him". I know you are thinking it still doesn't look all that clean but for some reason I like the brown parts just like they are. I don't like it to be scrubbed off so that's why Clark didn't put too much bleach with the water for soaking. After time, all of that brown part will flake off so at least I will enjoy it until nature takes it's course.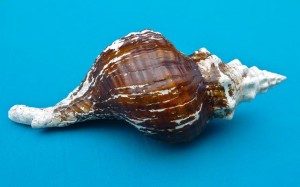 Here's a photo taken on the beach with the rest of our finds. We didn't find a huge quantity of shells but the quality was fab-ul-o-so.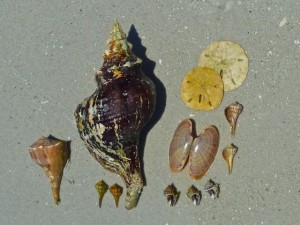 Here's a better look at the LIGHTNING WHELK Clark found too. Okay, he found the SUNRAY VENUS, KINGS CROWNS and the WHELKS but I found the SAND DOLLARS. I was on a mission to find those SAND DOLLARS so that's all I was focused on (it's sounding like an excuse, isn't it?).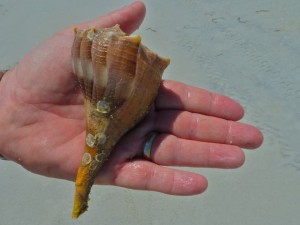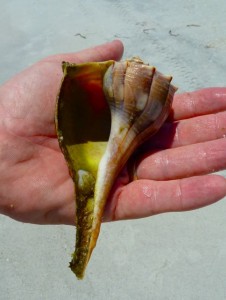 Oh wait! I did find some other cuties too…. WORMIES! And a BABY'S EAR. Clark was in a zone, man, he found this WHITE ROSE PETAL TELLIN too. Geez.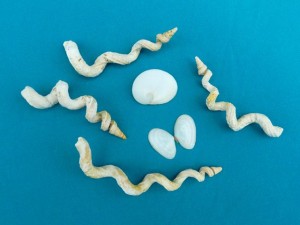 Clark thanks you for all of your fun comments on his big find. He might not comment back but he truly gets a kick out of it (as I do every day!!!). xo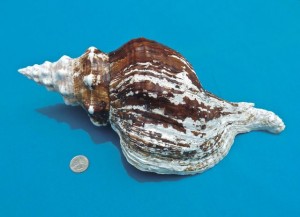 Tree snails or periwinkles? I've never seen these beautiful snails on the fallen trees on the south tip of Cayo Costa before. We weren't finding any keeper shells tucked around the tree roots or washed up on the beach so maybe that's why we finally noticed them. I didn't recognize them to know exactly what they were…….until MurexKen came to the rescue! They are CLOUDY PERIWINKLES. Their colors are so brilliant!
It was a gorgeous day boating with Jane and John to Cayo Costa and then on to North Captiva. We didn't find tons of shells at our normal spot by the tree roots but we were very happy with the great shells that we did find from the whole day.
This is a sampling of the shells we all found plus some OLIVES. I didn't get a chance to clean that awesome (!) orange HORSE CONCH that Clark found but I'm hoping some of those barnacles will pick off the tip without pitting it. The FARGO WORM SHELLS will clean right up with a little bleach in a bucket of water and I can leave them there for a couple of days. I only dip the KING'S CROWNS in the watered bleach bath for a few minutes then scrub them clean. They will lose their color so quickly in a bleach bath.
Only 4 more days to enter The Lighthouse Giveaway so if you haven't entered………. Enter Now
UPDATE: THIS GIVEAWAY IS NOW OVER.  http://iloveshelling.com/blog/2010/07/01/sanibel-lighthouse-giveaway/
Clark and I boated to North Captiva on Sunday and we found a few fun things. I love the color and size of this DUSKY CONE and we also found 2 KING'S CROWN, a bunch of FARGO WORM SHELLS (Yay!) and a couple of SAND DOLLARS.
After we hung out for hours on North Cap, we couldn't help stopping by Cayo Costa to see if we could pick up some BABY'S EARS. We have an eye for ears, baby! I found an even bigger on than I found on my "camping" trip 2 weeks ago. This one is about 1 1/2 inches big! That's a biggie.
Speaking of baby's ears, Clark and I went to the lighthouse beach this evening on the pier side to see what we could find. We found a few WENTLETRAPS and right when we saw a few baby's ears (in that weed line in the picture below), we met the nicest couple who live in Sanibel as well. Leslie is an artist and shell crafter! She exhibited a few pieces in the Sanibel Shell Fair and Show this year and has been doing so for years. Maybe she'll use some of those wentletraps and baby's ears that we found on the beach together in one of her next projects.