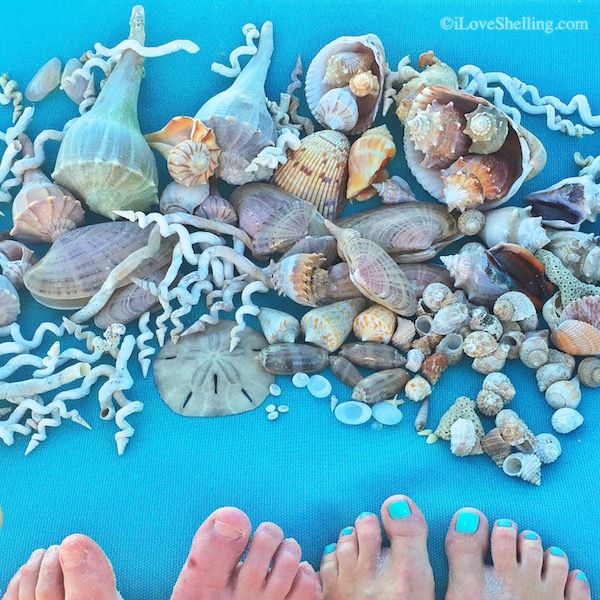 Wow… WORM SHELLS, WHELKS and even a WENTLETRAP! Our weekend away was wonderful collecting CLAMS, CONCHS and CORAL on the coast of Clearwater Beach.
I'm still giddy with all these shells.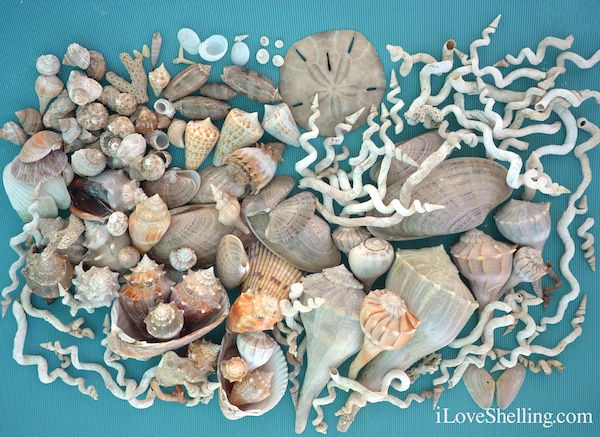 Lots of these shells were found on our boating day with Captain Paul Hajash I told you about on my last post "i Love Shelling- Clearwater Beach" but we also found lots of shells on the beach in front of our hotel – Hilton Clearwater Beach.  Right beside the hotel is Pier 60 which seems to collect little pockets of shells … and you know we love our mini shells… oh yaya baby… lots minis!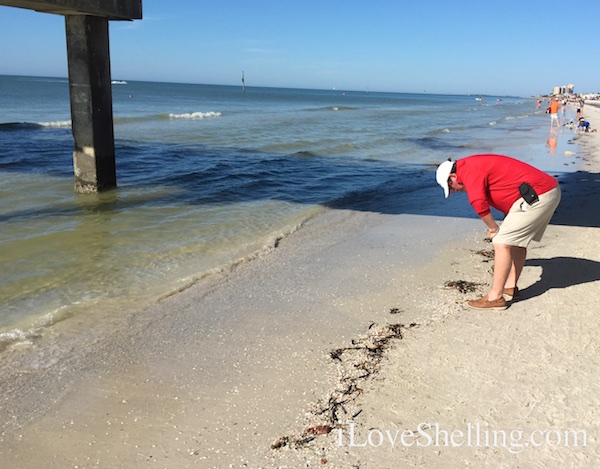 Omigosh… a WENTLETRAP!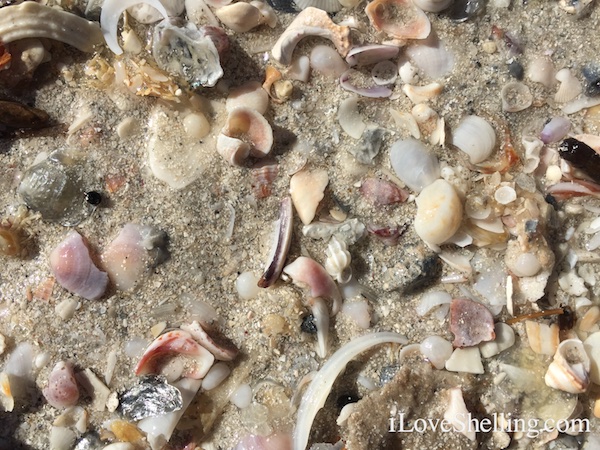 We weren't even in full shelling gear… we were just walking the beach back from the festivities at Pier 60 (ooooh- and ice cream) and started seeing so many sweet shells. These were only a few treasures Clark found in just a few minutes… another BABYS EAR, more SHIVA SHELLS and another LONG SPINED STAR SHELL. Yes!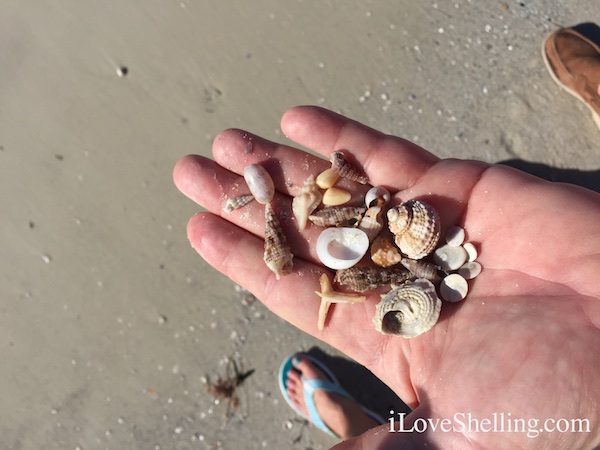 Wouldn't you love to see what that shell line looked like with all these mini shells? Aha! I thought that would be the case so I snapped a photo of this little area of lots of broken bits of shells… but there are some goodies in there too. Actually, there are oodles of goodies. I didn't even see the SHIVA SHELL when I took the photo, but now looking back at it… theres one in this CYBER SHELLING next photo. Can you find it? It doesn't have the swirly side showing but if you look back at my last post and look at my hand full of them, you will see what the other side looks like and you'll be able to spot this one. Click on the next image to enlarge it for some fun CYBERSHELLING… and then I'll show you a monster of a shell just a few feet away from this.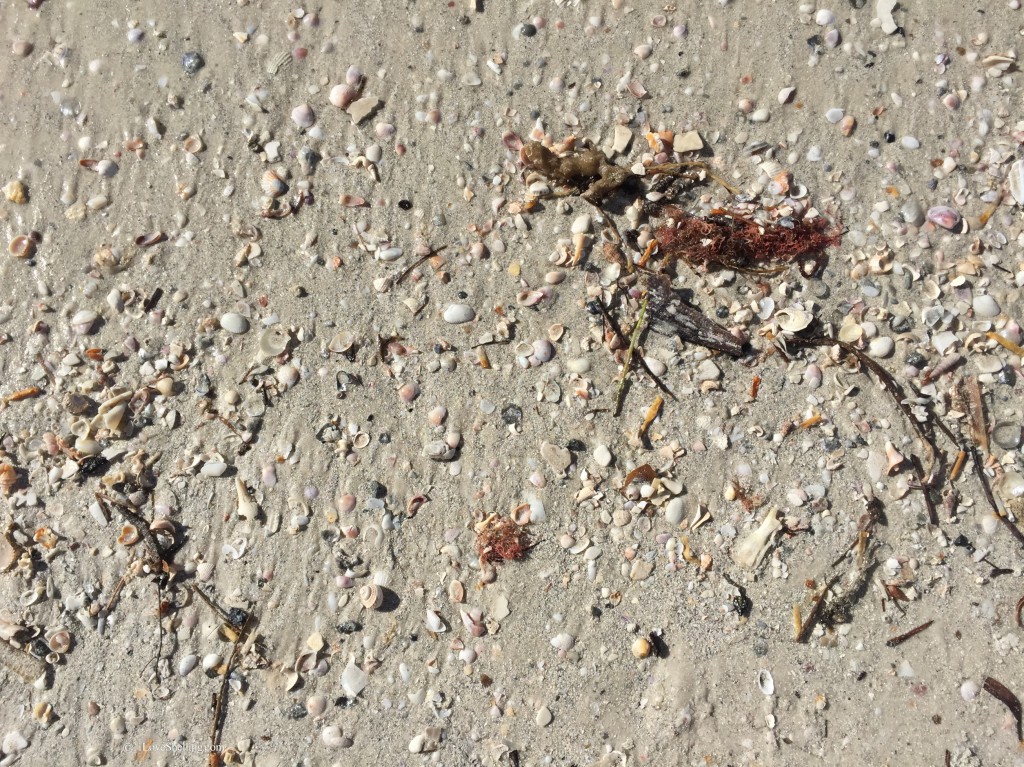 After we picked up a few more minis, we saw Dave and Susie from Michigan holding this huuuuge live LIGHTNING WHELK. Shellzam! Such a gorgeous creature. Their son Jason found it right in front of the hotel but as Dave and Susie were returning this live animal back to the water, Jason ran up to the room. I missed Jason but Im thrilled I got to see his amazing MOLLUSK before it went back to the sea… to hopefully breed more beautiful LIGHTNING WHELKS.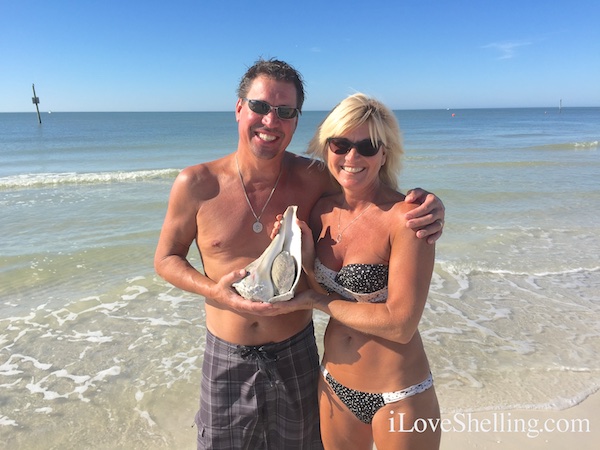 We met Jett and his mom Ashley (Indiana) coming off the beach with a bucket of shells too. Jett's favorite was a perfect FIGHTING CONCH.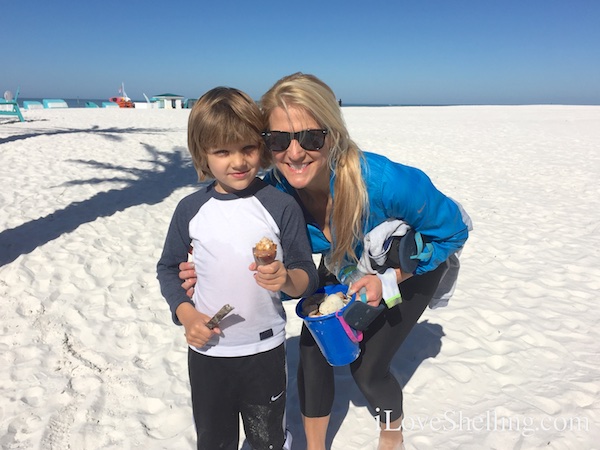 We spent one full day just being beach bums and met so many folks who had no idea there were beautiful shells only steps away from them. (Their loss and our gain? hahaha)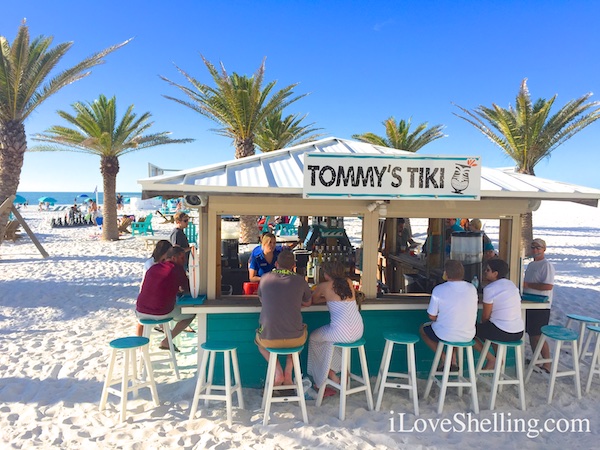 We also did a little exploring of the other things Clearwater Beach has to offer… like seeing Winter the Dolphin. She's the DOLPHIN who lost her tail then was rescued and rehabilitated at the Clearwater Marine Aquarium. It's an amazing true story of Winter and a prosthetic tail that was made for her so she could survive. She then went on to star in movies about her life Dolphin Tale
 and Dolphin Tale 2
. Clark and I learned about Winter after watching the first movie so it was so much fun to be able to see her in person. Here she is with her BFF, Hope, as we watched them from the underwater viewing window.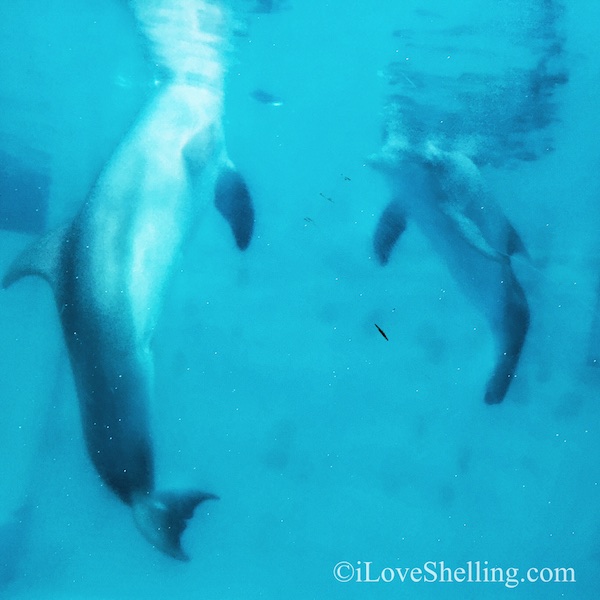 We felt like little kids when we got to hold Winter's prosthetic tail and sleeve. We love that Clearwater Marine Aquarium isn't actually an "aquarium" though… it's really a rehabilitation center. They don't have dolphin shows or any other animal shows- its more of an educational center for the public with their mission being Rescue, Rehab and Release. The 3 Rs. Of course Winter can't be released back into the wild but most animals they rescue are only there until they are ready to go back to living in their natural habitat. Its an awesome place.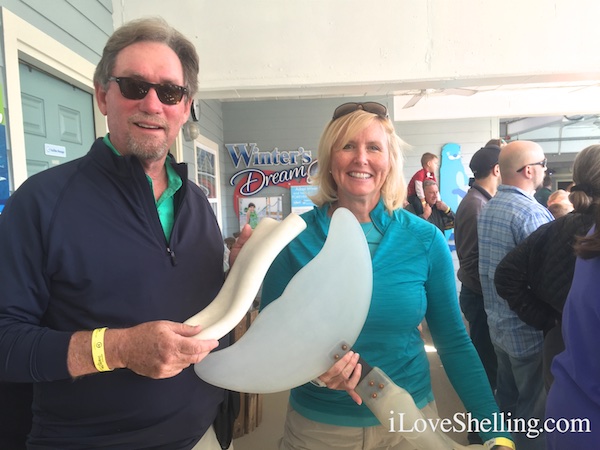 We missed the evening festivities at the beginning of our trip because we were completely worn out from shelling all day, but we finally made it back to Pier 60 for the sunset party. With live music serenading the sun setting over the gulf- its so fun and colorful.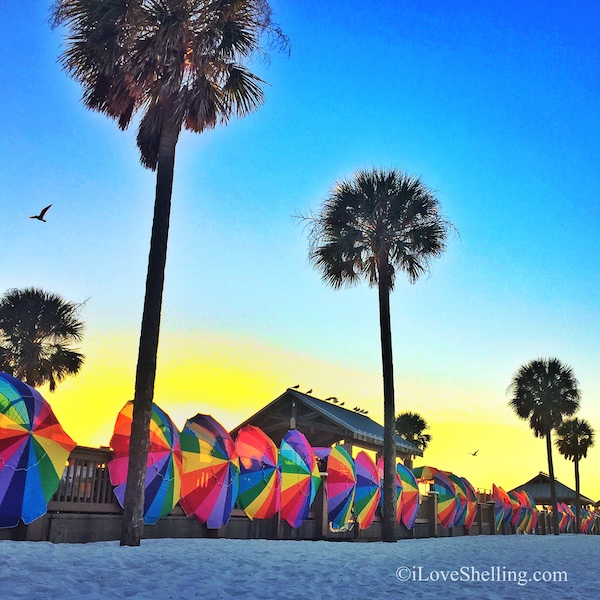 A fabulous way to end a beautiful weekend.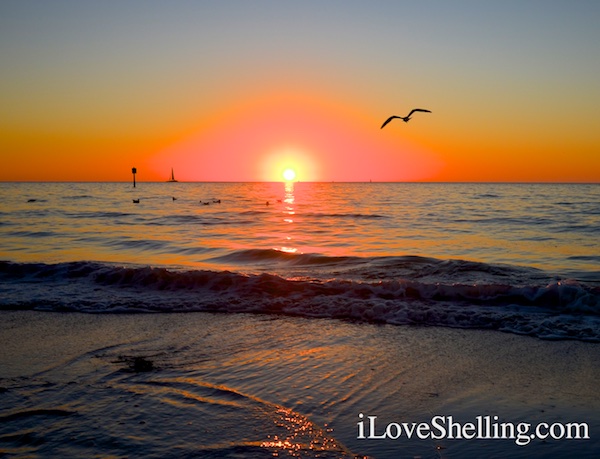 As promised, here are a few tips about how to get to Caladesi and a few other things about shelling Clearwater Beach that were asked from my last post…
Years ago, Caladesi Island State Park (pronounced Cal-a-dee-see) and Clearwater Beach were separated by a channel of water so they were 2 different islands but that channel has been filled in by winds and currents over the years filling the channel with sand so now they are one island. Meaning… We could have walked 3 miles on the beach to the north tip of Caladesi from our hotel on Clearwater Beach…. and yes, we could have done that But we would have had to walk BACK the 3 miles …. carrying a boat load of shells. Also, we could have driven to Honeymoon Island north of Clearwater Beach to catch the 20 minute ferry to the marina on Caladesi and walk to the beach and shell that area. Either of those options are do-able but we chose to hire a boat captain so that we could quickly get to the areas we wanted to shell… the north tip and the sand flats. We only had a short time to shell so we wanted to see the area for ourselves and be able to tell Captain Hajash to keep going or stop at a flat if we saw anything. It was perfect!
If you go, here are the highlights of our awesome trip:
Shelling/Fishing Boat Captain- Captain Paul Hajash, http://www.flyfishingflorida.com
Hilton Clearwater Beach – http://www.hiltonclearwaterbeach.com
Clearwater Marine Aquarium- http://www.seewinter.com
Pier 60- http://www.sunsetsatpier60.com
Crabby Bills- http://www.crabbybills.com/BW.html
And if you still need more info…. http://www.beachchamber.com