Archive for Queen Conch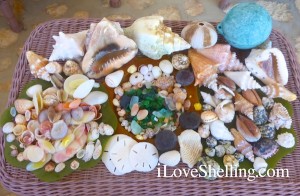 Holy Cowrie! We have had an exshellent adventure shelling the beaches of Cat Island in the out island of the Bahamas.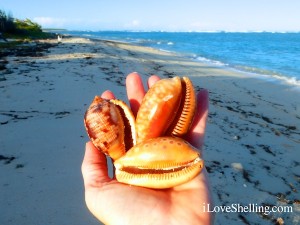 Clark and I along with our travel buddies Jane and John packed up our shorts, bathing suits and snorkel gear and headed for this very undeveloped, laid back gorgeous Caribbean island to see what kind of beach treasures we could find.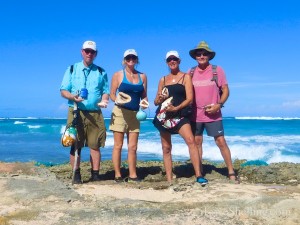 We found all sorts of spectacsheller shells and BEACH BLING!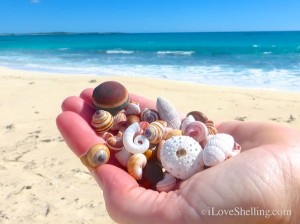 We scoured just about very inch of this 48 mile long island by renting a jeep to take us through the rugged back road trails leading to every beach we could find. Although the rutty  roads were fierce, the vicious sand burrs were our worse enemy. We had to help each other "un-burr" ourselves each time we got back in the jeep. LOL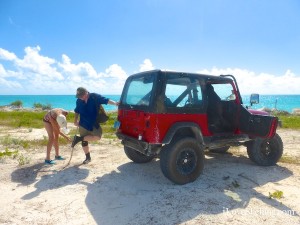 It was worth every bump, sticker and long trek to the northern shore on the Atlantic…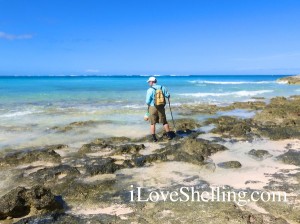 to find SEA GLASS…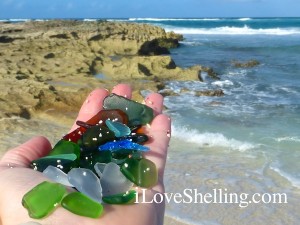 NERITES, WEST INDIAN TOP SHELLS and ROCK SHELLS…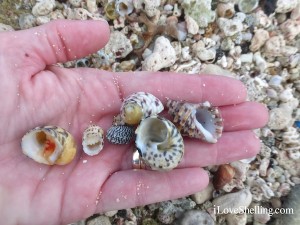 and shells like this WEST INDIAN CHANK and FLAME HELMET…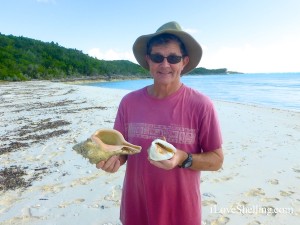 We even snorkeled to see beautiful fish and live creatures like this SEASTAR…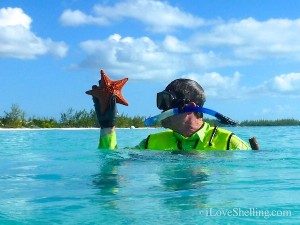 While finding a few "keeper" SEA BISCUITS in the calm Shanna's Cove …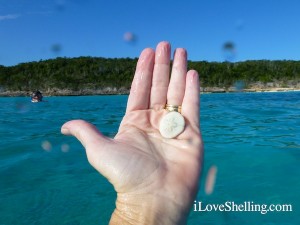 We canoed in the Fernadez Bay…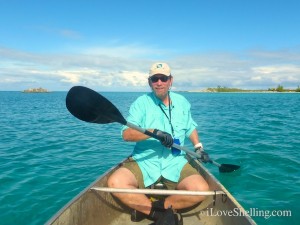 To find MILK CONCHS like this…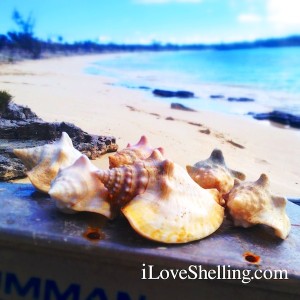 Every day we marveled at our loot…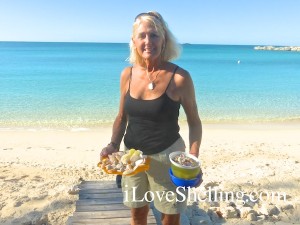 And shellebrated for each other on "first finds". This was the first time I've ever found WEST INDIAN CHANK SHELLS! Shellzam!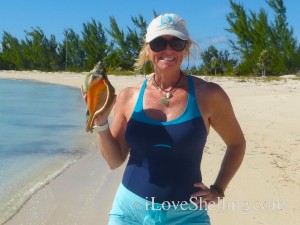 Once I get our shells unpacked and go through a few more photos, I will give you more details of this beautiful island, places to stay, the food we ate, the amazing people we met… and of course some identification of some of these awesome seashells we found.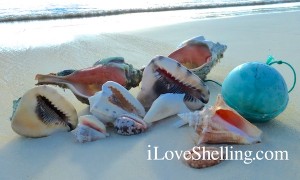 Oh yeah, we also saw …. errrrr ….. SHARKS. But no worries, I'll show you my crazy video of them very soon so you view it in the comfort and safety of your own home. Stay tuned for more of our shelling adventure to Cat Island Bahamas!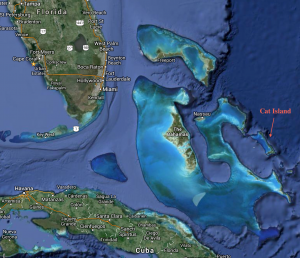 The Florida Keys aren't known for beachcombing since seashells just don't roll up on their beaches like they do here in Sanibel, Florida but they DO have shells……you just have to know where to dive or snorkel for them. This was our first time shell collecting in the Keys so we were very fortunate to have wonderful shell-crazy friends MurexKen and MurexAlice (who have been shelling the middle Keys for over 20 years) take us out in their boat to show us there are shells to be found in those vast aqua waters.
Within an hour or so arriving in the Keys, we strapped on our fins, mask, snorkel and grabbed our shell bags then splashed into the water to seek and explore throughout the weekend. MurexKen found a beautiful live QUEEN CONCH to point out the amazing colors and to show us how many there were living in the grasses. Since it was alive, he put it back and told us there is a big fat fine for keeping a live one. Good!
We found lots of AMERICAN STAR-SHELLS……
We found a few LONG-SPINED STAR SHELLS…
…and some WEST INDIAN TOP SHELLS or also called MAGPIE SHELLS…
Clark found some absolutely perfect MILK CONCHS (MK cleaned these up for us- they look so amazing!)….
We snorkeled around the grasses…..( I think I might have to rename MurexKen as MermanKen- he's a fish!)
We snorkeled around bridges….
…where MurexAlice found a nice SEA URCHIN…
We snorkeled around CORAL REEFS alongside QUEEN ANGELFISH ….
We snorkeled around sandy sea bottoms to see this SHORTNOSE BATFISH……weird!……
I spotted a potential keeper shell… is it empty? Please be empty!
Oh YaYah- Nobody's home! He's a little beat up but I can try to clean it up…..
I was so happy to find an empty QUEEN but mine couldn't compare to MerMan MurexKen's Queen Conch with no mollusk inside! Since the lip was broken off they were going to toss it back…..then offered it to us. Of course we'll take it!
I cleaned up most of the shells with 1/4 bleach and water solution except another shell MurexKen gave us…… This outstanding HORSE CONCH with the brown "skin" or PERIOSTRACUM still on it- I love that! I just let that soak in a bucket of water with just a tad of bleach so it wouldn't take the brown off. After I took this photo, I put it back in the bucket to soak some more to get the white "freckles" to soften up even more so I can try to rub them all off. Hey, and take a look at that little conch I found that was so beat up….. I think it's coming along!
We normally have shells roll up to our feet in Sanibel so this was a fun trip for us to work a little harder (snorkeling's a tough job but someone's got to do it!

) at seeing different shells in a different environment. The drive from Sanibel to Big Pine Key was 5 1/2 hours and worth every minute of it to spend time with MurexKen and MurexAlice.  It was a trip to remember for sure- Thank you both!
I have to show you one more fascinating shell….. MurexKen found this QUEEN HELMET a few days before we got there. To read more about his finds, he posted a trip report on Trip Advisor CLICK HERE.  I don't think it gets any prettier than this…..
I took some of the photos with a new Fuji underwater camera with a movie feature that was pretty good  until it opened up underwater and flooded the camera. Needless to say, I took it back. The good news is….  before it flooded, I got a nice video- Click HERE to see it! Also, click HERE to see the DEER COWRIES Clark found.