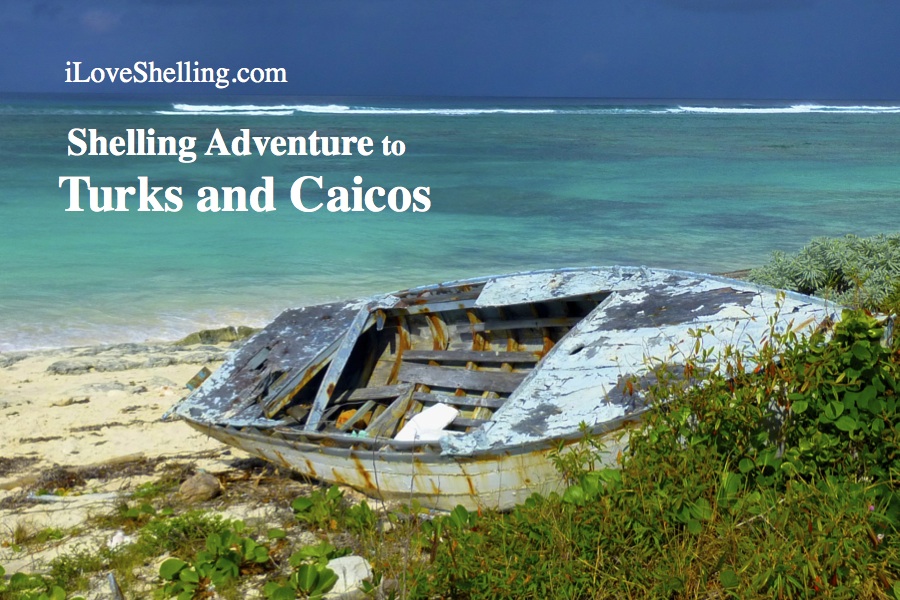 Shelling is a treasure hunt and an exshellent adventure every time you comb a beach or snorkel open waters in search of seashells or Beach Bling. As with any treasure hunt, you have to search high and low to find the bounty… and that's what we did.
Our vacation to heaven…. errr… I mean North Caicos and Middle Caicos was packed full of seashell collecting (as I've shown you in my past few posts) and we had an adventure every day to hunt for them. As promised, I'll tell you all about where we stayed, a few places we ate and and some other cool stuff we saw on our island expeditions. This post is a little long but I've got some great info packed in here! So get a cup of coffee and relax or jot down a few notes just in case you ever travel to TCI (Turks & Caicos Islands) in search for seashells.
Our vacation really started when we handed our passports and airline tickets to the American Airlines agent in Miami to catch the next flight to Provenciales (Provo) which is one island in the chain of forty islands that make up Turks & Caicos. After landing in Provo, we passed by countless luxury resorts, spas and shopping malls on our taxi ride to the ferry landing to climb aboard My Girl ferry which took us on a half hour boat ride to North Caicos Island.
As I said, we chose to pass up spas, shopping malls and luxuries to be greeted on the North Caicos ferry landing by our car we rented for a week from Al's Auto Rental to get us around the islands. Really? You can't even see the scrapes and dents from this photo but it had four wheels and it ran… that's all that counted. But we did have to laugh!
On a dirt road leading to a nicer paved "highway" then on to pot holes and rubble, we found the way to our cottage by the sea called the Whitby White House…our beachfront rental for the week in the little town of Whitby.
Paradise found. This next photo was the view from our back porch… and there it was… a rainbow. Pinch me!
How can we be staying in a house that has seashells lining the steps and around the sea oats in the yard with a rainbow over the aqua water? This kind of stuff only happens in dreams, doesn't it?
We were starved by the time we got settled in the house so we took a ten minute walk down west down the beach to a local place called Silver Palms Restaurant.
Surprise! The owner Karen had a little private birthday party set up for me! Okay, it was "private" because she normally doesn't stay open after 5pm on Sundays but she made an exception since Jane ordered lobster dinners in advanced and told her she wanted to surprise me. How sweet!!! And how yummy! It was a fantastic meal! Thank you Jane, John and Clark for the best birthday EVER! And remember, I even found the MILK CONCH and my first juvie QUEEN CONCH of the week on the walk back on the beach that same night. I'll never forget that day.
The next morning, we all sat at the breakfast table to map out our route for the day… which turned into our routine for the entire week. Remember the word "Adventure". It was… but let me assure you, we felt safe every second every where we went. Every person we met was so very nice and helpful, safety was not an issue or we would not have explored the places we explored.  The only problem was is that we found most of the roads to the beaches were like this…
They drive on the other side of the road so John took the wheel and drove us around like a champ over every rock and around every hole. I don't think I've ever laughed so hard exploring a new place. This was a good street sign…
As we found out very quickly, there were some unfortunate circumstances North Caicos and Middle Caicos experienced in the past 6 years. In 2008, we all know that the market crashed and the economy went down the ceramic bowl. But not only that, the same year they got hit by Category 5 Hurricane Hanna which did MAJOR damage and took out the causeway from North Caicos to Middle Caicos and most of the other roads. Two weeks later, Category 4 Hurricane Ike slammed into them again. Don't you think that would be enough for these little islands? No. It gets worse. What we heard was that Lehman Brothers was one of the major investors in most of the new hotel projects and condos. I'm sure you remember that name. Lehman brothers was the largest bankruptcy in the U.S. and caused the beginning of our economy failure… also in 2008. There are shells (no pun intended) of buildings around the islands that they just walked away from. The islands of North and Middle Caicos still haven't recovered and the "politics" have stopped the process. It's so sad! But folks, these people dont get depressed. The locals are making due and are still happy on their little island living off the land and the tourists. So we, being tourists, enjoyed every inch of these sweet little islands and the people living there. Rough roads and all! Okay, so let's not dwell on the bad roads and unfinished buildings… we've got site seeing to do! We had the beaches to ourselves and all the shells our little hearts could desire! I think this was the prettiest beach I've ever seen. Mudjin Harbour on Middle Caicos.
Then we hit the jackpot. We met Cardinal Arthur. Shelling guide extraordinaire.
We stopped at Daniel's Cafe on Middle Caicos to grab a bite to eat… only to find that it was closed on Mondays. Arg. It was Monday.
It didn't matter because Cardinal happened to pull up on the street when we were deciding where to go next so we started talking to him. What a gem! Not many people in TCI understood why we were looking for seashells. They thought we were crazy looney bins. Not Cardinal. He got excited to tell us he knew where we could find SUNRISE TELLINS, SAND DOLLARS, TRITONS and where to see PINK FLAMINGOS. Really! He knew the names of the shells! Ha! Fate, man. I tell you… fate. We struck a deal and met him at a dock the next day for a boating adventure.
We were like little kids all geared up…
In less than an hour, I found my first PARTRIDGE TUN…
I've already shown you photos of the shells we found in my last posts but I also made a couple of maps (that I've attached to the bottom of this post) so you can see all of the shells we found here. It was a day out of a fairy tail.
Cardinal took us to see the PINK FLAMINGOS…
John wanted to fish as well as shell…
Cardinal took Jane and John out by the reef where they caught several types of SNAPPER, GROUPER and BARRACUDA (Cardinal took the barracuda home to eat since we didn't want to eat it). They even saw a WHALE and her baby! When they came back to join us, John threw out his line again and caught this MUTTON SNAPPER right near our shelling hole.
We ate fresh fish (YUM!) for two nights back at our house. We also bought lobster from Cardinal that Clark grilled outside on the barbecue for fabulous dinners two of the other nights. We had a seafood feast! Jane and I made fresh salads with sliced fruit each night while the boys were the grill masters. I normally don't like to cook but this was so much fun to spend time back at our beach cottage all together making freshly caught meals and sharing the wondrous stories of the day. And laughing… and laughing until our stomaches hurt.
 We packed our lunches most days since we didn't really know where we would end up … which worked well for us since we like to wing it. But we got back to the house around lunch time one day after visiting a few beaches like Horsestable Beach and a few others that didn't produce a lot of collectable shells for us (but who knows, it could have been a gold mine the day before… it's all about Mother Nature) so we knew we had a great beach in front of our place to explore on the way to the coolest beach bar on the islands…. Barracuda Beach Bar.
I could have moved in to this awesome tiki hut filled with shells, shells and more  shells.
It even had lots of Beach Bling like this WHALE JAW BONE hanging in the rafters. So Cool!
They have the best burgers and fries in town and it's only a ten minute walk east from our house. It's like our house was sandwiched (pun intended this time) in between the 2 best restaurants on the island so we could look for shells on the way back…
Then relax for a little while…
And enjoy our own veranda view…
We probably could have just stayed within a couple of miles of our cottage and found plenty of great shells but we are all explorers so we had to check out all of the beaches. We couldn't have explored as much without the help of the map provided by WhereWhenHow.com… which I have embellished (with their permission) to show you where we found our best shells. This map will show you where we stayed and our best shelling locations on North Caicos (population of 1300 according to a few locals)…
This next map is of Middle Caicos (population 309 according to the same locals) and our best shelling places…
We cleaned and sorted our shells every day so they could dry in time to pack them up to put in our luggage. We saved all of the containers from our food, drinks and souvenirs so they wouldn't get crushed or broken.
 U.S. Customs allows 2 or 3 QUEEN CONCHS per person (it seemed like it depended on the agent) to be brought into the country and they didn't seem to care about any of the other shells. Turks & Caicos Customs didn't have a problem with any shells going out of the county so we had no trouble at all… and not one shell broke. Like I said before though, we didn't bring home every empty shell we found. I know these are gorgeous but I thought bringing home just one was enough so I left these at the house…
As you can see, we had quite a vacation to remember. I'm still in awe when I look at all of our shells we brought home to remember this amazing week. The only thing I might have done differently is stay a bit longer. But then, there's always another time… hopefully. I would love to get back there one day.
Just in case you go, here are some links (if you don't know that every bolded and light lighted word in the post has a link attached) or phone numbers if they dont have websites… Oh, and tell them Pam at iLoveShelling.com sent you! They'll get a kick out of it since they all thought is was weird I had a website devoted to finding seashells. LOL
Whitby White House… http://turksandcaicosvacation.com
Cardinal Arthur-  1-649-241-0730– He doesn't have a website, doesn't do internet and only takes cash. Everybody on both islands knows him. He also drives a taxi and does other tours around the island.
Al's Auto Rental 1-649-331-1947 / 946-7248 There are other rentals and I cant remember if it was cheaper than the others or what but they were very helpful and the car got us where we wanted to go.
MV My Girl Ferry- +1-649-241-0599 There's another ferry too but this one had better times for us.
KJ's Grocery- 1-649-946-7705 – It's only a 10 minute drive from the house and they take credit cards for purchases over $25. The owner, Maggie was great and we got most of our groceries from her. She even gave us boxes just in case we were going to ship shells home (sweet!)… but we decided against shipping.
Silver Palms Restaurant- http://oceanbeach.tc/restaurant-bar/silver-palm-restaurant/
Barracuda Beach Bar- http://barracudabeachbar.blogspot.com/2012/03/barracuda-beach-bar.html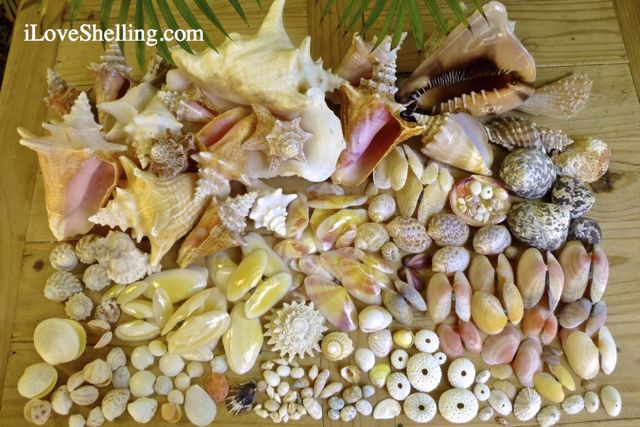 I hope you enjoyed this little cyber shelling vacation with us! It was fun to share this awesome getaway with you. Just in case you missed the photos of all of the seashells we found, CLICK HERE! Bon Voyage!