Archive for Jingle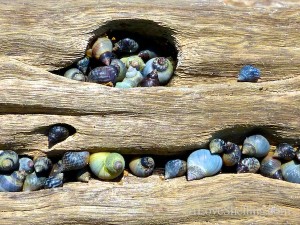 The only thing cloudy about our Captiva Cruises iLoveShelling trip to Cayo Costa were the live CLOUDY PERIWINKLES hiding in clusters on the tree roots at the south tip of the island.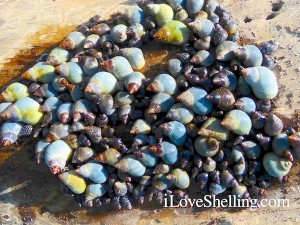 It's been such a month on the islands of spotting great wildlife. Everywhere I look, I am still seeing wonderful signs of healthy life… like these STRIPED FALSE LIMPETS and BARNACLES on those same tree roots with the PERIWINKLES.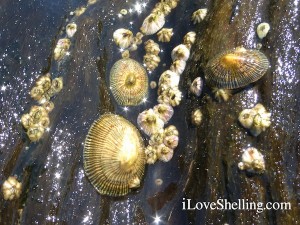 Melissa, Juliana, Becky and Garrett from Colorado walked around those tree roots to find some nice empty shells as well.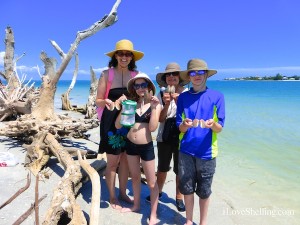 They found a bag full of double SUNRAY VENUS CLAMS…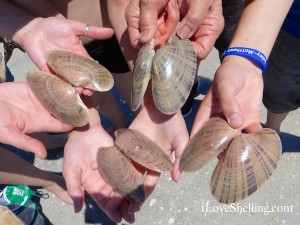 Sisters Teresa and Elaine from Pensacola, FL found some keepers on the Gulf side of the island.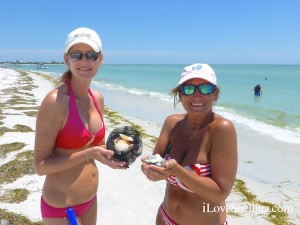 Elaine collected oodles of different color JINGLES to use for a picture frame craft project.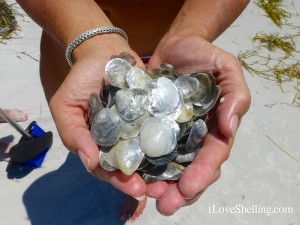 D.J. from Avon Park, Florida found empty LETTERED OLIVES and an ANGEL WING wading knee high in the water.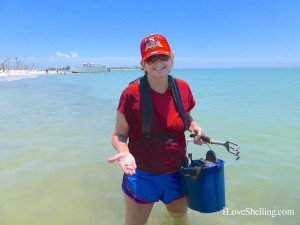 Oh but wait… How could I forget? I have to tell you about the boat ride over to the island. We had a pod of DOLPHINS come over to say "Hi" to everybody on our boat.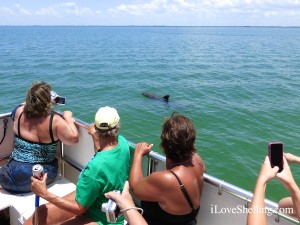 When they swam closer to the boat, we could see there were 3 mother DOLPHINS… each with babies!  If you look closely at this next photo, you can see the baby hugging up to the mother. So cute!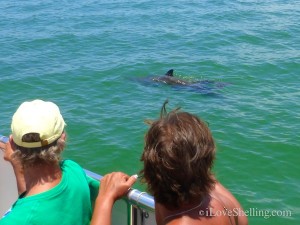 And the DOLPHINS weren't the only wildlife coming up to say "Hi" to us… meet Casper The Friendly GHOST CRAB.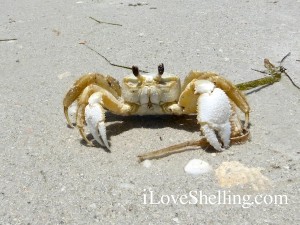 I have never seen a GHOST CRAB act so friendly! Seriously, "Casper" was not at all afraid of us and actually followed us on the beach. See? He got right in-between Sandy's feet and hung out there for a few minutes.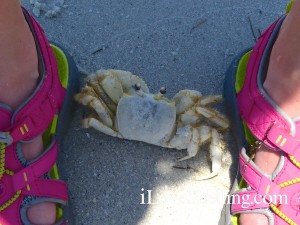 He even ran into a shelling net like he wanted to play. hahaha What a character!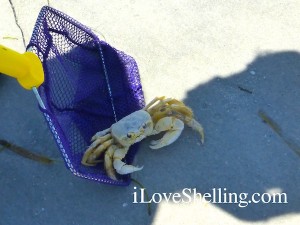 Even though the wildlife was exceptional, it was a wonderful day to meet exceptional people like Vicki and Bill from Arizona.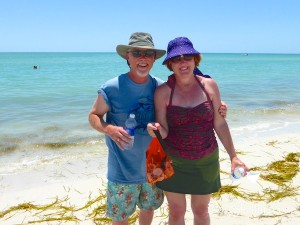 … And Melinda, Katelyn and Justin from Indiana. I especially loved meeting Katelyn since she knew all of the names of her shells but also loved all the wildlife she saw. Casper The Friendly GHOST CRAB didn't want there to leave.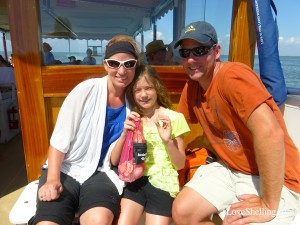 … And it was exceptional to see Marie's beautiful family- Emily, Madison, Steve, Sandy and Ryan from Ohio. But… they were missing one Morgan, they all wanted me to tell you…. you're next!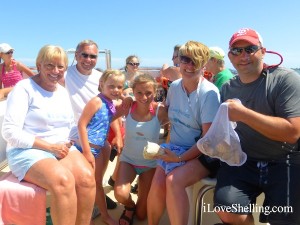 … And to see Bill, Michelle, Alyson and Anthony from Illinois.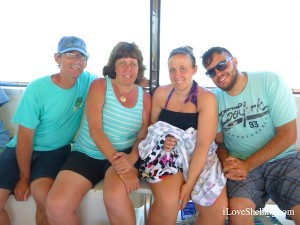 I had met Michelle at Blind Pass Captiva last week when I stopped at the beach to see what the conditions were on the Captiva side by the jetty rocks. As I dug through the "picked over" shell pile, we got to talking and she told me she hadn't found too many keeper shells but was just happy to be on the island enjoying everything else about the beach. That's when I uncovered a beautiful FLAT SCALLOP with a tiny hole in the top. I handed it to Michelle and told her it was meant for her. I was soooo touched to see that she was on the cruise with her family AND that she made that FLAT SCALLOP into a gorgeous necklace with a little SEAHORSE charm. OMG I love that she made it into a special treasure to remember a special day we happened to meet.  Shellers rock!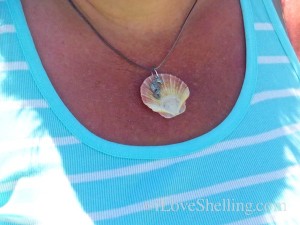 Lindsay had told me about an awesome HORSE CONCH she had found on Sanibel last week so when we got back to the dock at McCarthy's Marina, she showed it to us. Wow! Lindsay, I'm so happy you showed it to us. That IS awesome and will clean up beautifully with a little elbow grease.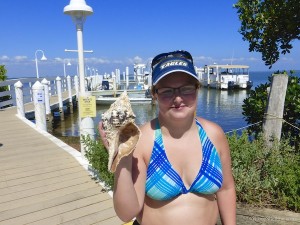 Even though the beach wasn't piled up with mounds of shells this time, we were treated to a DOLPHIN show with babies, lots of friendly wildlife and most of all – a perfect day in paradise with a boat ride on calm waters full of happy people meeting an amazing community of likeminded shellers.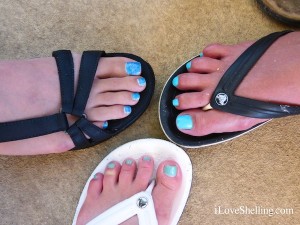 You won't want to miss the upcoming shelling cruises! Check out the new dates CLICK HERE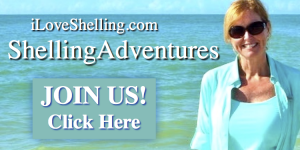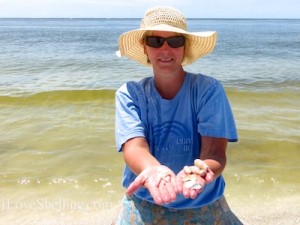 Our Captiva Cruises boat pulled up to the shore of Cayo Costa at low tide around 1:30 yesterday …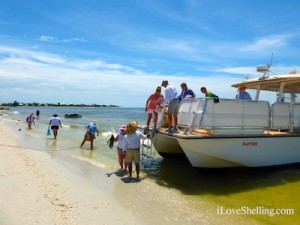 Within minutes, Rachel (KS) found 4 LETTERED OLIVES, 2 FALSE ANGEL WINGS, and AUGER and the colors of the rainbow in JINGLE SHELLS.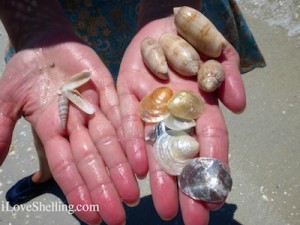 Leanne (PA) strolled along the shore to find a true ANGEL WING and a few other goodies…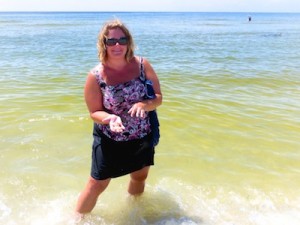 Ahhhhh. It was so good to get back to Cayo Costa!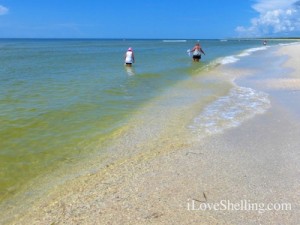 I had the pleasure of meeting so many beautiful shellers while on the boat and walking the beach like sisters Beth and Barb (KY) who found SAND DOLLARS, WHELKS and OLIVES. Barb told me they have been hanging out with iLoveShelling.com since the very beginning… almost 4 years ago! She said she still has it bookmarked on her computer under my first blog name "My Shelling Blog". Ha! I felt like I knew them already!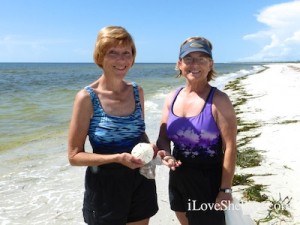 Patti and Tim (FL) were delightful! While Patti was shelling her heart out, Tim was photographing and videoing their whole day. What a good team!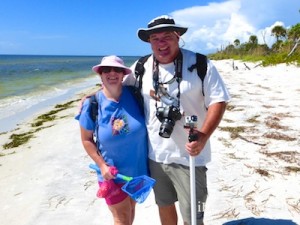 Nancy and "Babe" looked like they were in heaven together all day. She was glowing! Then I found out why. Cameron had surprised her with the cruise for her birthday and she was thrilled. Happy Birthday Nancy! You guys are so stinkin adorable! (heehee his name is Cameron but I just kept hearing Nancy say "Good find, Babe!" …. "Oh! Come here, Babe!" so cute)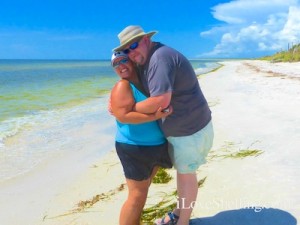 John (MA) started out his trip to SW Florida as a birder but found that looking for different species of shells was just as much fun as looking for different species of birds. Here's John picking up his first BABY'S EAR…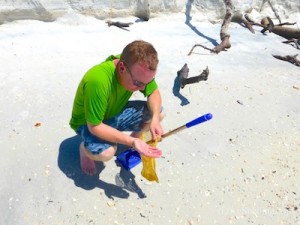 Boating was so much fun to0 as we got to see a BALD EAGLE in a nest, OSPREYS catching their fish lunch from the water, DOLPHINS playing…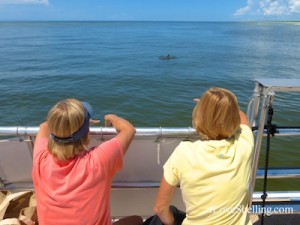 And seeing that the WHITE PELICANS are back on the islands…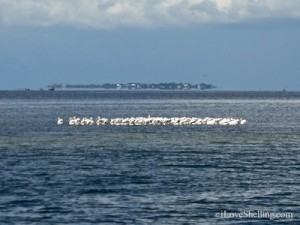 When we arrived back on Captiva, we had a little Shell 'N Tell so we could share some of our shells and finds. Sharon was a joy to meet !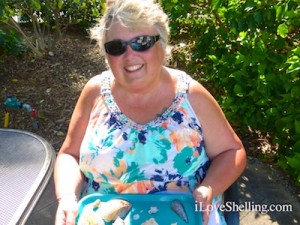 She picked up WHITE CRESTED TELLIN on Cayo Costa. I only see these on Cayo Costa. I dont think Ive ever seen one on Sanibel.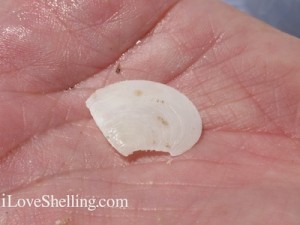 I'm so happy I got to meet  Jan (KY) since I think she must be an artist as well. Jan showed me one of her favorite finds which was covered in BARNACLES and other animal growth marks. I love that kind of stuff too!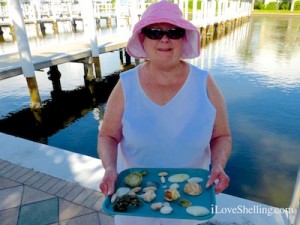 Jerry found some really nice WHELKS on our trip but he told me also found a really large 10 inch empty WHELK at Blind Pass on Wednesday. He couldnt believe it because he thought he had stepped on a big rock in the water at low tide… then reached down and pulled up that huge LIGHTNING WHELK. WAHOO!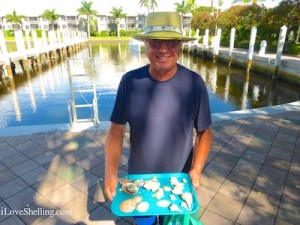 I was amazed at all the true ANGEL WINGS, FALSE ANGEL WINGS and even FALLEN ANGEL WINGS we found this time. Awesome!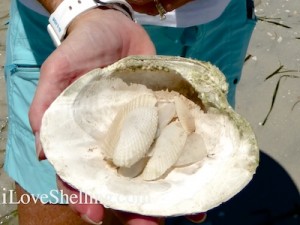 The MANATEES even came over to send us off with well wishes…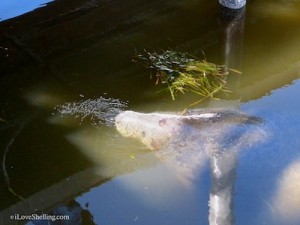 It was a beautiful shelling cruise in paradise with a beautiful bunch of people.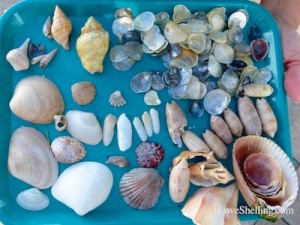 Join us on the next iLoveShelling cruise! CLICK HERE FOR DATES.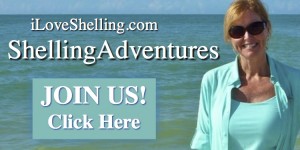 Before you go….
We have TWO Winners to announce for the Shelltastic SW FLorida Vacation Giveaway!

Drum Roll Please! …..
Our first winner for the Sealife By Congress stunning sterling silver Starfish Reef Pendant is………
Kathie Porter!
The Grand Prize Winner for 4days/3 nights stay in Fort Myers Beach is…..
Denise Stahl (AS, FL)!
Congratulations to you both! Sealife By Congress will be contacting you Kathie and Pointe Estero will contact you as well, Denise. So hold tight until you get your info! Thank you all for participating!