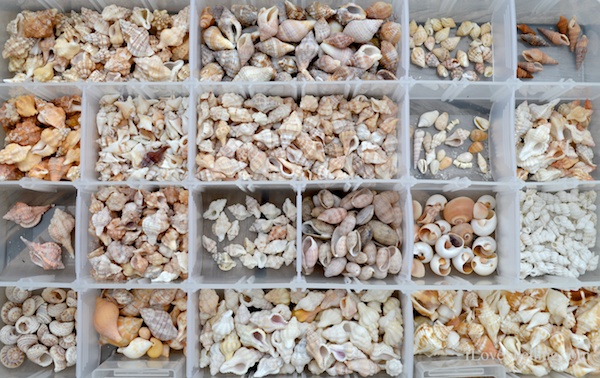 I have been enjoying the warm sunshine we've been having on Sanibel the last few days… not just on the beach but outside in my back yard. I've been sorting…and sorting… and sorting shells. Why haven't I been more organized in the last few days… errrrr… months…. okay, truthfully? Years! I guess thats just how I roll- I would rather spend my time doing something else other than "cleaning" (Oh how I hate that word!) but I guess enough is enough. I told y'all I wanted to do a post about the differences between some of the mini shells like the DRILLS, MUREXES and CANTHARUS like I did in my post Similar Sanibel Shells since I wanted to add more to that list. So I started looking through my Shellaboratory for each of the shells I wanted to photograph. Ack! I wanted the best of each species but I realized how dang unorganized I've been. Buckets, boxes and bins of uncategorized shells. Some were washed… some filled with sand. OMG
 So while I sort my shells to find the best GULF OYSTER DRILL, SHARP RIB DRILL, juvie APPLE and LACE MUREXES, I had to escape to the beach for a peaceful retreat at Gulfside City Park to find an absolutely gorgeous calm day.
Oh… and more mini shells. I tried to just admire the shells on the beach without picking them up because…. seriously, we have enough. These days I try to only collect the shells I learn from, the ones that I give to others (like the post – Good Feeling About Seashells), the ones I decorate with or use in projects.  So these are the only ones I brought home today… Three BUTTON SHELLS, a shiny OLIVE, one sweet BABYS EAR, a wonderful WENTLETRAP and a little cutie juvie SHARKS EYE. We don't often see oodles of black JINGLES so I couldn't resist picking some up … and there were lots of them! I'm trying to fill up a tall vase for my home so I might go back and try to find more tomorrow. When my vase is done, I promise I'll post it.
So while I sort, sort, sort our minis I'll sneak to the beach for peace, shells and sunshine.