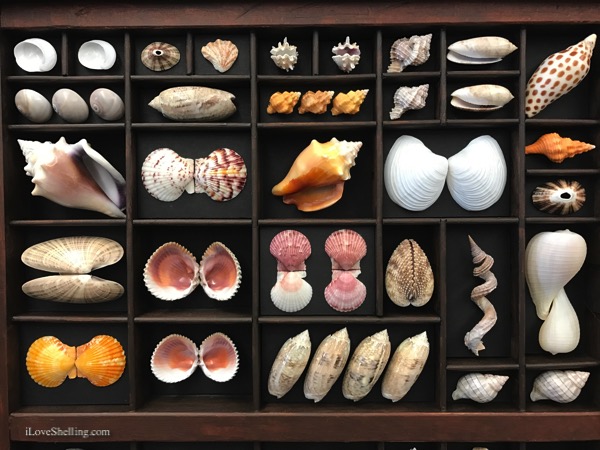 The 2017 Sanibel Shell Festival was spectacsheller!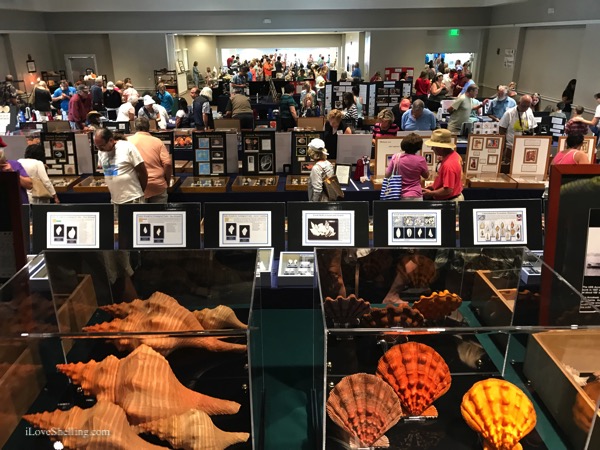 Not only were we shellebrating 80 years of this shelltastic show….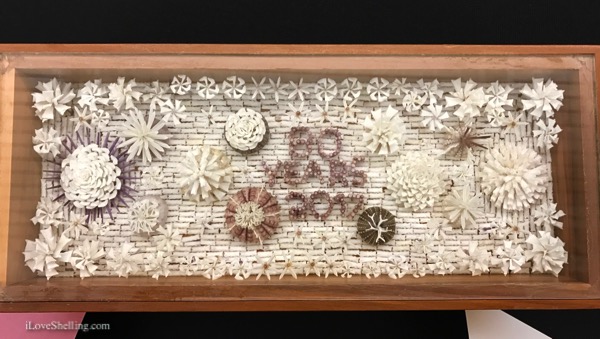 It was the perfect place for me to share the shelling love with Shell Love Bug! Shelldazzled with over 20,000 local shells, Shell Love Bug is like a Sailors Valentine version patchwork quilt of the shelling community coming together … so what better place than the shell show?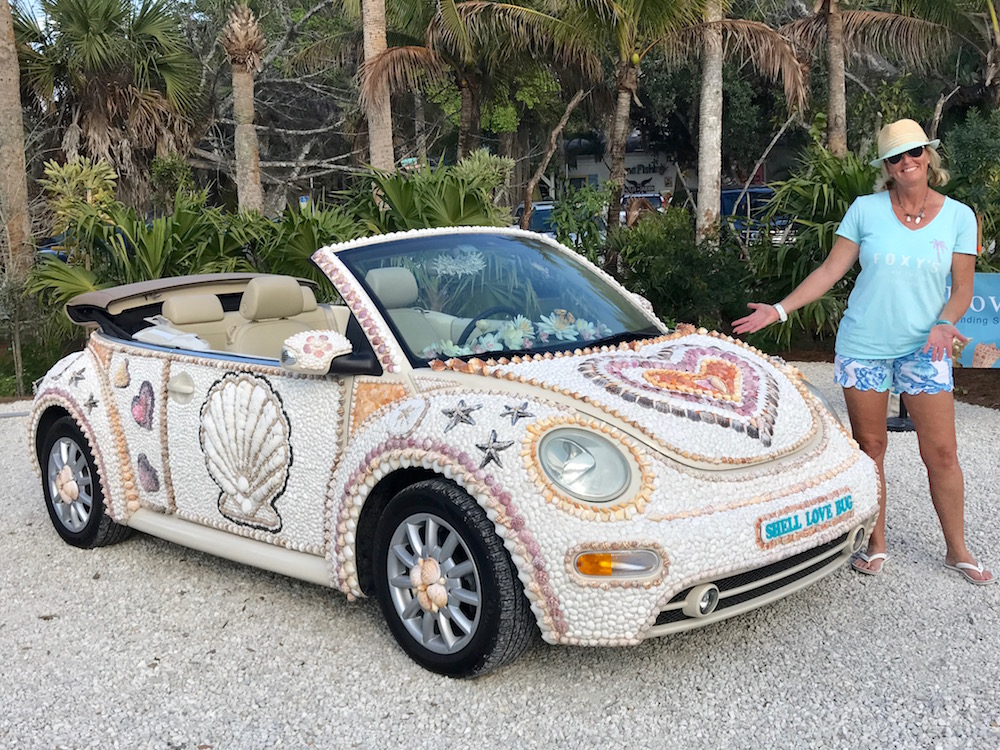 So many beautiful pieces of shell art.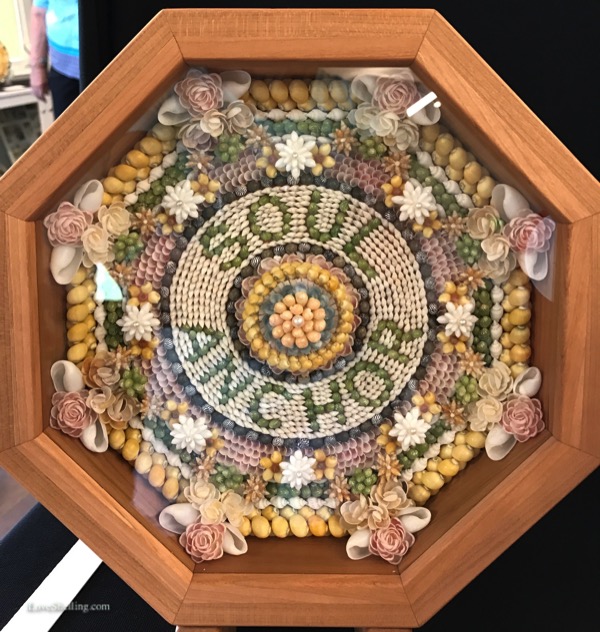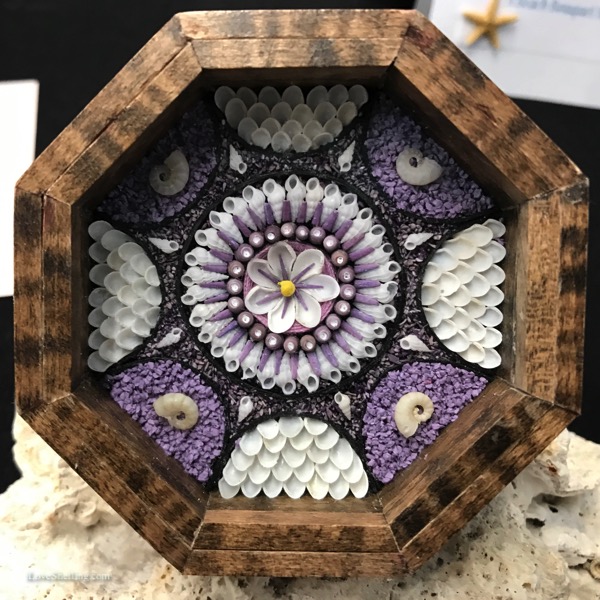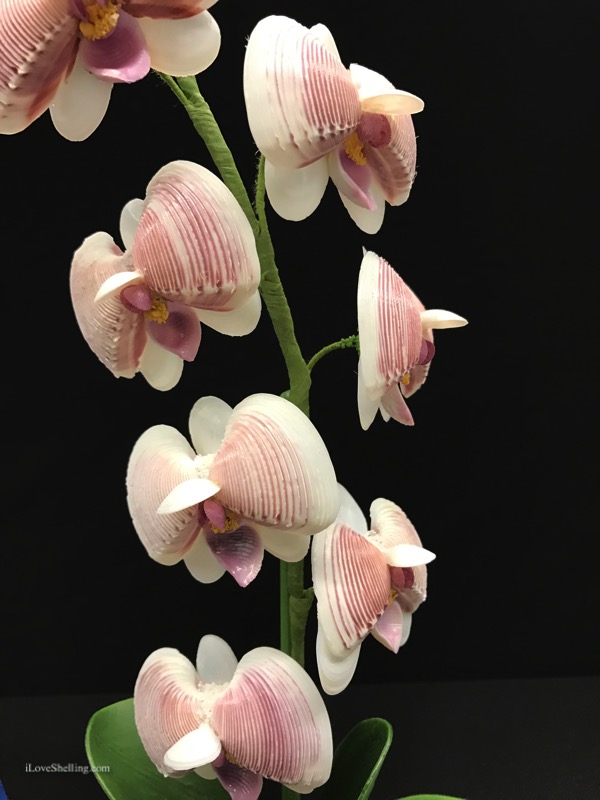 Jeff Oth's vintage sea shell jewelry exhibit was shellsational.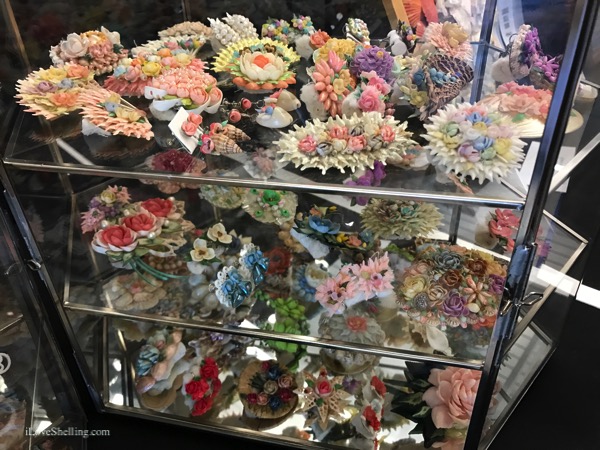 So many gorgeous shell specimens like this exhibit of MORTONS EGG COCKLES by Rachel Fields…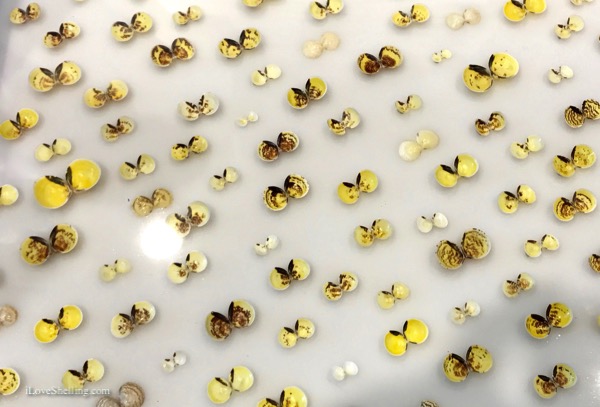 If you look closely at some of the exhibits like this ATLANTIC THORNY OYSTER by Elliot Sudal, the stories are shellmazingly cool. He "caught" this shell in a narly ball of fishing line, weeds and debris while fishing in 70 feet of water.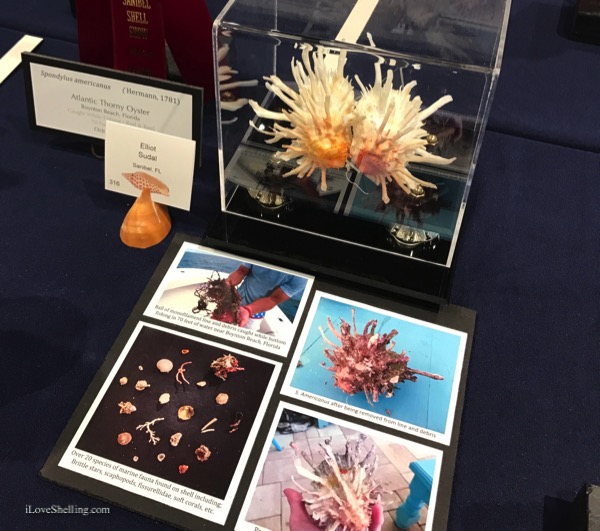 What other fisherman would have realized this gorgeous shell was in the middle of all that crud.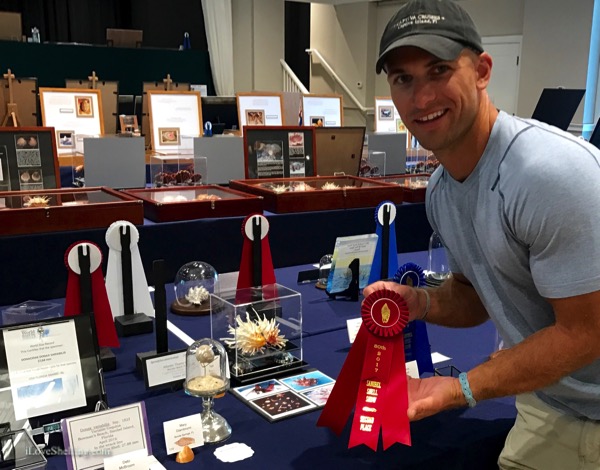 Cutie Shellootie Debi McBroom knew she had something different when she found a DEPRESSED TOP SNAIL at Turner beach.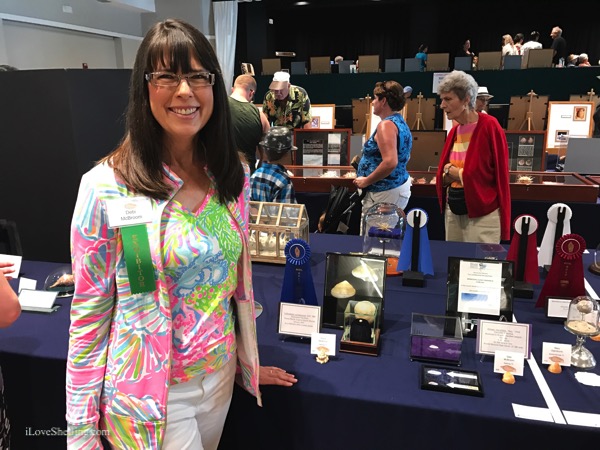 She won a Blue Ribbon for her exhibit of this unusual shell find.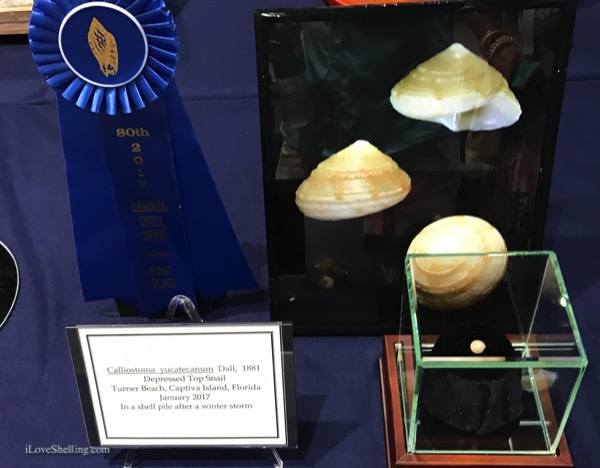 What a smile! Now that's some shellove for The Bailey-Matthews Shell Museum's marine biologist Rebecca Mensch for her blue ribbon LEAFY JEWELBOX.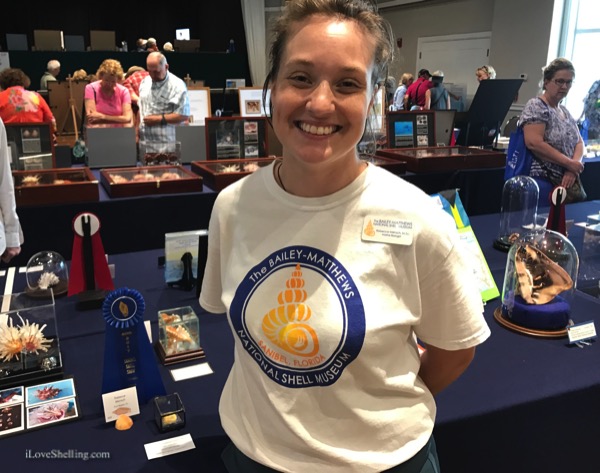 Congratshellations to Andrea and her husband Jay for their prized MULBERRY SHELLS from Muscat, Oman. Sending lots of Shellove and wishes to you both. Hope to see you both pulling up those HORSE CONCHS at the Lighthouse again real soon, okay?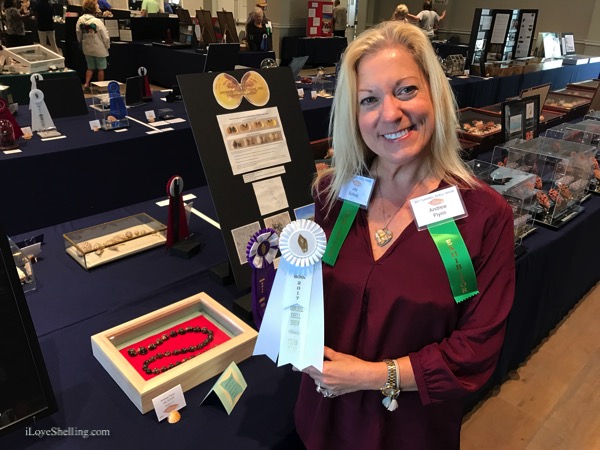 The shellovely Andrea Schopf and her shellcrusted SEAHORSE won People Choice Award for the entire artistic category. Boom Shellalaka!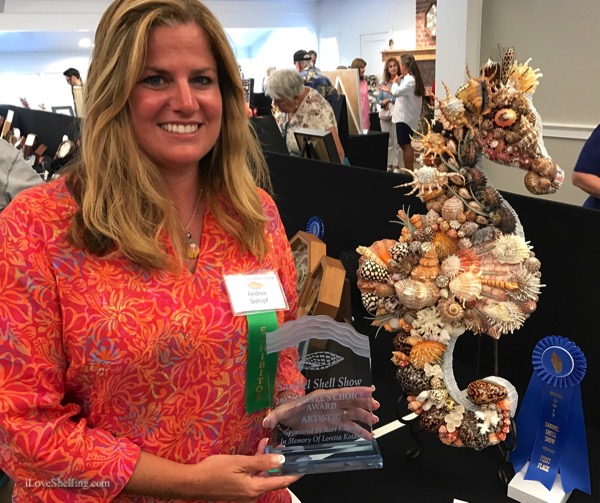 Michael Gilmore got to introduce his newest Sanibel sheller and future prize winner… sweet little Shellove Baby.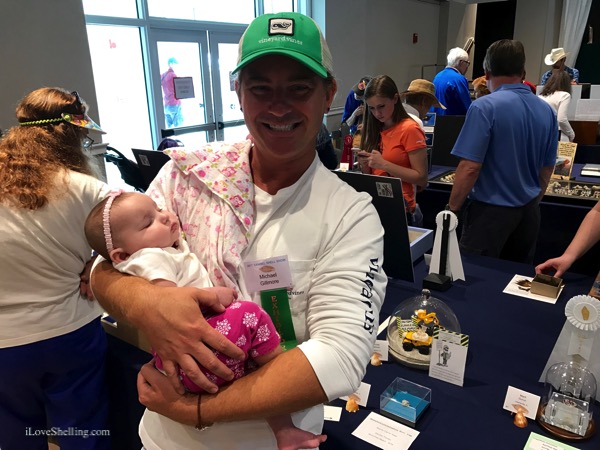 And then this happened…. the ultimate Shellove!
The Shell Museum's marine biologist Stef Wolf was at the live MOLLUSK tank with her students educating the public about the lives of our favorite shells when…. her boyfriend Steve Plein got on bended knee and asked her to marry him (with a stunning ring from Congress Jewelers- my fave!). She said YES!
Shellphoria!
Best wishes to you both for a life full of good health and happiness.
ShellLove is in the air…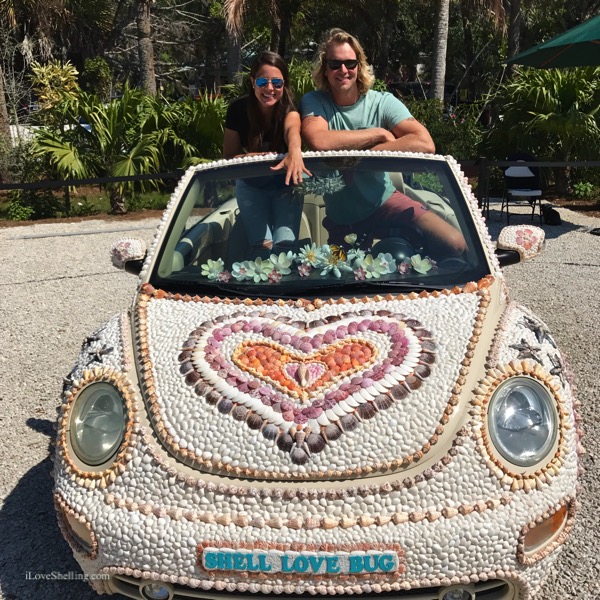 SaveSave