After our shelling trip last week to the beautiful island of Eleuthera in the Bahamas, I'm gonna rename it "Shelleuthera"!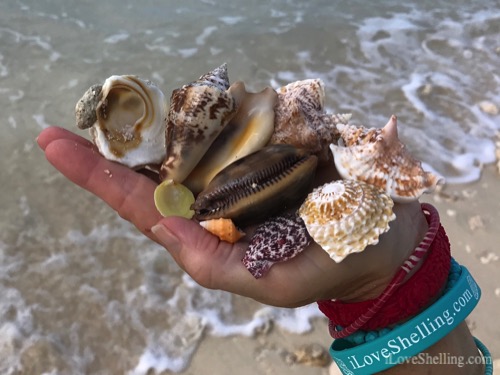 In a week's time, we explored probably 20 beaches or more … finding everything from SEA GLASS, to POTTERY SHARDS, to SEA BEANS, to SEA URCHINS and SEA BISCUITS, to CORAL and of course SEA SHELLS.
Each beach being so unique with it's own little treasure hunt for us.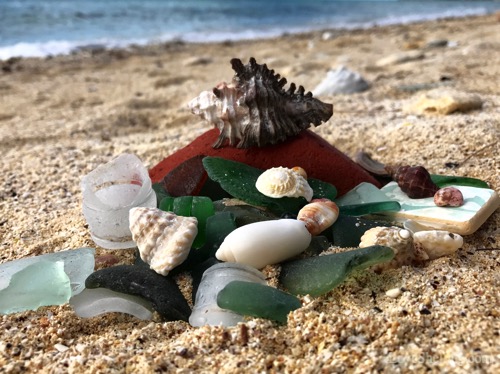 Clark and I were excited to have expert beach combing friends with us to make this an even more fun adventure… Lee and Susan (who we visited to shell with in Guantanamo Bay Cuba ) and long time friends John and Jane (Abaco Islands, Cat Island and Turks and Caicos).  With this group, of course we found shells!
Beach combing is the favorite thing to do for all six of us so it's very cool to find friends that get excited when walking the beach to find a KING HELMET, HAWKWING, SEA BISCUIT and a little empty "ROLLER" like these.
But shelling was just half of the fun. We had an adventure getting to the island as well!
When we go on vacation, Clark normally does the research to find the best way to fly to our destination. This time he found Aztec Airways with a straight flight from Fort Lauderdale to Governors Harbor, Eleuthera at basically the same price as the other airlines. Nice flight, Pilot Don!
But on this airline we felt like rock stars! hahaha We checked in at the "executive airport", had the whole plane to ourselves and…  OMG I was the co-pilot. It was So. Much. Fun.
We arrived in style to beautiful turquoise water, blue skies and fluffy white clouds. Wow. Its dreamy! This was the view looking out from the porch of our rental house Hamilton House on Windermere Island.
We rented a perfect 4 bedroom house each having our own bathroom and sooooo many windows to look out at that beautiful water. And as you can see we had 3 fabshellous porches to wash and dry our shell-loot every day. Uhhh…. yea, I know…. we're a little messy so if you want to see any of the photos inside the wonderful house CLICK HERE. But I'm sure you completely understand what happens if you're a sheller. We've got "stuff" everywhere! Not only our beach combing stuff but John cleans up the beach every morning by bringing home piles of washed up rope, wood and huge buoys (great bling- ha). We love that and we loved the house since it had so much room for all of us.
Then we were off to find shell-loot like this amazing TUN SHELL and TRUE TULIP Lee found one day.
We explored miles and miles of beaches from the north west Glass Window Bridge to the south point of Cape Eleuthera. Our favorite beaches for finding shells were on the west side at Tarpum Bay, James Cistern, Millars Beach (or is it Miller's? E or A? We couldnt figure it out haha) and Cape Eleuthera (near the restaurant). Every day the six of us hopped in this 7 seater SUV from Big Daddy Rental Cars to take us on a crazy adventure to explore this gorgeous island one beach at a time.
We not only found gifts from the sea, we found memories of a lifetime.
We would have never have found most of these beaches, shells and memories if it hadn't been for the big hearted Texas sisters Lisa, Sunnye and Suzanne who have talked to us about shelling in Eleuthera for years. I originally met them during Shellabaloo 5 and our paths have since crossed so many times. The last time was at the 2016 Sanibel Shell Festival where they displayed exhibits of their winning shell finds from Eleuthera. From that day, Eleuthera has been on our bucket list. I'm feeling so grateful for these gals who gave us so much information and suggested we buy The Beach Book: Eleuthera, Bahamas Edition
 . It displays photos, detail and directions to each beach on the island. Oh yea- seriously its amazing.
I'm feeling so much gratitude for such lovely friends, our gracious hosts on Eleuthera and for so many of you who sent such beautiful notes on my last post. My heart is full today. Thank you.
PS-  I hope to take some more detailed photos of our shells for my next post to give you ideas on which shells and bling we found on which fave beach.
SaveSave
[siteorigin_widget class="WP_Widget_Custom_HTML"][/siteorigin_widget]