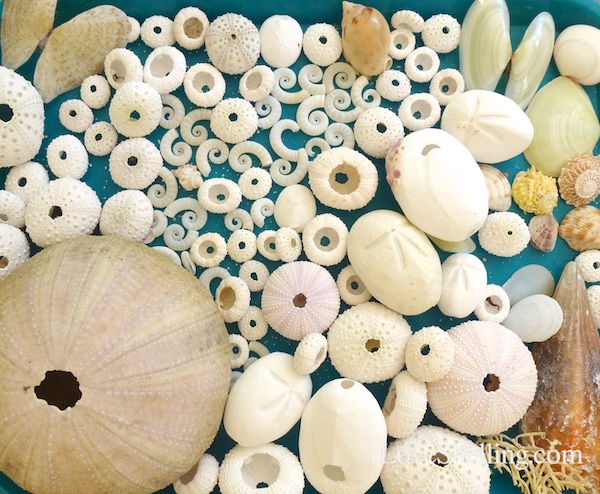 Finding perfectly dried beautiful SEA BISCUITS, URCHINS and fragile shells like RAMS HORNS on the beach is always an exciting experience during our vacations.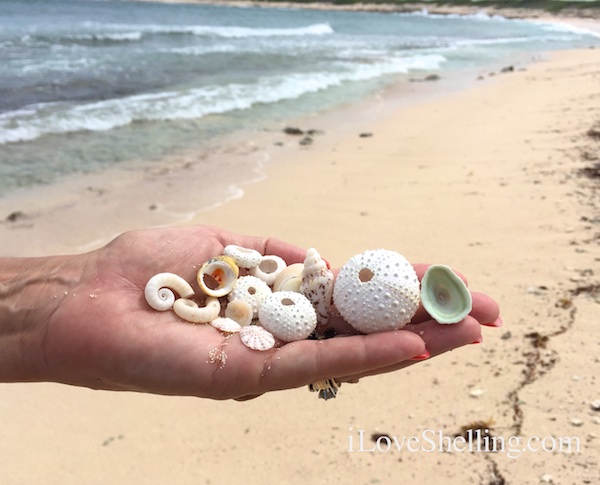 We found all of these gems last week on Anegada Island in the British Virgin Islands while combing the white sandy beaches surrounded by light turquoise waters.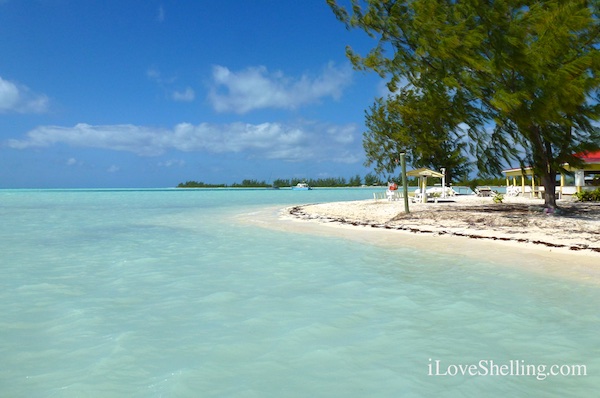 Its amazing to me that such lovely and fragile pieces of natural art can be found laying in the sand completely intact and unbroken by the sea. RAM'S HORNS (Spirula spirula– the internal shell of a SQUID- ) are so brittle I'm always afraid they will break in my suitcase when traveling home so I have to plan my packing. (And yes! That's a HAMBURGER BEAN I found- so excited!)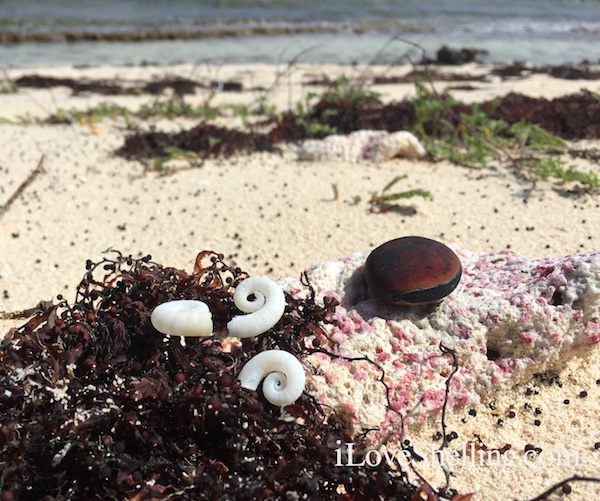 That's why choosing a few specimens to bring home gets difficult knowing we have to pack them to survive airport luggage handling and my own klutzy mishaps with carry-ons. I've learned through the years, we must get creative in our packaging… use everything we already have. I bought a few Tervis tumbler souvenirs with sippy lids (I told you I was a klutz) so I packed some of our SEA URCHINS in the cup then added RAMS HORNS wrapped in bath tissue to fill the top. The key is to pack a container so that nothing rattles or moves inside the container and nothing can crush it.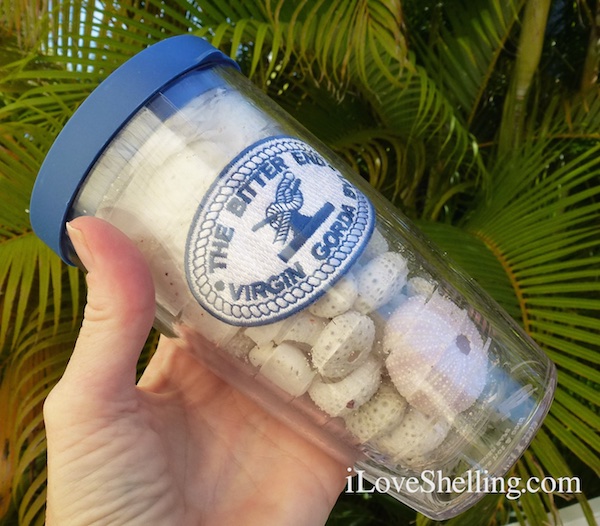 Just to make it even more snug, I pushed the cup into Clark's dive bootie as another layer of cushion. I pushed it all the way down into the foot part of the bootie- it doesn't take much more room in your luggage that way.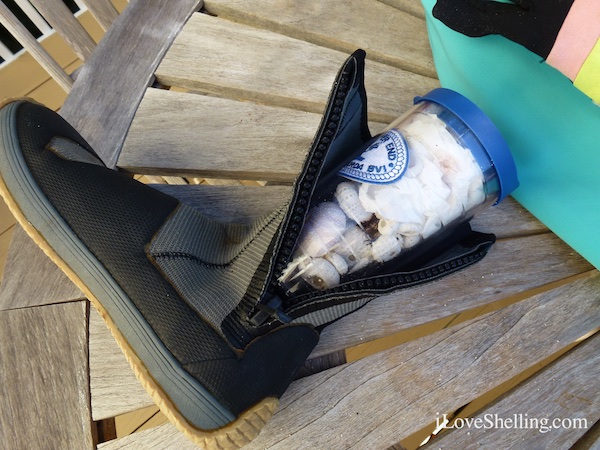 Not one broke!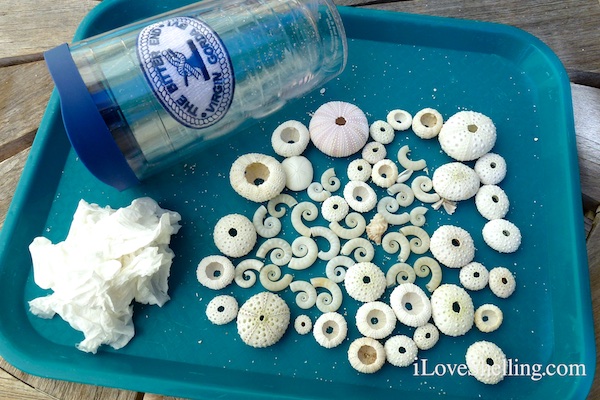 We always take at least one plastic lidded container with us to our beach destination filled with snacks or something so we will have space in the luggage for treasures on our return trip. This was perfect container to safely travel with SEA BISCUITS and a shellmungus SEA URCHIN Clark found. If you don't take a container with you, then while on vacation buy chicken or fruit salad for lunch one day and save the plastic container and lid for packing your shells. Choose tubs/cups/containers that won't crush when you have the lid on them.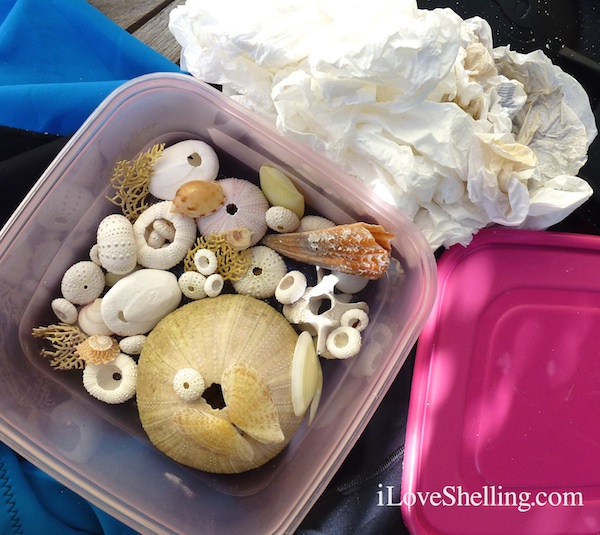 Since this wasn't a small, tight space like the Tervis cups, I wrapped each URCHIN, SEA BISCUIT and bright pink PEN SHELL (Clark filled the inside of the PEN SHELL with tissue as well to keep it from crushing) and other fragiles in the container….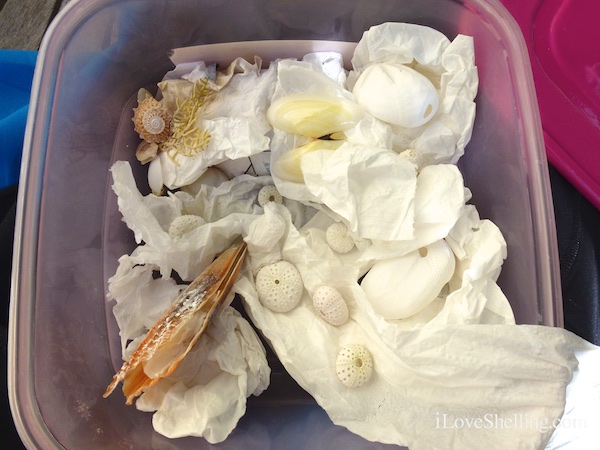 But instead of being excessive with the tissue, I wrapped the larger URCHINS with my sun shirts to give them more padding and to fill the empty spaces so nothing would move inside when I put the lid on it. Make sure you don't pack it too tightly so it bulges when the top is secure.  Wrap a tee shirt around the closed container and made sure that it was in the middle of my luggage with padding around the corners.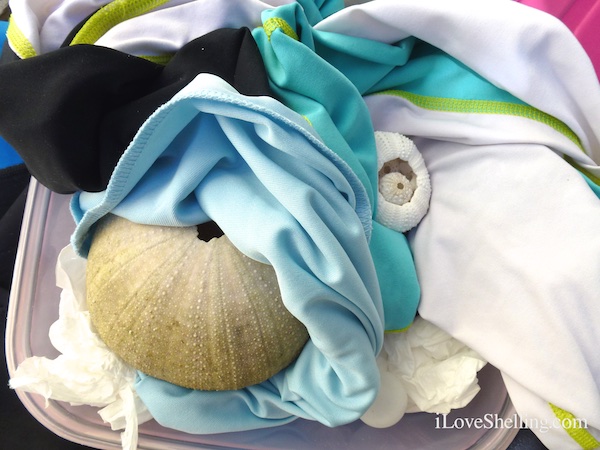 I ended up putting a SPECKLED TELLIN pair and a SUNRISE TELLIN pair (Clark's finds) in with these fragile pieces too… Oh and my SCOTCH BONNET…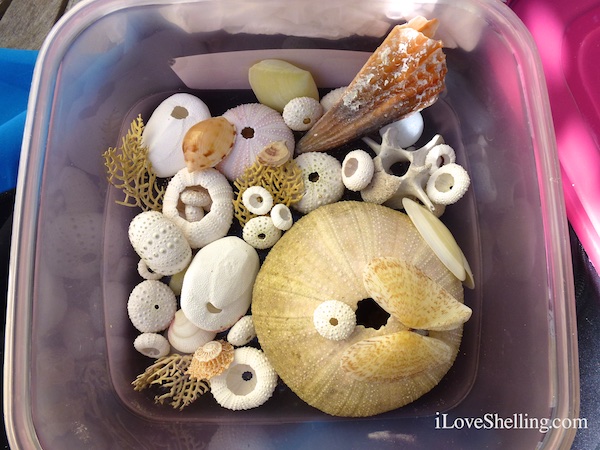 They all made it without breaking!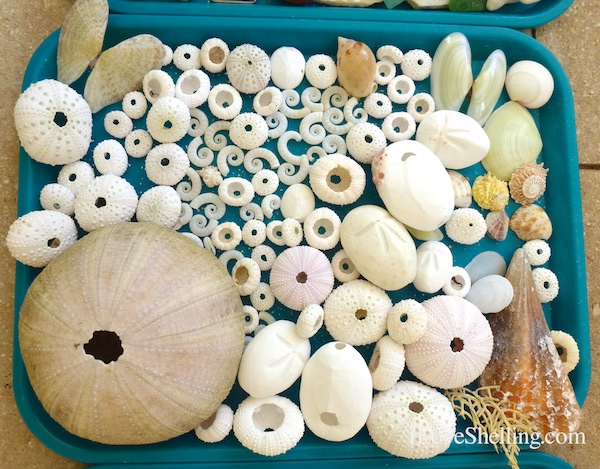 Since I got them home in one piece and they are still a little sandy… now to rinse and clean them. Most of these URCHINS and SEA BISCUITS were already pure white after being bleached out by the sun and sand so all we did is rinse them off while on vacation but didn't do a great job. It's a good thing I just wrote instructions for cleaning URCHINS from Sanibel before we left for vacation – for SEA URCHIN cleaning tutorial CLICK HERE.
I still have a few more containers with the tough solid shells and BEACH GLASS we found on our sailing trip in the BVIs so I'll show my packing job on those for my next post. Until then…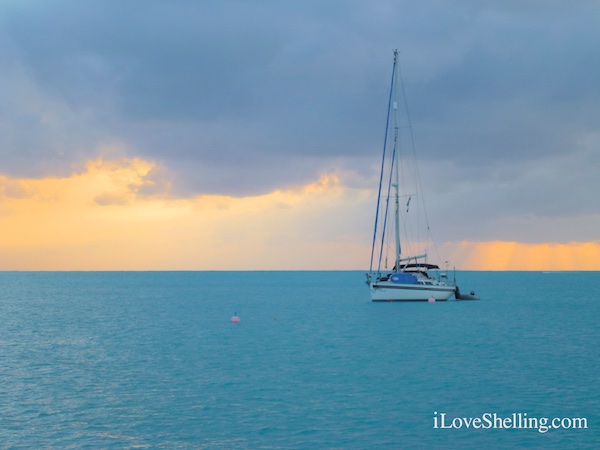 PS- For more tips on packing fragile beach combing treasures for transporting home from your trip…
http://www.iloveshelling.com/blog/2014/08/01/packing-breakable-seashells-safely-for-traveling/
http://www.iloveshelling.com/blog/2013/02/02/shelling-trip-adventure-to-turks-and-caicos/
http://www.iloveshelling.com/blog/2012/08/01/dear-fragile-seashells-please-dont-break-on-the-way-home/