Shellzam! Shellabaloo 6 at the Island Inn Sanibel Beachfront Resort has been awesome…
Everybody found some abshellutely beautiful shells…
We have had sooooooo much fun together!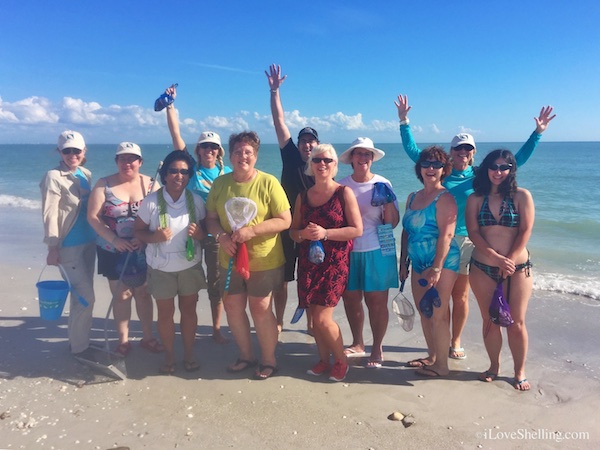 We've been stooping for shells in the water…
Stooping for shells on the beach…
Scooping for shells with nets and shelling backhoes…
Sifting for shells…
We've seen live shells…
We've seen live starfish and other bling…
But there are the special moments each and every time I gather Shellabaloo groups together… This time it was when Katherine (from Virginia) found a shellicious honey hole and wanted to share it with the rest of our group.
I peeked inside her shell bag (after I saw her working one little spot for a while) to see GAUDY NATICAS, KINGS CROWNS, BANDED TULIPS, LIGHTNING WHELKS, FIGHTING CONCHS, WORM ROCK and CHESTNUT TURBANS. She said "Can you go tell the other Shellabalooers?" Shell yaya!
This is the moment everybody saw how she was scooping in the soft sand that had just been covered by the tide. It was an awesome bonding experience as we sifted, sorted and scooped as a group then oohed and aaahed when somebody found a treasure. Shellabaloo Shellove.
Then a shellebration!
Shelling Sisters Christy (from Texas) and Janet (from Washington) had their cutie shellootie iLS gear on and showing some of their exshellent shell loot.
Cathy traveled from Nova Scotia to join us and have sweet success finding shell pickins…. but she was espeshelly happy to be in Sanibel since Canada is practically frozen over right now!
Cathy's brother Travis (Ottawa) found a bucket load of shells. Errrrr…..  is this the same guy that told me at the beginning of Shellabaloo that he "wasn't that in to shelling" but was just here for his sister? Yup.  And… he also told me he wasn't going to get in the water because he didnt like to get wet. Ahem…. would you look back at Cathy's photo above? Uh huh! Yessiree. Just over Cathy's shoulder on the left? That is Travis working another honey hole filled with shells … he's practically UNDER water. LOL Look at his smile!
Speaking of smiles, check out the happy faces of Karen and her daughter Katy who traveled from Maryland to be with us in the beautiful sunshine.
Elaine who shared the love of the mini shells with me, traveled from Washington state to be with us as well.
We all climbed aboard Sight Sea-R Cruises to take a shelling adventure to Big Hickory and had a blast.
Yep, we found more shells…
Kristen (from New Jersey) was celebrating after finding a LEAL'S WENTLETRAP as we all had lunch together.
She was able to show it to this WENTLETRAP'S name sake… Dr Jose Leal at the shell museum to have it verified. Cool!
Happy birthday Robin! We got to celebrate Robin from Maryland's birthday with her mom Bobbie (Pennsylvania) during Shellabaloo too. We feel honored to have been able to help you shellebrate, Robin!
Every single moment we had at our iLoveShelling Shellabaloo at the Island Inn Resort was spectacsheller.
Oh, but we had more fun that I have to show you with more shell pictures… so until our Shellabaloo exshellaganza has completely unwound from all of the excitement…
Thank you Island Inn for hosting this Shellabaloo shellowship again!
Dont forget, you can join us on another iLoveShelling Shell Adventure… CLICK HERE