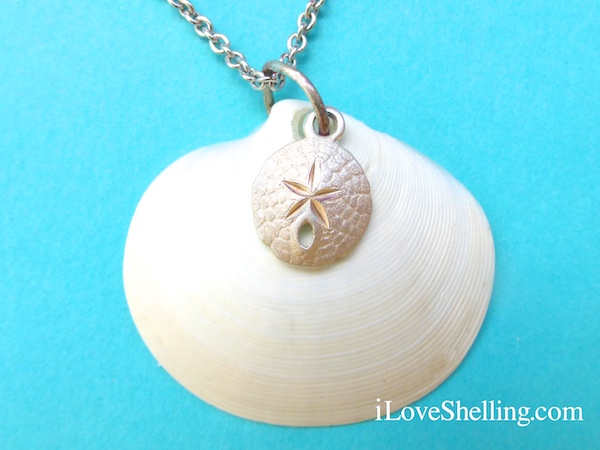 I love my new necklace I made out of a DOSINIA sea shell and a sterling silver SAND DOLLAR charm from Sealife by Congress jewelry store. I found this DOSINIA which already had a natural hole drilled in it (from a SHARK'S EYE- remember that post I did last month? CLICK HERE) so it was screaming for me to make it into a pendant.
I was so excited to receive one of these ever so sweet charms for our i Love Shelling shelling adventure on Tuesday's Maiden Voyage on Sight Sea-R Cruises, I knew I wanted to wear it for that special occasion cruise. And you can have one too!
Yep, I have very big news for you. On every scheduled iLoveShelling cruise on the Sight Sea-R Cruises and iLoveShelling cruises on Captiva Cruises, Our friends at Sealife by Congress will be giving one sealife pendant to one lucky sheller! But hold on to your shelling hat- thats not all. Each passenger on an iLoveShelling cruise will also receive a gift certificate for $25 to the Sealife By Congress store! Oh yes, you will! Is that amazing or what? Sealife by Congress loves shelling too!
So you can be as happy as everybody on our iLoveShelling Maiden Voyage Sight Sea-R cruise…
When I showed off how I embellished my shell with my charm, Mary with Sealife by Congress told everybody if they found a shell they wanted to put their charm on, they could bring it to the store and they would put it on for them. I went in the store yesterday to thank them again for being so generous with the gifts and guess who I ran into… Pam and Pat from Texas (the "cutie cousins" I showed on my last post)! They were getting their charms put on necklaces.
Pam was very lucky to have picked out the JUNONIA charm- ooooo…I love this one. On our shelling cruise, she found a pretty COCKLE shell with a perfect hole to take in the store to have her JUNONIA charm added to her necklace. Such a wonderful memory! If you are on Sanibel, Captiva or in SW Florida stop and see them in Periwinkle Place on Sanibel- they are very "sheller- friendly"!
So along with finding seashell treasures on iLoveShelling cruises, you will find jewelry treasures as well.
I never got to show you all of the other photos from our Shelltastic Sight Sea-R Cruise. It was such a special afternoon with perfect weather, fabulous birding,  amazing sealife sightings, a gorgeous sunset, and we all got to hang out with the nicest shellers in the world on a brand new 50 foot Cooper Pontoon boat (with a bar)…
And do some exshellent shelling.
.
.
.
.
.
.
.
.
.
.
.
.
So don't forget to reserve your spot for any iLoveShelling Cruise on Sight Sea-R Cruises and also on iLoveShelling cruises with Captiva Cruises to have a shelltastic shelling cruise with me plus receive $25 off any Sealife by Congress jewelry. CLICK HERE to join us for an unforgettable day on an iLoveShelling shelling cruise. For dates click on the next image …