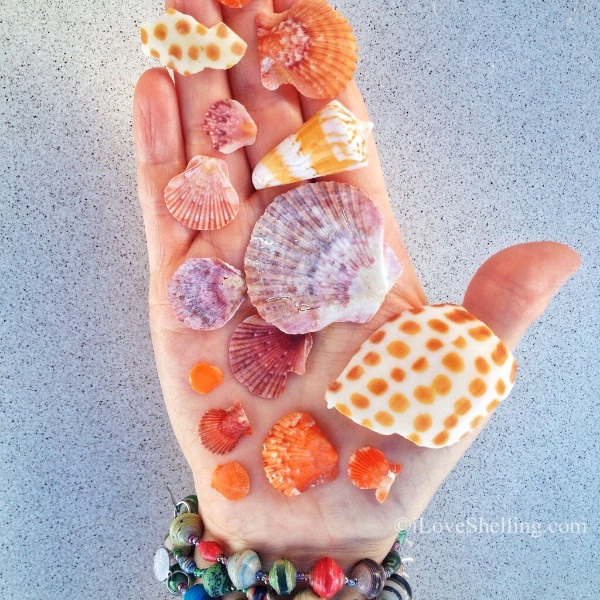 My favorite part of meeting other shellers is to see what makes them happiest. Interestingly enough, I heard almost everybody from Shellabaloo 4 say it was finally so nice to meet other people that feel the same way about beach combing as they do. There are other folks out there that don't think we are crazy for wanting to shell all day!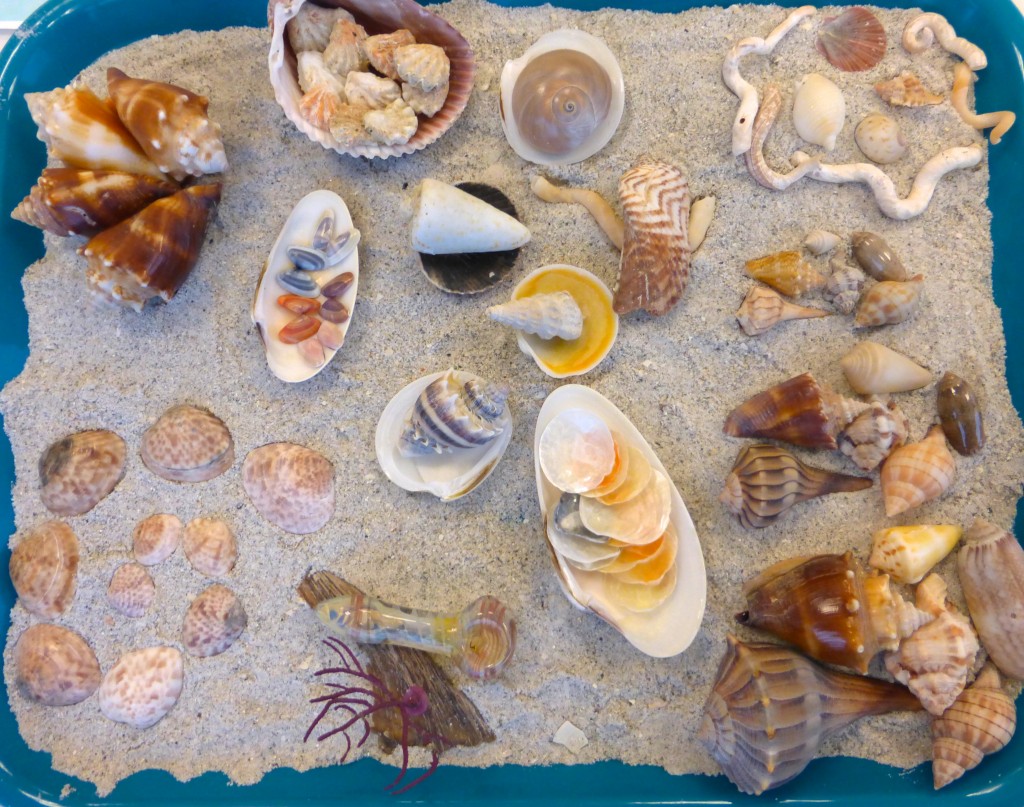 On our final night, Kris made a beautiful display for our Shell 'N Tell and pizza party in the newly remodeled Florida Room in Kimball Lodge at Island Inn– it's perfect for parties and games. And I love games! So we played a game throughout our shelling adventure. I made up a scavenger "Shellinger Hunt" game that gave points for different shells and beach bling finds to display for our party night. So much fun!  You can see Kris showed some of her answers as…  3 sets of THE SANIBEL SIX, a FOSSIL, 10 JINGLES in any BIVALVE and 2 pieces of BEACH BLING. Hmmmmm…. she found some interesting BEACH BLING, huh? A pipe? LOL
(Oh, and her hand in the first photo has a "wedding shell cone"- I don't think thats a FLORIDA CONE)

This is another beautiful shell display by Nancy for our Shell 'N Tell night….
Some folks may have been disappointed to come to Southwest Florida to wear coats and long pants earlier this week… but not shellers! Shellers know that, almost always, cold north winds bring in lots of sea shells. So when a group of shellers like the wonderful folks at  Shellabaloo get together… cold weather gets us excited!
We get excited because we find shells like OLIVES, SHARKS EYES, GAUDY NATICAS, WHELKS, TULIPS, MUREXES, BUTTERCUPS and so many other shells…
A little cold weather in Florida would never have made Bette and Rick disappointed when you can stand a beach filled with shells.
There were so many miniature shells to be found too…
Suzanne found all of these mini shells by sifting through the shell piles right in front of Island Inn.
Conne was so excited to find a SAND DOLLAR since I think that was on her bucket list… I mean shell bucket list. heehee
I think everybody found a SAND DOLLAR or two. These were some of Ricks finds…
Angela (who I'm now calling "Anshella")  was thrilled to show us her favorite finds for our Shell 'N Tell and pizza party…
Between "Good Will Shelling" (Will) and his wife Sarah The ShellAnimal, they found such interesting shells and bling. He found MERMAID PURSES (SKATE EGG CASES),  a huuuge old FOSSIL shell (bottom right), and a "wedding shell" Ive never seen before. I told him that shell (top left between the SUNRAY VENUS) was a foreign shell that was probably bought for decoration for a wedding or party on the beach. I told him to take to to the Shell Museum to ask what it was and Dr Jose Leal verified that is was a TORPEDO shell probably from Indopacific area. They were still excited to find it!
Super Sheller Clark couldnt be with us each day for shelling (that "work" thing gets in the way)but he still wanted to participated in the Shell 'N Tell so he brought some of our favorite finds over the last couple of years…
Clark helped me add up the points for each of the shells entered in the game so we could give the winner of the Shellinger Hunt this gorgeous STARFISH REEF necklace donated from Sealife by Congress. Thank you Sealife By Congress for supporting our Shellabaloo!
Drum roll Please! ……. The winner of the Shellinger Hunt was…. Sarah The ShellAnimal!!!! LOL She found 2 big WHELKS, a CARRIER SHELL, CONES, PAPER FIGS, 4 BABYS EARS, WENTLETRAPS and more. Congratshellations Sarah!
She had so many shells spread out, I didn't even get a decent photo of them. But… I did get a photo of her prize shell. Her ROCK SHELL. We just don't find these every day so I asked her to show Jose Leal at the Shell Museum too. Dr Leal verified that this shell is more rare (on Sanibel -where she found it) than the JUNONIA. Shellzam Sarah!
We had such a fabshellous time getting to know each other while shelling the beaches, sharing meals, exchanging stories and laughing with joy. I can't put it any better than what Sarah said…. "I have to say this was one of the best times of my life! William surprised me with it for my birthday, and it was epic! These memories and friends I made will last forever!!"
When we have dates for Shellabaloo 5, you will be the first to know!