The Sanibel Six Seashells
By
I'm a nosey sheller. I've had a habit of peering into the shell bags of Sanibel and Captiva shellers for quite some time. I'm just curious as to what other beach combers are finding, what they pick up and what their favorites are. I, of course, ask them most of the time if I can look at their collection but if a bucket is just sitting there on the sand……well, it's fair game to look inside it, right? Just to be clear- I just look, I don't touch any body else's shells before asking… that's a no-no.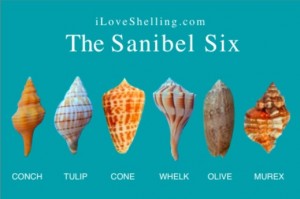 After many years of looking in shell bags and buckets (including looking at our collections too, of course), I've tried to narrow it down to the over all SIX favorite shells that most people collect on Sanibel. Yes, it was hard to narrow it down but I left a little room for interpretation…. like CONCH could be the FIGHTING CONCH or the KINGS CROWN CONCH. MUREX could be APPLE MUREX or LACE MUREX and so on.
This all came about because I stopped at Blind Pass yesterday….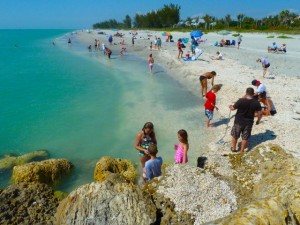 There was a huge shell pile still there. People were filling up buckets and bags with OLIVES, MUREXES, TULIPS, WHELKS and CONCHS. Three people I talked to said the shelling on Wednesday was fantastic (Darn! I had jury duty- ugh) at the very same spot but the only difference was that they were finding CONES.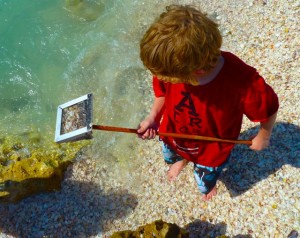 Unfortunately, I didn't have time to join the fun with "shell chatter" (definition: shouting out to anyone around you "Hey! I just found a BANDED TULIP!" or "Whoa! I just found a piece of JUNONIA!)  but I wanted to let you know what the shelling was like yesterday afternoon and what people were finding.
They were finding 'THE SANIBEL SIX"!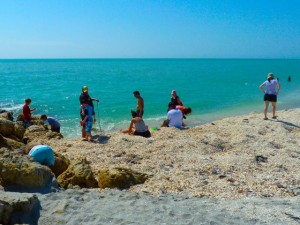 I did contemplate adding the NUTMEG and MOON snails but don't seem to see them as much in bags. Lots of my faves didn't make it since most people don't collect them.. ie- WORM SHELL and WENTLETRAP. And it seems most people don't get as excited about the bivalves either. I'd love to hear what you think the SANIBEL SIX would be.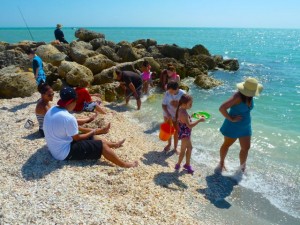 Okay, you got me, this wasn't actually Sanibel, it was the Captiva side of Blind Pass but Sanibel is the one known for shells and "Captiva Six" didn't sound so cute.

To see where lots of the Sanibel Six are found, go to SEASHELL IDENTIFICATION page and click on the pictures.