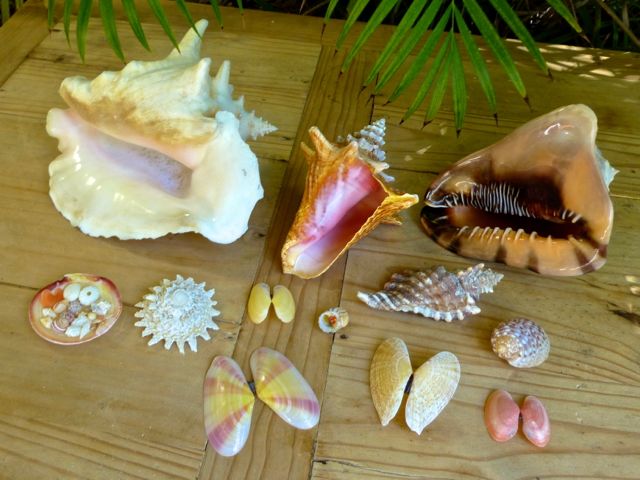 I am still in awe of how many different seashells we found on our vacation to North Caicos and Middle Caicos of the Turks and Caicos Islands. I'm also in awe (okay, let me tell the truth…. "overwhelmed" would be the right word) because I took over 1100 photographs. Yikes! So this is what I'm going to do since I can't smoosh all of these amazing shells, photos and info in just this one post. I'm going to show you our best finds now and then in my next post I'll show you where we found them and a few maps just in case you ever want to go there on one of your shelling vacations too. After that, I'll show you where we stayed on North Caicos and a few restaurants and other things we loved about the islands. But for now, lets get on with the seashell show! I showed you Clark's KING HELMET, my ANGULAR TRITON and some QUEEN CONCHS on my last post but these PARTRIDGE TUNS for sure made it on our "besties" list. They look like really fragile scotch bonnets without the thick lip.
Here's a close up the bottom of our LONG-SPINED STAR SHELL I showed on my vacation "teaser" (heehee) post. I say "our" shell because Clark and I were snorkeling side by side when we both spotted this beauty as the same time.  Gorgeous, right?
Here are the different colors of the GAUDY ASAPHIS I talked about…
We could have gathered hundreds of doubles! Clark collected so many different colors then picked through them to get the best to bring back…
The double SPECKLED TELLINS were such a treat too! We are always tickled to find beautiful bivalves when both valves are still attached…
Believe it or not, this is my first BLEEDING TOOTH NERITE. I saw oodles of NERITES, but since I was trying to be very selective in what we brought home, I chose this one I've never found before to bring home and it's one of my faves!
And of course the SUNRISE TELLINS. Oh my. They really look like they have been colorfully painted then sprayed with a high gloss coating. It was astonishing to find a perfect double SUNRISE TELLIN laying in the shallow water half covered by sand. A true gift of the sea.
Oops! I forgot to put my MILK CONCH in my bestie photo but this has to be part of my favorites list too!
I found this MILK CONCH and a juvie QUEEN CONCH the first night we arrived… which was my birthday night. YAY! We didn't want to waste a minute so we walked the beach as soon as we arrived and these washed up at my feet. YAY Again!
I love the minis!!!! Just like here in Sanibel, if we are visiting a beach and we aren't finding the larger shells in the wrack line, at the shoreline or in the water, we start looking for miniature shells. We found them! They are just so stinkin sweet, arent they?
But wait! There's more! I want to share Jane and John's besties too!
You saw John Johnny Rescue's QUEEN CONCH and Jane's ANGULAR TRITON yesterday and they found the SUNRISE TELLINS and PARTRIDGE TUNS as well…. But… John found this very cool CONE!
It really doesn't match exactly with that thin lip, high spire and a few other details and I havent had time to research further, but our best guess is that it's a CROWN CONE.
UPDATE! Deenie just commented to tell us that this is not a CONE at all! It's a juvenile HAWKWING CONCH! How cool is that. Now that I know what it is, I can completely recognize the shape and now I know why the lip is so thin unlike a CONE and the spire is so tall. Thank you so much Deenie!
Well how about that… John found an adult HAWKWING CONCH as well so you can see what that juvie will look like when it grows up.
And look at the color and lines of this RETICULATED COWRIE-HELMET!
It is a spectacular shell! Good find John!
I'm still stunned and amazed at this next shell…. well I should really say "BEACH BLING". It's the OPERULUM to the COLORFUL MOON SHELL! It's a SHIVA SHELL.
What? Why haven't we ever found these on Sanibel??? We have gobs of COLORFUL MOONS (GAUDY NATICAS) so why don't we find their OPERCULUMS more often? Weird. Plain Weird. Thanks Susan for the heads up on this beaut. So now we have something new to look for in SouthWest Florida too so look at the exterior of this SHIVA SHELL to put this in your shelling brain. Anyway, John found this one in the high tide wrack line mixed in with some other Beach Bling and a few days later I found one too but it wasn't perfect like this…
So how cool are these shells from The Caicos, huh? Let me show you the whole kit and caboodle of shells Clark and I brought back. Keep in mind, after rinsing and inspecting the shells we collected each day, we didn't bring home the majority of our shells to Sanibel. We inspected for cracks, critters, crud or replaced them for better specimens. We want to respect the islands, sand and beaches so we have to be conservative with the shells we take.  We only kept the ones we knew we would either display in our home or research for the blog. Look how beautiful they are! I could just sit and stare at all of these treasures for hours at a time!
I'll try to give you as much information as possible about our stay in a short time so I'm already working on a map to show you where most of our shells were found on our exshellent adventure!