Archive for Turban Operculum Shiva Shell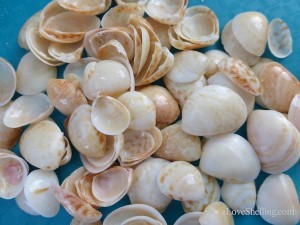 I've never seen so many glossy PAINTED EGG COCKLES wash up together as much as I have on the new sand bar at Blind Pass Captiva. Gail Carr (Maryland) collected of these beauties and much more sweet gems she sorted in this fab tackle box…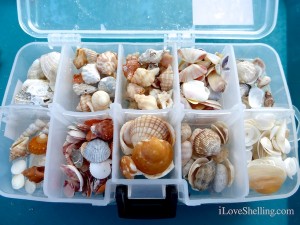 That nice little organized box had another side too she filled with sweet treasures…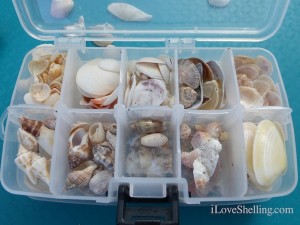 I love to talk to people who get so much enjoyment at collecting so many different varieties of shells… as I do. Gail said "Each shell has it's own unique beauty." I agree! That's why I got so thrilled when she showed me she found a couple of my new fave shell… the CROSS-HATCHED LUCINE.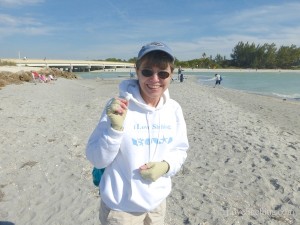 She found a TEXAS LONGHORN too!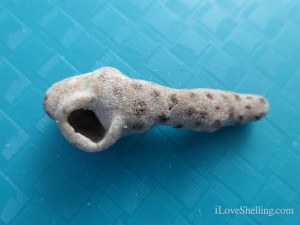 She even found a few SHIVA SHELLS … which are the OPERCULUM to the CHESTNUT TURBAN. Gail happen to find a few bright orange CHESTNUT TURBANS as well so I wanted you to see what they looked like together.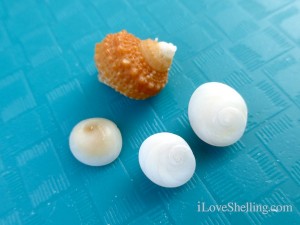 Looking in the same area where I found my SCOTCH BONNET last week, I found 6 more CROSS-HATCHED LUCINES.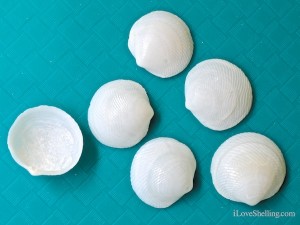 I was thrilled to have  shared the excitement with Gail since she had found a few and didn't think I wasn't crazy for feeling so excited about finding "just another silly plain white clam shell". LOL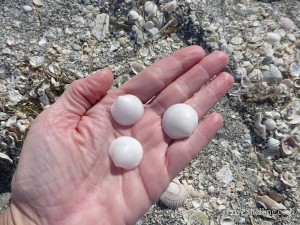 In less than a month, this whole sandy beach on the pass side of the jetty rocks has formed and if you look closely, here are some hidden gems in there. Seriously… twenty days ago, I took this next photo of the shelling on the Sanibel side and it shows in the background the Captiva jetty rocks…no sand bar.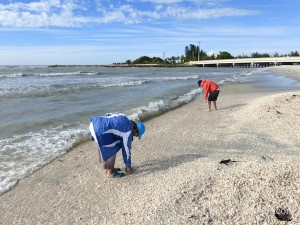 Over the weekend (on my way to find my precious LUCINES) I took this photo of my view as I stood on the bridge that connects Sanibel to Captiva looking over to the Captiva side. Wild, huh? This is what keeps me shelling day after day… the beaches change every single day and you never know what you will find until you get there!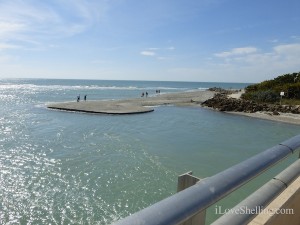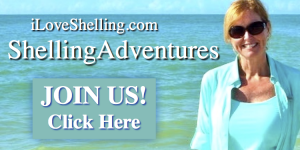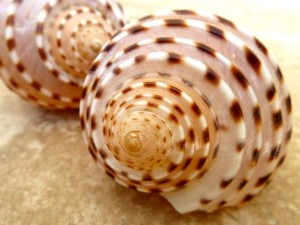 These are Super Sheller Clark's prized possession seashells he found on our trip to Thailand… not one but two SPOTTED TUNS !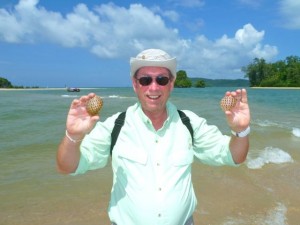 Within minutes of getting to the east side of Ao Nang in Krabi, he found these bad boys several feet away from each other high on the beach in the weed line.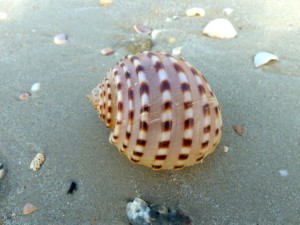 We had seen broken pieces of them throughout our trip but were afraid we wouldn't find them as a whole shell on the beach since they are so fragile. Wrong! They are in great shape!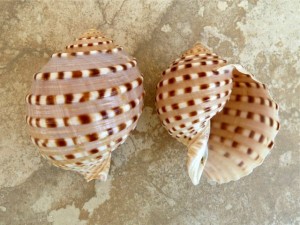 I found out the word "tun" means wine jar or wine cask. This seems fitting because Clark looked like he wanted to throw a party right there on the beach and drink wine right out of these guys to shellebrate!
 We got them home safely and I've already displayed them in a white washed wooden bowl with some other pieces we found on our trip.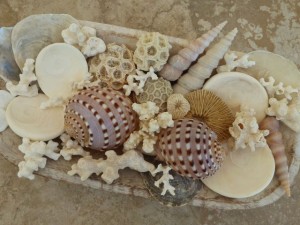 I didnt want any other shells competing with Clark's new babies so I chose to display them with some other sea life we found on the Thailand beaches. I didn't know that I wasn't supposed to bring CORAL back into the United States from other countries. I just learned that from Susan H who posted that on my last post– OOPS!  Too late- sorry, CITES! Well, At least I feel good about not taking too much- only a few pieces from each beach…It was so hard to choose which pieces of CORAL we were going to bring home but this is what we ended up with…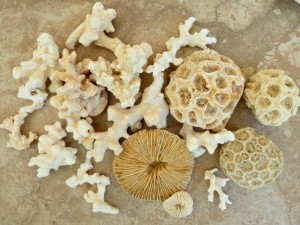 These are the biggest OPERCULUMS (SHIVA SHELLS) I've ever seen! I would have loved to see the TURBAN shell that these came from. Geesh! The biggest one is 3 inches wide…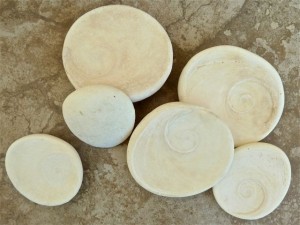 The first time I picked up one of these, I yelled to Clark… "I found the biggest stinkin JINGLE you've ever seen!". Haha Then I realized what it was… a CAPIZ SHELL. I used to have trays and dishes made out of these shells. I'm sure you have seen these in some kind of home decor but it's really cool to find them on the beach.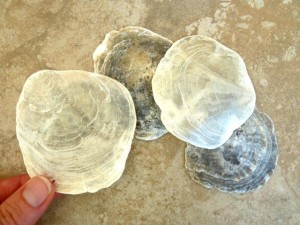 I threw in a few of the AUGERS (or TURRETS) we found to give my little display a different texture and balance (heehee) so Clark's SPOTTED TUNS would have a beautiful resting place to be shown off.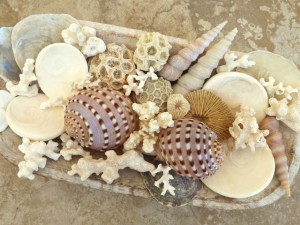 Although this day of finding these two gorgeous shells on a beach Thailand will be a memorable day for both of us, I'd like to recognize this Memorial Day for remembering the men and women who died while serving to protect our country. As we traveled foreign lands just last week, I experienced peace in the world because of the bravery of our fallen heroes and those currently serving in our military. A toast from our TUNS to all who serve.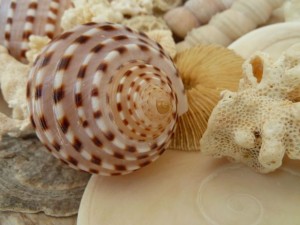 PS-  I took back that Nikon J1. All of my photos are still with my trusty Panasonic.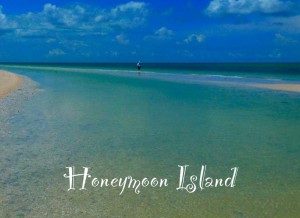 Summer Road Trip! Clark and I wanted to take a quick weekend getaway to celebrate our 15th year wedding anniversary (!) so we hopped in the car on Friday night and headed north on I-75 with no reservations and no time restraints. We first heard about Honeymoon Island at the Sanibel Shell Fair and Showa few years ago so we set our radar for somewhere  in that vicinity. After a 2 1/2 hour drive, we ended up at the Best Western Yacht Harbor Inn in Dunedin, Florida just in time for sunset.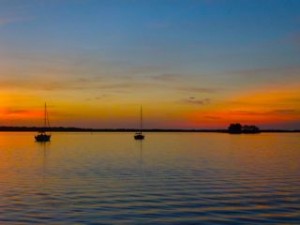 After a big breakfast Saturday morning and a 10 minute drive, we were ready to seek and explore Anniversary Island…. whoops…. I mean, Honeymoon Island.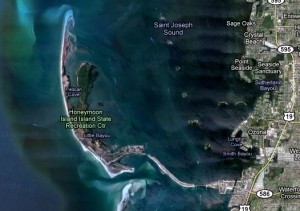 Unfortunately, there's only parking on the south side of the island but we wanted to get to the north tip…. so we started our beach combing journey 2.5 miles to the north tip and right away found CHESTNUT TURBANS in between the rocks.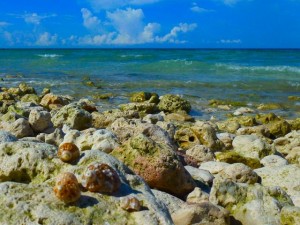 And more Turbans…..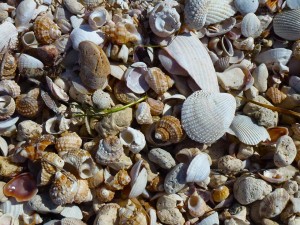 This is only a pittance of what we found and we could have brought home a gazillion…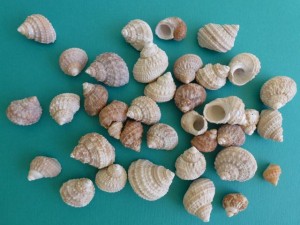 Since we were seeing oodles and oodles of these TURBANS, I started looking for their operculums called SHIVA SHELLS or CAT'S EYES or even called  MERMAID MONEY. Capt. Brian told me about them last month so I figured since all the signs were there, we'd find them…. and we did! This is what they look like…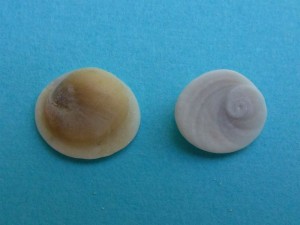 Once we got the eye (no pun intended- ha!) for them, they were everywhere. Can you find them in this next picture? Click on the photo if you want to enlarge it for virtual SHIVA SHELLING…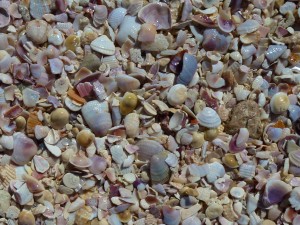 They look like albino split peas to me and just about the same size averaging about 3/8 of an inch.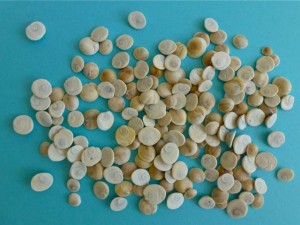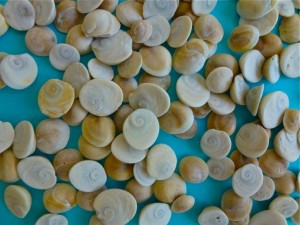 Here's a photo with a TURBAN so you can see the size a bit better…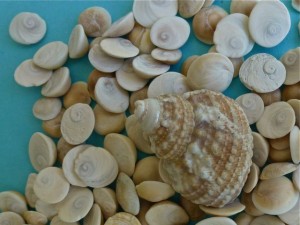 Pretty cool, huh? I have so much more to show you so this is just Part One of our weekend trip because I can't wait another second to tell you who won the Susick Sea Shell Sifter ! …….Drum roll Please!
The random winner of the Susick Sea Shell Sifter GiveAway is Kelli G.! Congratulations Kelli G and thanks to all of yall for your comments to enter!
Coming Soon-  Road Trip To Honeymoon Island Florida – Part 2