Archive for sea glass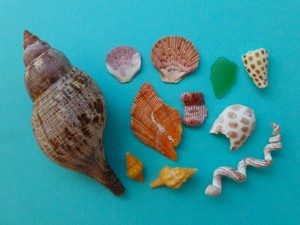 The shelling was excellent all weekend after the storm early last week. Not only was I tickled to find this large TRUE TULIP, the FLAT SCALLOPS, HORSIES, the WORMIE and a piece of aqua SEA GLASS, I think finding 2 pieces of JUNONIA and 2 pieces of LION'S PAW is what turbo charged me to run from beach to beach to search the clues for the unbroken loot. The after-burners went into high gear. I know you already heard I hit gold with my JUNONIA and LION'S PAW but now they are all cleaned up so I have to show them just one more time (I know, I know… just humor me ;))….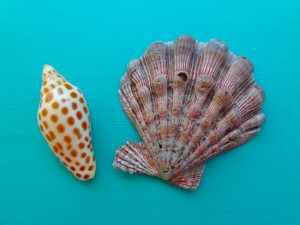 Ahhhhh. Two out of  The Elite Three. So for a while, I'm not coming down from being on cloud nine.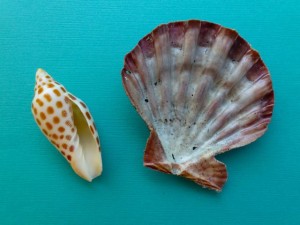 I saw lots of other shellers and friends enjoying the gifts of the sea too. Sunrise shellers Robert and Eileen…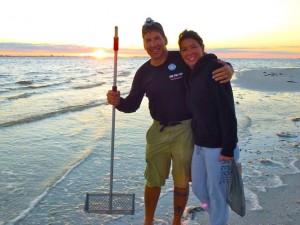 Robertfound a LION'S PAW too! It has some barnacles but who cares! It is a huge whole one and will clean up nicely I'm sure.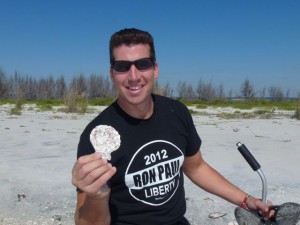 The locals were out playing on the beach too. I ran into my friend Mary (Captiva) …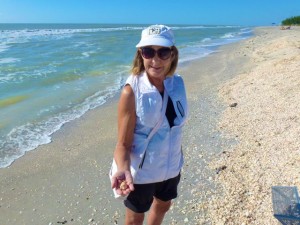 She found an ALPHABET CONE and a bright orange HORSE CONCH. Candy!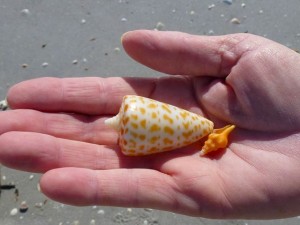 More of my buddies! I found Betsy and Sherrill sittin' n siftin' through another big shell pile…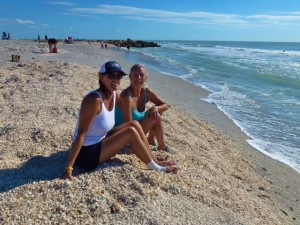 King and Queen of this shell mountain, Kathy and Tony had it all to themselves…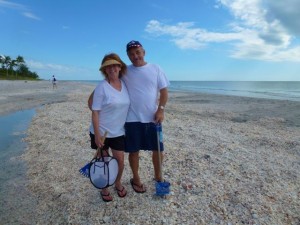 Other than shells, the storm brought in lots of other Beach Bling too. One of my favorites being pieces of CORAL.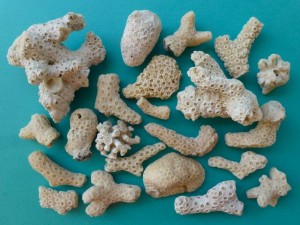 I still have more photos of cool stuff I found on the beaches..but not the time to show them all again. We have Hurricane Rina out in the Caribbean which may turn towards Florida from Mexico so we have to keep an eye out to see what she does. I just hope everybody is safe from this Category 2 Hurricane headed for Cancun, Cozumel then turning towards Cuba. When everybody is safe, then we can think about the shells she might produce. I promise, I'll catch up tomorrow and keep you updated.
I didn't see shellers with buckets filled to the rim with seashells today, but I did see a few buckets that had nice quality shells that made every other sheller smile when they peeked into the bottom. This is Eddy's bucket with that big FLAT SCALLOP and so mant color variations and sizes of the FIGHTING CONCHS and other goodies.
I first met Eddy in August with his sister Rachael and they are back in full shelling mode. Look at those CONES Rachael found.
This next bucket could make a grown shelling woman cry… I mean smile too.
This is very impressive to see all of the KINGS CROWNS together in the bottom of this bucket, isn't it? Molly found a secret shelling spot digging in some mud flats where she found all of these lovelies completely empty. Jack pot!
This is KING'S CROWN queen Molly and her daughter Ella with their other best finds of the week…. SEA URCHINS, 8″ HORSE CONCH, ALPHABET CONES, SHARK'S EYES, ANGEL WINGS and a NUT MEG. Ella told me that shelling was her most favorite thing to do. Then a close second was rock climbing.
Ella and her little brother Manny are excited to show off a few more shells.. a SUNRAY VENUS CLAM and a JUVENILE FIGHTING CONCH.
The picture above are treasures that shellers Melody and Bill found on a day trip to Venice  yesterday. Clockwise from the left … a KEY HOLE LIMPET, SEA GLASS, SHARK'S TOOTH FOSSIL and a TUSK shell all placed on top of a seagrape leaf. Nice finds!
Happy Anniversary Melody and Bill! What a nice way to "Shellebrate"!
There are still shells on the Sanibel side but the rip tide picked up a little this afternoon in between the shore and the sand bar… so be VERY CAREFUL if you are shelling around there. I've finally found all you crazy shellers like us so I don't want to lose any of you!
I'm done with the good luck charms, four leafed clovers, the rabbits foot and all that to find my JUNONIA. Today at Blind Pass Sanibel, Kathy gave me the best advice for mixing up a special adult brew to give us all good luck in finding our own JUNONIA. A recipe for a Junonia Cocktail. Woohoo! (Click on it to enlarge)
Oooooh. Sounds so yummy and I guess the trick is…. even if you don't find one, you can't help but be happy  after having one of these. teehee. I like her style. Here she is with her family..
I was so tickled she had on her iLoveshelling cap! Cute!
Brianna is on her way to finding a JUNONIA since she found this piece today. Kathy will have to celebrate for her with the cocktail since Brianna has quite a few years to go before she can have one.
Okay before I show this next photo, I want to make sure you know that Kathy did NOT find this shell on the beach. She said she found it at Harns Marsh in Lehigh Acres.
She brought this APPLE SNAIL shell to the beach to show it to me. Okay, again, just to make sure you know….. It was NOT found on the beach. It's cool, though isn't it? This is a land snail which is the diet of  the endangered SNAIL KITE bird. It's huge!
She did find this ALPHABET CONE, FLORIDA CONE and COLORFUL MOON on the beach today.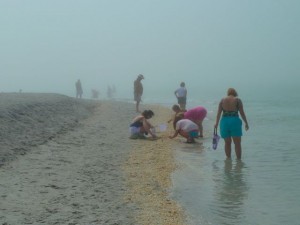 The fog started rolling in but that didn't stop the shellers. I ran into Patty who was thrilled she found a piece of SEA GLASS. I was thrilled for her since it isn't easy to find that on Sanibel.
Even with fog, it was a beautiful day on Sanibel.
Thanks for the recipe, Kathy. Let me know if any of you try the Junonia Cocktail!