It was a weekend wonderland on the beaches of Sanibel and Captiva with plenty of shells to pick, sift and sort.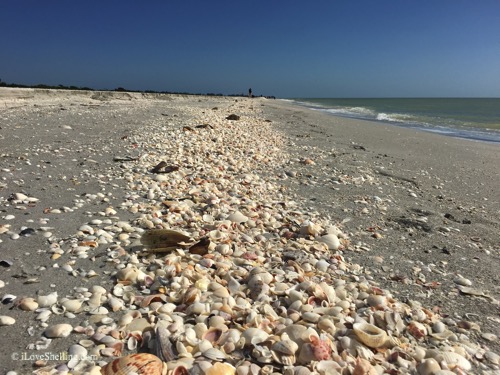 Bowman Beach was by far the best for beach combing along a stretch of shell strewn piles.
Holy Cowrie, we found an enormous shell pile! The shells in the first photo were all found in this massive mound- Boom Shellalaka!
On Saturday at Blind Pass Captiva, a cool front blew through that brought a sweet shell shelf that formed at the jetty. I found some nice treasures within just a few minutes.
Unfortunately, this huge shell mound didn't last long at Blind Pass. Most of these shells in the next photo were swept back out to sea just as fast as they were pushed in.
I also made a stop at Gulfside City Park this weekend to find some very cool SPONGES and scattered shells…
After hitting the beaches in the morning, it was so exciting to be part of the Captiva Holiday Village Golf Cart Parade again this year. I was a judge again like last year!

The Remax Whoville golf cart was so adorable!
John and Denice Beggs of Royal Shell had Frosty the Island Snowmen scooting around on their fabulous Happy Huladays float…
The Hippy Holiday girls were far out, man with the groovy beat of the Christmas holiday.
Santa had his boat afloat with the Burns Family diving under the sea with fish, mermaids and snorkelers.
With so many creative floats, it was sooooo hard to choose so I'm so glad I had the help of the 2 other judges – Queenie and Captiva Firefighter Paul. The peoples choice winner still has yet to be announced – go to Captiva Golf Cart Parade on Facebook tomorrow (December 22, 2015) to vote.
Wishing you lots of holiday  spirit with a video of beach combing on Bowmans Beach this weekend. Happy Shelladays!