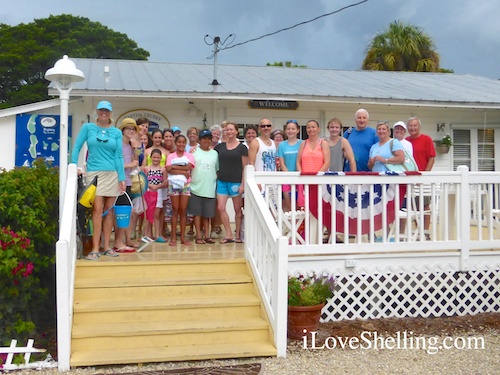 Our iLoveShelling shelling cruise to Cayo Costa had a rain delay Tuesday morning but just like shellers know how to make broken shells into beautiful pieces of art or jewelry, everybody who was there made the most of our time we had together. Captiva Cruises made our delay turn into something to talk about! We all gathered on the Lady Chadwick boat to stay safe until the storm passed (which BTW, wasn't supposed to rain until the afternoon) where we could chat about my favorite subject… shelling! After a couple of hours of "shell n tell" and the weather still iffy, we all decided that most of us could come back the next day. Lets go for it!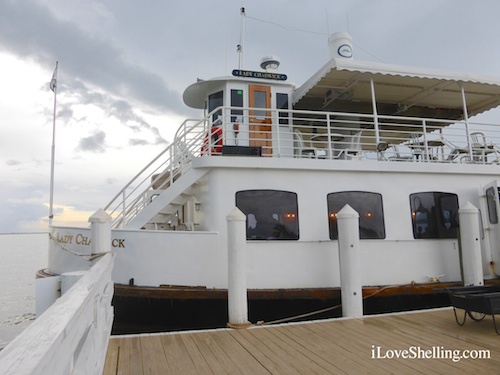 So yesterday, our iLoveShelling cruise -round 2 – brought us sunshine and smiling faces! Beth, Debbie, Carol, Joyce from Athens, TN were bright and cheery just like our whole crowd.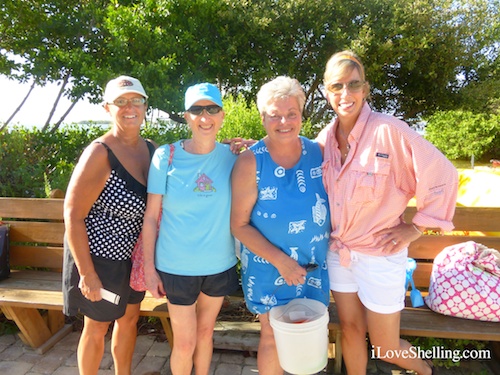 While boating to the island, I picked a winner for the sterling silver seashell charm that Sealife By Congress gave as a gift to one lucky iLoveShelling cruiser. Carol won!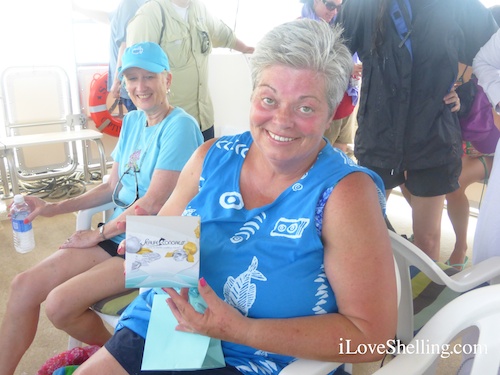 For everybody else on the entire iLoveShelling cruise, Sealife By Congress gave a $25 gift certificate so each of these shellers could have a sterling silver charm as well. Here is Dena, Stephanie, Mary, Gary, Lauren and Cameron with their Sealife By Congress gifts. An awesome jewelry store with an awesome way to start off the day. Remember, on every scheduled iLoveShelling cruise, Sealife By Congress will give gifts as well!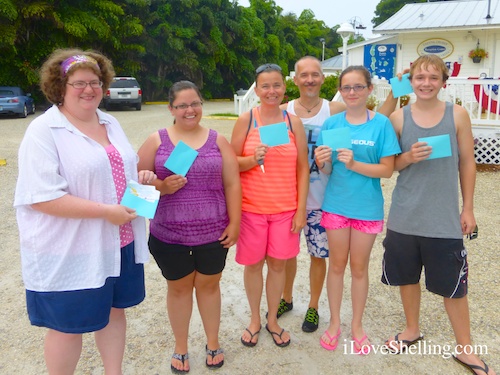 Then we pulled up to Cayo Costa to find crystal clear water, a beautiful beach with a string of seashells and puffy white non-stormy clouds. Paradise found.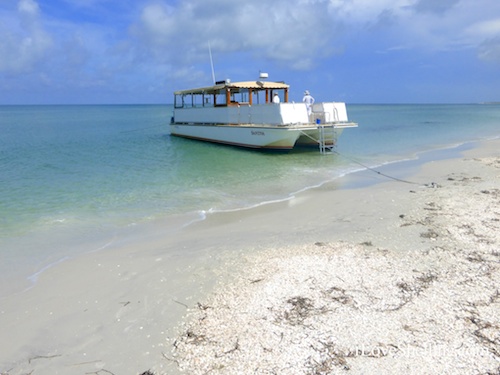 Mary, Gary and Cameron found some fabulous shells including a PAUL NEWMAN'S SHARKS EYE. Yep, its a blue eyed beauty…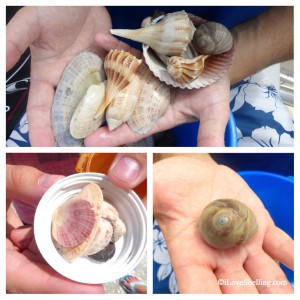 Lauren found the cool piece "rock" made of shell fragments which I used to believe were just chunks of cement made by fishermen used to keep their crab traps from moving around in the water. Now that I've questioned all of those different shells that are normally in the mix, I realized that they are fossil fragments cemented in limestone called COQUINA LIMESTONE. And yes, the "largest" shell on the right side is…. a COQUINA.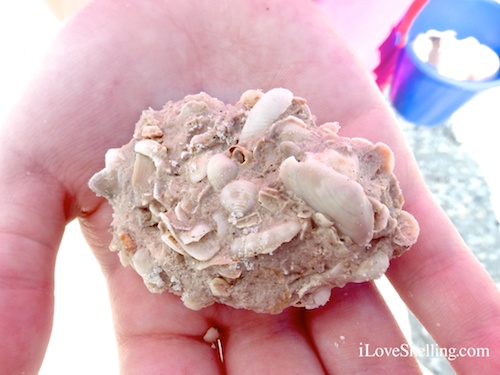 Landon started snorkeling as soon as he got off the boat and in just a few minutes, he showed me he found an ALPHABET CONE. Yay!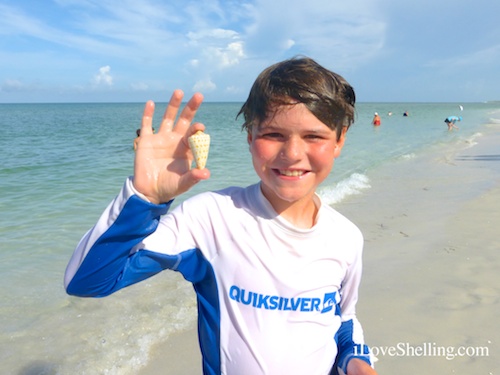 By the time we got back on the boat, he and his mom had two big bags filled with shells. They had so many FIGHTING CONCHS and LETTERED OLIVES,  he decided to walk around the boat to give everybody any of the shells they had found. So sweet! In October they have another shelling trip planned which they told me was inspired by my post of our trip to Turks and Caicos. We want to hear how it goes!
On the beach, we were finding a few BABYS EARS, quite a few WHITE CRESTED TELLINS, ALTERNATE TELLINS, SHARKS EYES, CANCELLATE SEMELES, ANGEL WINGS and one SPECKLED TELLIN as well.
The larger shells seemed to be in the water so the clear aqua was very inviting to just go for it like Michele from Los Angeles did. Can you believe how clear that water is? Wow! Since her mom Debora (NY) is an artist more than a sheller, she decided to the opportunity to take in the island scenery and do some graphite drawings of her shells. So lovely!
Alex and Tara encouraged Isabelle (Gainsville, Florida) to use a stunning pice of pink pearlized WINGED OYSTER shell she found for the seashell pendant for her sterling silver charm from Sealife By Congress. Perfect idea!
It's impossible to explain how much fun we all had after almost 9 hours of hanging out together on the cruise and because of our rain delay. It actually turned out even better because the rain gave me more time to get to know these fabulous folks… Sarah and Sandy from Arora Ontario… Grace, Melia and Teresa from St Louis…  Pat from Michigan, Carol from Cape Coral, Belinda from Ohio and Kevin and Kerry from Pennsylvania.
Thank you for joining me, it sure was a shelling trip worth the wait.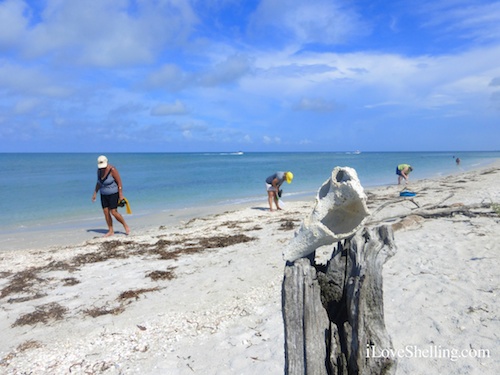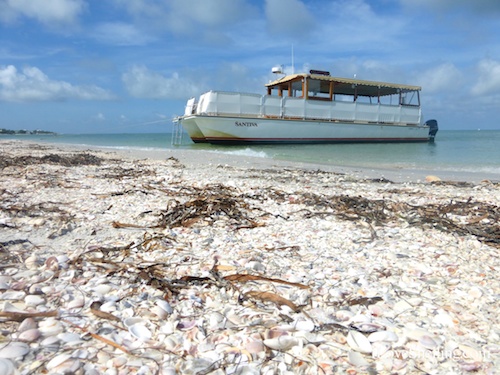 For iLoveShelling dates and times CLICK HERE. JOIN US!