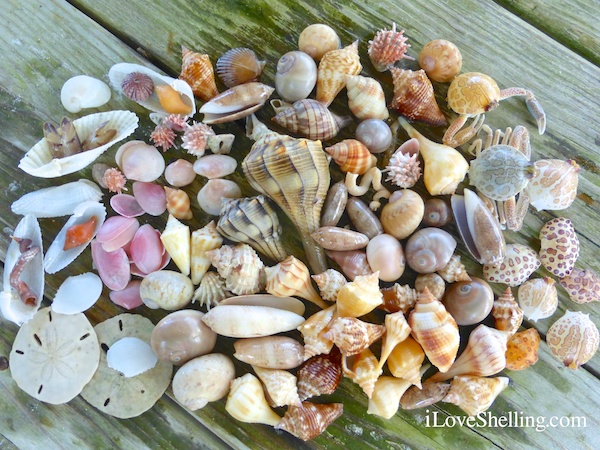 These shells are just a few of many beautiful gifts from the sea I could have easily plucked off the beach and popped in my beach bucket.
I have oodles of shells already in my house (and my yard, garage, porch, walkways, car, and of course the "shellaboratory) so I had to use restraint. But OMG, look at what washed up on south Fort Myers Beach! I showed this photo in my post but it was a little blurry so I'm trying again so you can see in just a tiny area, what kinds of shells and Beach Bling washed up together. Caryl Renz asked what was in this photo that looked like thousands of tusk shells …. here's the answer- that's MANATEE GRASS. When the little tubes of MANATEE GRASS get washed on shore they don't look like your regular SEA WEED, to me it looks like parmesan cheese sprinkled over a seafood stew on the beach. But I now realize after reading Caryl's comment, they do look like tusk shells too. Look at all the interesting things in this photo! (I hope this CYBERSHELLING shot a little more clear this time?)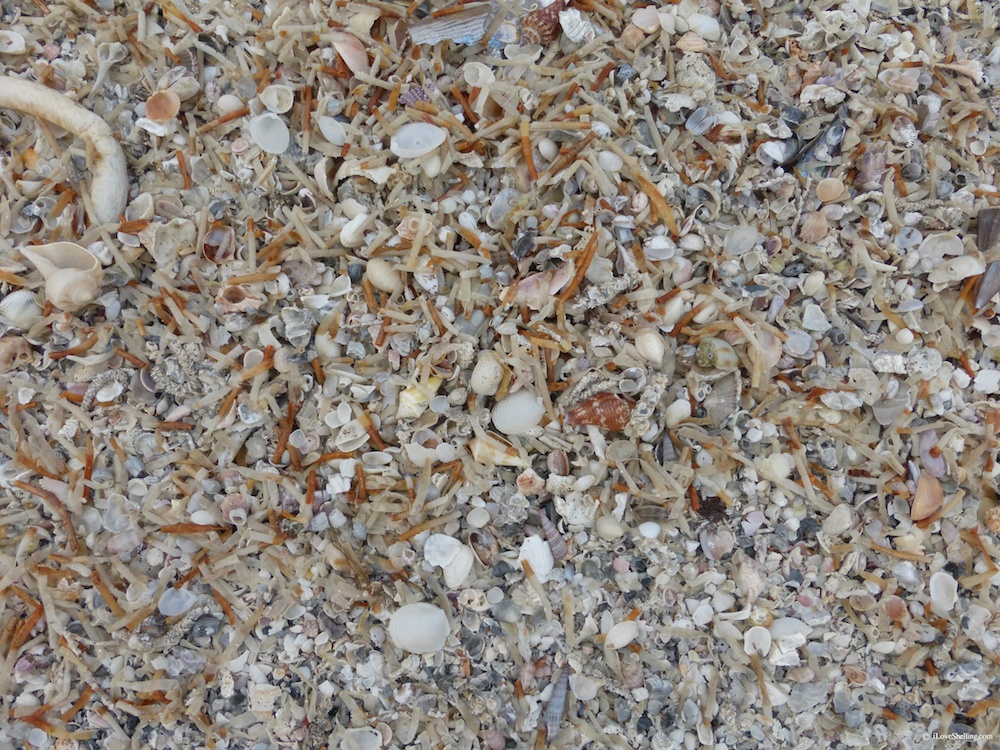 Did you find these FLORIDA CONES while you were CYBERSHELLING?
I continued to walk south on the beach to see swarms of people in one area. Oooohhhh! I've gotta pick up the pace and find out what they are finding!
An o-ver-whelming amount of shells and bling washed up for about a mile!
My head was spinning! Everywhere I looked, I saw seashells, CRAB SHELLS, STARFISH, SAND DOLLARS and MANATEE GRASS.
So many people were finding sweet little TRUE TULIPS like this one I saw in a cup on the beach.
There were shell lines at the shore line….
But then higher on the beach the wrack line was as wide as … well there really was no "line" …it covered the whole beach! I usually find very cool shells on this beach but the shelling was ridiculous this week!
I usually find very cool shells on this beach but the shelling was ridiculous this week!
Now you see why I had to use restraint to only pick up a few of my faves. I rinsed my treasures off then sorted them out under a cute little tiki hut . It truly is paradise!
I was so tickled to find such spiny and colorful SPINY JEWELBOXES, 2 WHITE CRESTED TELLINS, NUTMEGS, GAUDY NATICAS, ROSE PETAL TELLINS, ANGEL WINGS, tiny TRUE TULIPS, WORMIES, 2 double PURPLISH TAGELUS, SHARKS EYES, and of course, WHELKS, OLIVES, CONCHS, BANDBED TULIPS and my 2 FLORIDA CONES. That's the SANIBEL SIX double time! i Love Shelling!
UPDATE: I've had lots of folks ask me about parking to get to this beach. In the comments section of this post I responded to Holly so I will repost here as well just in case you don't read the comments…
There is public parking further north on Flamingo Rd with parking meters. But…. Between you and me….;) there is a shopping center near there called Santini Plaza. Some of the locals say you can park there and walk over to the beach… but don't quote me on that, please. Id hate to have them mad at me for filling up their parking lot so they don't have room for their patrons. If the lot is empty, I'm sure its ok but please Just be thoughtful of their parking issues for the businesses. My mission is to share the shelling love <3 but the locals with businesses of Southwest Florida need the love too 

 Its gotta be a happy balance to shellebrate together! That beach is best at low tide but Let us know if the piles are still there.
PS- I tried to explain the parking in a previous post about this beach but like I said back then, it's a little harder to get to so you don't have as much competition. hahaha so to me thats a good thing!http://www.iloveshelling.com/blog/2013/07/21/everythings-in-the-pink-when-youre-on-the-beach/