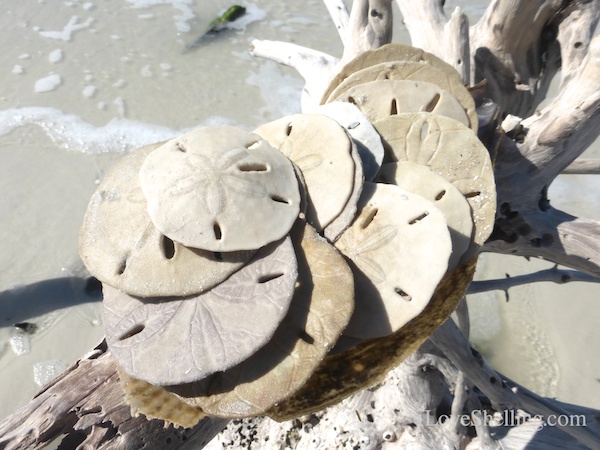 Every time I've visited my friends on Fort Myers Beach, I've found SAND DOLLARS (and so many other beautiful shells). It's crazy!
I met Laura, Bruce, Rhonda and Darrell (Michigan) who were happy as clams they found so many SAND DOLLARS …
They filled up 2 bags! They asked me how they could get them home without breaking them so I suggested finding plastic containers. When we travel, we buy groceries based on what type of containers they come in… like chicken salad, lunch meat, peanut butter, etc. So what if we don't finish the peanut butter, we get several lunches out of it and then clean out the jar and use it for shells. CLICK HERE to see one of my posts on my containers.
Susan and Vince from Canada said they could have picked up hundreds of them but chose to only take a few as souvenirs.
They picked the most perfect ones!
Other than SAND DOLLARS, I found some really pretty SPINY JEWELBOXES…
And POINTED VENUS shells too. I don't find many of these on Sanibel but every time I go to this beautiful beach,  I've found them.
I betcha a SAND DOLLAR the next time I take a stroll on this beach, I will find a POINTED VENUS and be just as tickled as if I found a dollar bill on the beach.
Dont Forget to check out our new dates for Shellabaloo 5!