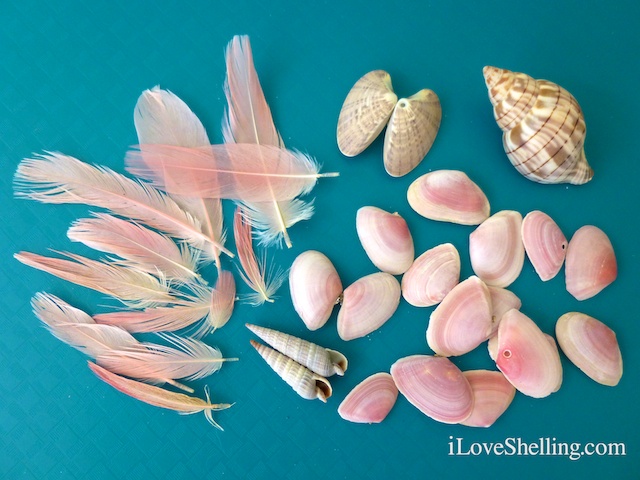 Everything seemed to be coming up pink roses while I took a walk on the south stretch of Fort Myers Beach Friday afternoon. ROSE PETAL TELLINS, ROSEATE SPOONBILL FEATHERS, AUGERS, SUNRAY VENUS CLAMS and BANDED TULIPS all had a beautiful pink tint. The beach was blushing with beauty!
The last time I was on this beach I found oodles of shells but I thought it may have been because of Tropical Storm Andrea. Obviously not! I went to see my friend Stefanie on south Fort Myers Beach again but this time, she went shelling with me. She was thrilled to find a SAND DOLLAR!
Well, let me rephrase… she was ecstatic when she found 7 SAND DOLLARS (one broke- waaaa)! Along with the ROSE PETAL TELLINS and ROSEATE SPOONBILL FEATHERS, we found a GAUDY NATICA, a NUMEG, OLIVES, FIGHTING CONCHS, 2 SHARKS EYS and 4 KINGS CROWNS. Wow!
You had to pick up each FIGHTING CONCH and KING'S CROWN to look inside to make sure nobody was home. It was fun to see lots of live shells but it  was way more fun to find an empty one to shout about. "It's empty! Look how pretty!"
We met Alysa and Justin visiting from Colorado…
They were finding great shells too!
I knew we were going to have good luck anyway though. As soon as we stepped on the south end of the beach we were surrounded by DRAGONFLIES. I'm not sure you can see them all in the next photo but click on the pic to enlarge it to see thousands of them. They bring good luck!
I tried to rescue one of them that got stuck in a tidal pool but not sure if she made it. She was sooooo beautiful!
Stefanie and I had a wonderful time collecting not only shells but very cool BEACH BLING. It's a hidden gem!
This beach reminds me so much of Lover's Key beaches with the same types of shells but with the added bonus of SAND DOLLARS. I guess it should remind me of that beach since it's right across the bridge from Lover's Key State Park. It's a little harder to get to this beach because there is limited public parking…BUT… there are about 5 metered parking spaces about 5 blocks north on Flamingo Street. If you want to do a little shopping in Santini Plaza, you could park there and walk across the street to the beach. I think this is another reason why it's such a good shelling beach- not much competition! LOL
PS- Remember- Big hats and sunscreen. We only want to find pink shells and pink bling… not pink skin!