On the third day of our Shellabaloo, the Island Inn organized a fabulous shelling excursion for us to explore the quiet and undeveloped beaches on the island of Cayo Costa. So we gathered aboard Captiva Cruises' catamaran called "Playtime", and headed for our secluded paradise.
 After walking through a charming tree canopy trail with a sanded pathway,
we arrived on a shelly beach with picturesque trees and roots that act as a perfect trap for seashells.
Then everybody scattered! Some searched the roots…
Some searched the wrack lines…
Mike immediately started hunting the clear waters and found this gorgeous live LIGHTNING WHELK. After admiring the spectacular beauty of this live creature, he gently placed it back in the water. We hope it lives a much longer life and to breed more beauties!
Patty was completely mesmerized by the minis! She found lots of tiny seashells she never dreamed of paying attention to before like oodles of LUNATE CRASSINELLAS!
Here she is holding her minis and decked out with her awesome mermaid and seahorse tattoo along with Captiva Cruises' Captain Brian…
It was so much fun to show everybody exactly where and how to spot the shells they were hunting for!
Right after I showed Jo Ann the different shells to look for in this wrack line, she showed me a COFFEE  TRIVIA. Wow! I don't find those very often!
We all had an amazing day being together and sharing our finds (CLICK HERE to see some of the other shells we found) and telling our stories while being on the island then comparing notes on the boat ride back. After arriving back at the dock, we all got together for a group shot to remember our exshellent time together.
So now that I've told you all the shellsational things we did over the 4 days like staying at Island Inn, cocktails and dinner at Traditions On The Beach, shelling at the different beaches and the excursion with Captiva Cruises (I didnt even get to show you the visit to Bailey-Matthews Shell Museum and dinner at Doc Fords! so sorry!) … I also made up a little game of a "Shellinger Hunt" for everybody! Nope, not a scavenger hunt…. a shellinger hunt! For each of our destinations, I had questions for everybody to play along to find certain shells and learn a little something more about the island. It was fun even to put it together since I had lots of help from my adorable, sweet kitty Dustie…
I even tied WORM SHELLS to each of the Shellinger Hunt scrolls so it would start everybody out with a fun shell…
Congratshellations to winners Kathy, Karen, Jackie, Helen, Mike and Carolyn of the first ever iLoveShelling Shellinger Hunt! They won gift cards to the new awesome frozen yogurt shop on Sanibel called Zebra Frozen Yogurt. YUM!
Thank you Island Inn for organizing this 4 day spectacsheller event!!! Everything was perfect. Even the last sunset of our time together right on the beach in front of the inn was perfect…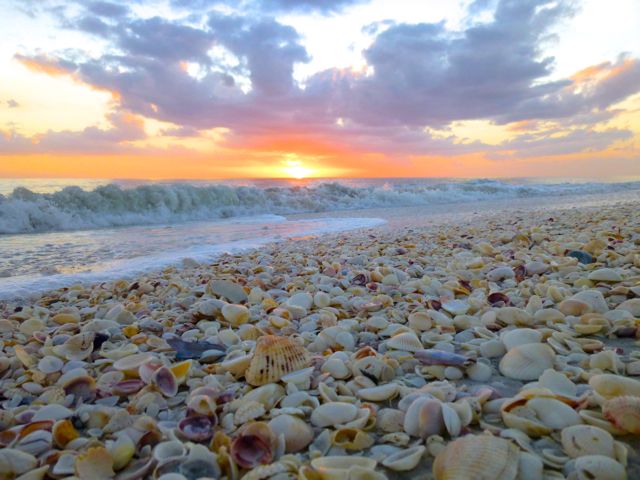 As promised, we are working on more dates to organize more shellsational events just like this one at the Island Inn so more of us can share such a special time together. I hope to announce that very soon!!!
Ahem…. but meanwhile, while the next Shellabaloo date is still in the works… I have some exciting news!
LET'S DO A CAPTIVA CRUISE TO CAYO COSTA TOGETHER!!!
Yes! I have secured some dates so we can meet each other, enjoy a boat ride together and shell, shell, shell together on the beautiful secluded island of Cayo Costa!!
 Get ready to meet the best people on the planet… other shellers just like us!
These are the dates for the iLoveShelling ShellingAdventure!
February 17- morning cruise from 9am-12      (Sunday)
March 16- morning cruise from 9am-12          (Saturday)
April 13 – Morning cruise from 9am-12           (Saturday)
May 19- afternoon cruise from 1pm-4              (Sunday)
Call Captiva Cruises for reservations at 239-472-5300 and tell them you want to join the iLoveShelling group on one of these dates!
For more information about reservations CLICK HERE
Yippee! Can you believe it? Tickets are only $50 for this shellacious get together so book soon to save your spot on one of the iLoveShelling ShellingAdventures to Cayo Costa! Come join me!