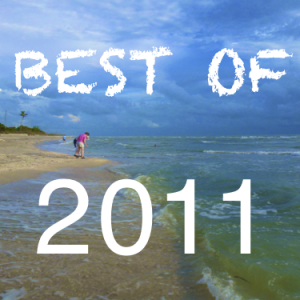 My Top 10 Most Fave Posts Of 2011! 
Happy New Year's Eve! It's been an amazing year on the beach so I thought I'd look back on all of my favorite posts of 2011. I realized not all of my favorite days were completely about seashells. Some of my favorite days of 2011 have been about the wildlife I've experienced because of my obsession (ha!) passion for shelling. So I'm starting with #10 then counting down to my number ONE favorite post. I bet you guess what that will be- heehee. Click on each title or photo to read each post…
#10
Tips To Decorate Your Home with Seashells
#9
Seashells Swarm The Shell Fair
#8
Sorting Seashells For The Holidays
#7
 #6
Top 10 Reasons Why I Love The Beach
 #5
Road Trip For Seashells In The Florida Keys
#4
Splish Splash Sanibel Dolphins Having a Blast
 #3
An Octopus Hatching Babies Video
#2
Roseate Spoonbills By Sanibel Causeway Video
 #1 Favorite !!!!!     (Of Course, right?!!!)
There's A New Super Sheller In Town!
These were my favorites, what was your fave iLoveShelling post of 2011?
SaveSave