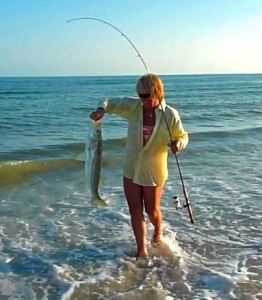 Belinda won the battle with this awesome snook….. and I even got it on video! She said she usually shells when she and Bob visit Sanibel from Islamorada in the Florida Keys but decided to fish this time instead. She still couldn't help but feel around for shells with her toes while waiting for the bite on her line. Sit back and enjoy Belinda versus Big Snook (she gives all the credit to The Bait Box !) video and a beautiful bright orange SCALLOP find.  But wait! We have more winners so make sure you scroll down after the movie.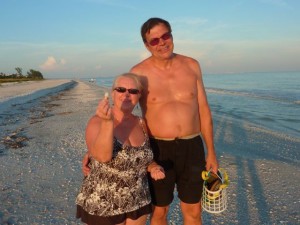 Ann and Paul (MN) felt like a big winners after finding a BABYS EAR near Gulf Side City Park. The same beach where Belinda caught (and released) her big bad snook.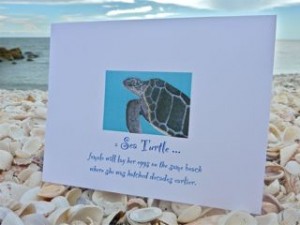 Now for the really big, really big (said in that Ed Sullivan voice)
Winner of the Write From The Beach GiveAway ……..
Karen M. Wells !! Congratulations, Karen!
And a big THANK YOU to everybody for leaving so many wonderful comments. This is just so much dang fun, I'll have to start thinking of my next giveaway already.