In between rain showers this week, Jeff was finding some shells but most of the really good ones were alive like this big LIGHTNING WHELK he is holding in the photo above.
While I shot Jeff taking a photo of this conch, he told me he was from New York, New York. Manhattan Island. I shared a little fun fact with him.
Did you know that Manhattan is about the same size as Sanibel?
Manhattan is 13.4 miles long and 2.3 miles wide. Sanibel is around 12 miles long and 3 miles at its widest. Weird concept, huh?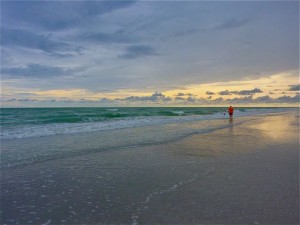 Don't forget…