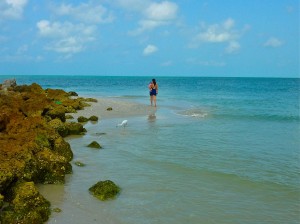 Kinda looks like Captiva's Blind Pass, right? Nope. We took a little day trip down to Little Hickory in Bonita springs for a shelling adventure. Our blog buddy Carla told us about the north end of Little Hickory  and posted some pictures on the iLoveShelling facebook page which got us antsy to check it out. It's only about 40 minutes from Sanibel (if that) going through Fort Myers Beach so it was no problem to find it and the parking is easy (just look for the signs) and hang a right when you get on the beach.
We found lots of fighting conchs! We normally don't pick up or keep FIGHTING CONCHS any more but we collected these for Jesse at The Mucky Duck. We haven't been finding many shells other than minis (not that there's anything wrong with that :))on Sanibel lately and Jesse is low on "stock". He'll have plenty for a while and they are absolutely perfect.
This was obviously low tide, so many shells were just barely covered by sand. It was so much fun seeing a tiny bit of a NUTMEG, TULIP or WORM SHELL peeking out of the sand, digging around it with my toe, seeing it was whole, then reaching down to find a keeper. We found lots of broken CONES but we weren't lucky enough to find any to bring home but we were still happy with our haul. These were our best finds….
From top left to right- SHARK'S EYE, WORM SHELL, NUTMEG, 3 TRUE TULIPS then a JUVENILE HORSE CONCH (candy!), MOON SHELL, the first smaller shell is a baby LACE MUREX (so cute!), baby KINGS' CROWN, PEAR WHELK, WORM TOP. Then a KING'S CROWN, another MOON then a  TOP SHELL. Sorry the picture isn't that great to see them up close. We only put 2 hours worth of quarters in the meter so our time was running out.
We had a really good lunch after working up a big appetite out on the beach. Right across the street from the parking lot is Big Hickory Seafood Grille. Yum!
Thanks, Carla, for giving us this day trip shelling tip. It was well worth the short drive (no traffic this time of year) and we had fun exploring another area.