Archive for White Crested Tellin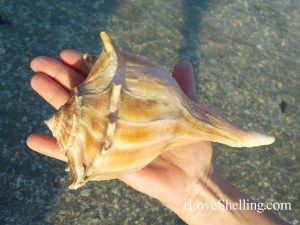 If there is a better souvenir than finding an awesome LIGHTNING WHELK like this to remember a wonderful vacation… I dont know about it.
Therese told me she only saw a tiny bit of the top of this shell and thought it looked interesting enough to start digging around it. Then she realized it was this perfectly empty WHELK! Congratshellations Therese! She and her husband Dan (visiting from Minnesota) had an exshellent afternoon at Blind Pass Captiva under the bridge at low tide filling up their shell bags with WHELKS, CONCHS, OLIVES and one nice piece of a JUNONIA.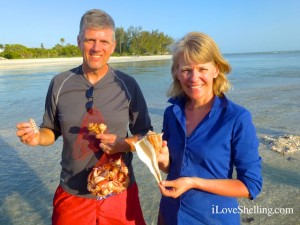 She even found one of the biggest CHESTNUT TURBANS I've seen in a while too…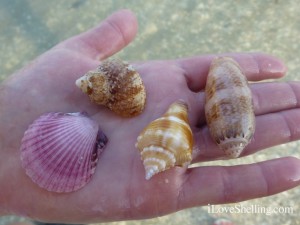 Wendy (a local Sanibelian) found a few goodies to take home to make into jewelry…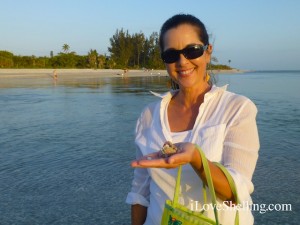 She also found a SHIVA SHELL (which I didnt even get a picture of – darn!- so CLICK HERE if you want to see one) and this incredible DOUBLE JEWELBOX. It has pieces of CORAL growing on it!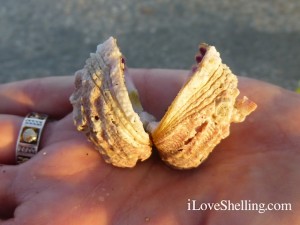 Clark found a few nice shells too but the one I got most excited about was the WHITE CRESTED TELLIN in the top left corner. We have found them more on Cayo Costa but to find one at Blind Pass is pretty rare. The shell in between the two OLIVES is a huge and thick weird shaped JINGLE I thought was interesting too. I love that weird stuff!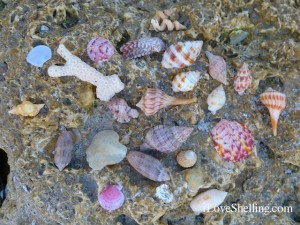 You really couldn't see how big the NUTMEG was in the last photo so I thought I'd show you how big it is in Clark's hand. It's shellacious! It measures in at a whopping 48mm… which isn't like a world record size (Susan H?) but it's the biggest one we've seen in a long time!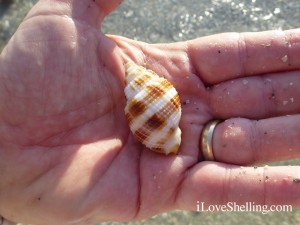 I found a regular sized NUTMEG that I thought I'd keep along with a BITTERSWEET, a CALICO CLAM with a cool pattern, and my new faves- the CALICO SCALLOP.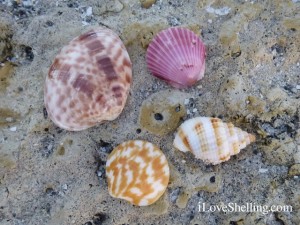 We ended the evening watching another gorgeous sunset over a big pile of Sit 'N Sift shells on the other side of the jetty rocks at Blind Pass Captiva.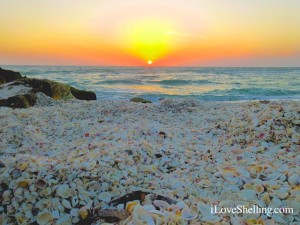 The sky turns a lucious orange right at the horizon when the sun sets over the Gulf Of Mexico.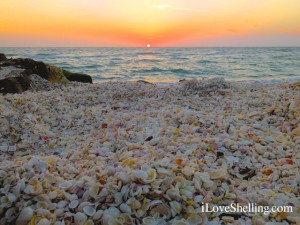 Then it melts into the water to end another sensational day on the island.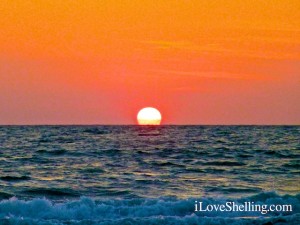 Oh Wait! I did take a short little video right when we first got to Blind Pass at 6pm yesterday. It's just a little something to show you exactly where we were. This was right before Therese showed me her WHELK! Have a wonderful weekend!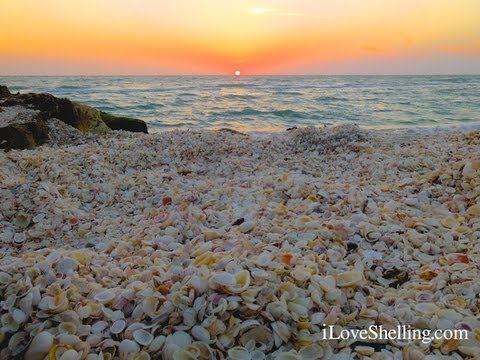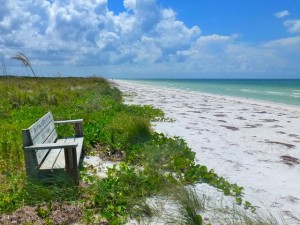 In my first 2 posts about our weekend trip to Honeymoon Island State Park, I showed you some cool treasures we found like TURBANS, MERMAID MONEY, AGATIZED CORAL GEODES, rock art and a variety of shells… but wait! I still have a few more things I want to show you. Like the biggest KING'S CROWN we've ever seen! Clark found this live mollusk on the bay side of the northern tip of the island.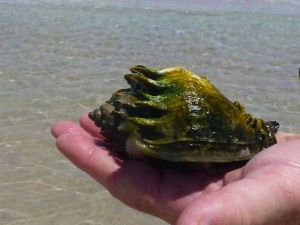 Of course we put him back where Clark found him after peaking at this awesome creature…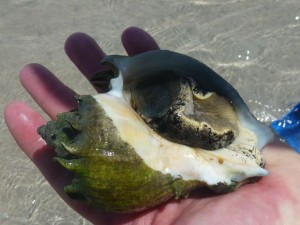 We saw a MANATEE! It's always a bonus to see them so close to the shore and this guy wasn't shy at all so came up to say "hi"…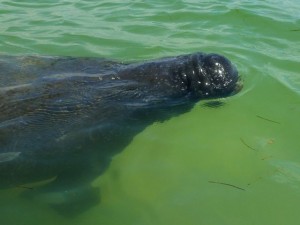 On our walk back we found 2 SAND DOLLARS along with some of the other shells…and remember, it's a 5 mile round trip- whew! I even wish we had taken more than the 100 fluid oz. we packed for the "hike".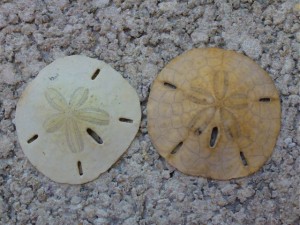 On Sunday, we decided to take the scenic drive back through Clearwater Beach down to Pass-A-Grille since we heard the shelling was good against the jetty rocks. Nuttin, Honey. All I found was my butt busting on a rock after I slipped on an unsteady chunk of the jetty. Ouch!
I met a nice couple a few years ago in my shop Kirby Rambo Collections (Clark sold it for me in 2004… 4 weeks before Hurricane Charley. Talk about timing!) who showed me a bag of WORM SHELLS they collected on Fort De Soto beach. I've been wanting to check it out ever since so we stopped there too while passing through St Pete.  We didn't find much there either but that's okay. It was fun to just walk the beach and see the lay of the land. Just like I tell people that visit our beaches….. the shelling changes every day on each beach. There could have been hundreds of WORM SHELLS there the day after or before we walked it. It's the hunt that makes it fun!
When I was sorting through our shells when we got home, I found a few bivalves that we had collected on Honeymoon Island that were a little unusual. It might not be so pretty but this ATLANTIC FAT TELLIN which should be called the bent tellin because it has an obvious bend in the middle of it.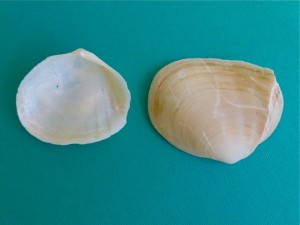 I think you can see the bend a little better at this angle…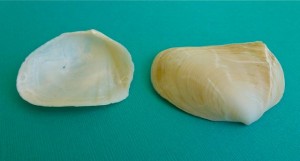 Shelling Sistah Moira showed me a facebook photo last week of this same LUCINE shell in the next photo. The closest thing I found at Bailey-Matthews Shell Museum is the THICK LUCINE….. but it looks more like a worn PENNSYLVANIA LUCINE to me. I found the same shell on Honeymoon too….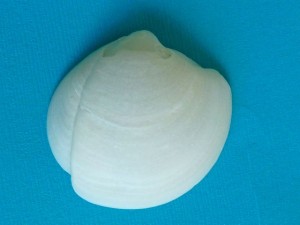 Here's the inside… some people wouldn't think this is too pretty but for identification purposes, I have found that the interior of the shell is just as important to identify it correctly as the exterior.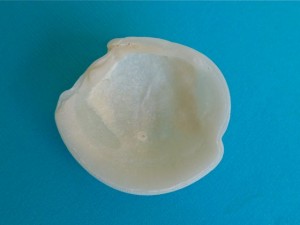 I also found a very worn WHITE CRESTED TELLIN.  It's the first one I've ever found.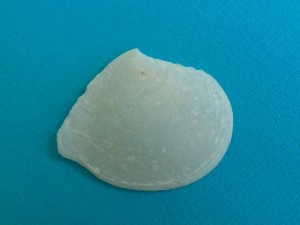 So now that I've shown you all of our treasures from our weekend getaway, I thought I'd throw in a few places we enjoyed other than the beaches. Unfortunately, I don't have many pictures but we both loved the little town of Dunedin (pronounced  dun-E-din). It's one of those quant little village-y areas with funky art studios, sweet gift shops and really good restaurants and bars- most with live entertainment so you can just wander around before and after dinner to enjoy the town. Our fave restaurant was a place called Kelly's Chicaboom- awesome! We also loved this tiny restaurant/fish market called Olde Bay Cafe at the marina.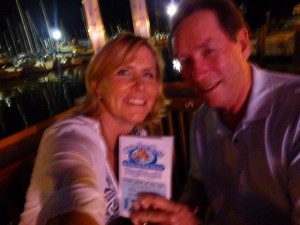 We had a wonderful time exploring another gulf coast town of Florida that offers some beautiful and different gifts of the sea but it was time to head back over the Sunshine Skyway…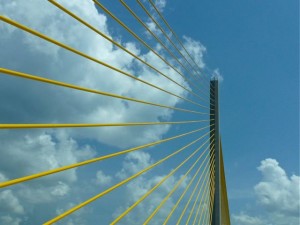 …to get home to our little island paradise of Sanibel. Home Sweet Home!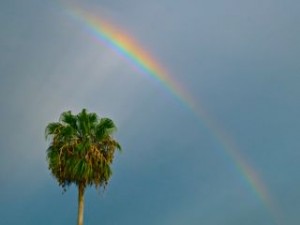 The island seashell telegraph was buzzing yesterday with the news that a rare WHITE CRESTED TELLIN was found by our shelling friend Nancy (see her on post Seashell In My Pocket) while she was shelling the out islands with her husband Dayton and their best friends Gary and Sandy. Look at the cool serrated edges on this shell- those aren't chips. This photo only shows the one side of the shell…the other side is attached as well! They took it to the shop Sanibel Seashell Industries and he said it was a rare find.
Gary found all of these ROSE PETAL TELLINS out on the out islands too.  They got out there by hiring shelling guide Brian Holaway to take them out near North Captiva and Cayo Costa.
I think it's the prettiest yellow ALTERNATE TELLIN I've ever seen. Guess who found this. Nancy! She was a hawk eye out on those flats. This shell looks similar to a COQUINA in this picture but it's about an inch bigger.
These are the color that these TELLINS normally are. Nice… but can't really compare to that yellow!
Brian surely did not disappoint this crowd. Nancy found this SCOTCH BONNET too!! This was her first time she has found a SCOTCH BONNET and she said Brian seemed just as excited as she was.
They all found MORTON'S EGG COCKLES which are another shell crafter favorite since the inside is such a bright yellow. I forget the variety, but to me, they look like orchid petals. Please help me if you know what orchid I'm thinking of.
The shelling continued with PURPLISH TAGELUS shells.
Sandy found this super big WENTLETRAP and lots of BABY'S EARS. You wouldn't believe the bags and bags of goodies the whole gang brought back.
They all could not get over how much fun they had and how many shells they found with Brian as their guide ( click HERE for info on Brian). Congrats to you all and thanks for sharing your goodies.