Archive for Lace Murex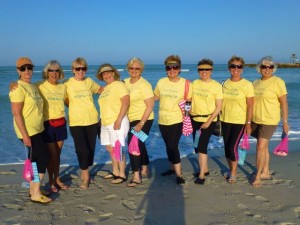 When girlfriends get together for a beach vacation, you can feel the sisterhood happiness and excitement all the way down the shore. The "Sistahs" are actually newbie shellers but are definitely not newbies at finding the best treasures life has to offer. Deb, Lizzi, Baba, Becky, Karen, Sharon, Betty, Roxie and Sandy each live in different parts of the world so they have a reunion each year at a new destination … so this year they picked Captiva to "shellebrate" their friendship. They even wanted matching iLoveShelling tee shirts to commemorate the occasion. I feel so honored! Here's Karen with her cute tee and showing off the best find of the morning. A reeaaally big LACE MUREX…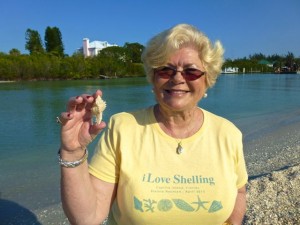 That's an exshellent find!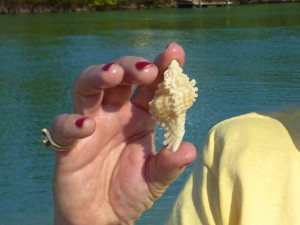 Talk about "exshellent" finds… these guys have been shelling for over 20 years together and know how to find the good stuff in life too. Ian, Brett, Brett's brother Jeff  (who also happens to be Ian's dad) were also shelling near the Blind Pass bridge on the Sanibel side and as you can tell… a very happy shelling family. Look at those smiles!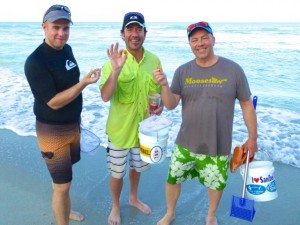 They told me they had great luck fishing all day yesterday and today they will be shelling all day and already had great luck this morning. My faves are the amazingly dark LIGHTNING WHELK, huge orange CHESTNUT TURBAN, and of course… the WORMIE! (heehee- they even called it a "wormie" too) And I didn't even take pictures of the rest of their favorite finds… like the NUTMEG, LACE MUREX, bright orange CALICO SCALLOPS and TURKEY WINGS.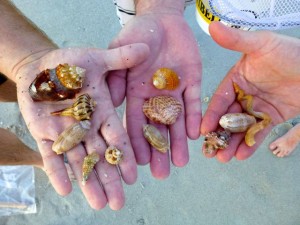 Brett even shared his finds with the "Sistahs". They were thrilled!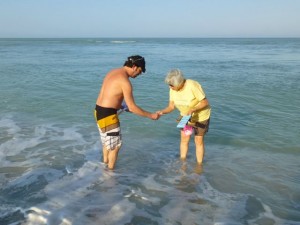 We had a pretty good shell pile to practice the Sanibel Stoop… and the Sit 'N Sift…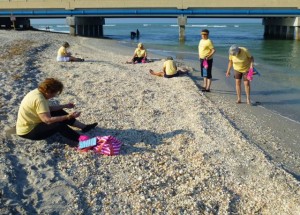 I feel so fortunate to be part of such an amazing community of people brought together by shells. Oh, and sometimes a GREAT BLUE HERON joins in on the family fun too.