Archive for Sanibel Stoop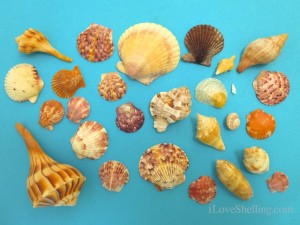 My favorite time to shell is in the warm evenings when the receding low tide seems to expose a mile of undiscovered beach…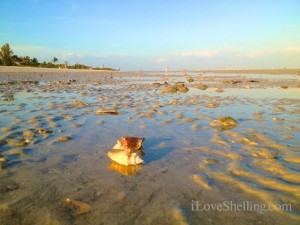 Whichever way you walk, you know will be the right way…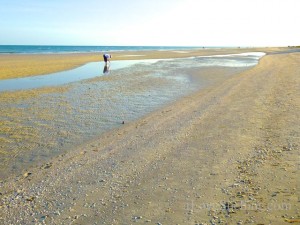 When treasures are half buried but you see just enough of a clue to know you've found something special…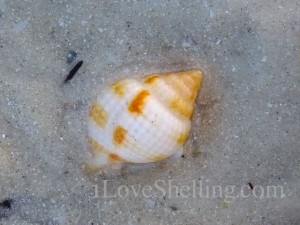 When there are live creatures trying to camouflage themselves until they can make it back under the sand like this tiny baby SAND DOLLAR…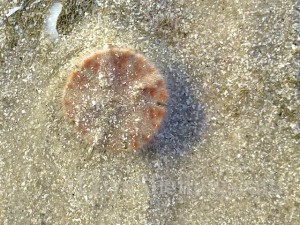 When the sky glows like a bon fire just before the sun sinks behind the horizon.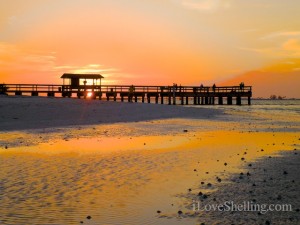 There were quite a few shells half buried all along the Lighthouse Beach (like the NUTMEG) but if you walk west on the gulf side this week in the evening you will see oodles of live FIGHTING CONCHS, STARFISH and other amazing creatures… oh and some treasures like the empty LIGHTNING WHELK as well. It's just a beautiful site to see. I've heard that Bowmans Beach and Blind Pass have some great shells right now so if you are around Southwest Florida, you should get out on one of the beaches this afternoon/evening. It's a site to behold.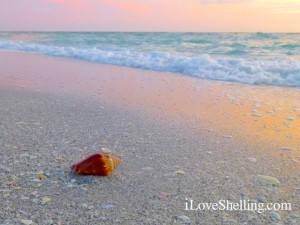 And we have a little bit of SHELLEBRATING to do too! The iLoveShelling facebook page now has over 5000 fans! Wahhooo! 5000 shellers who love shelling as much as we do! We are in some exshellent company, my friends. Here's a little shout out to our 5000th shelling friend, Angela Lucas! Thank you Angela and welcome to the world of iLoveShelling! Here's Angela and her mermaids!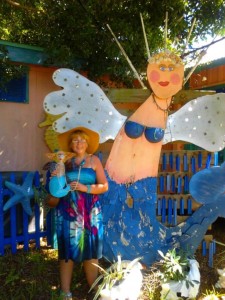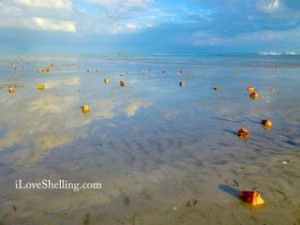 The shelling at Tarpon Bay Road beach access is awesome at low tide now!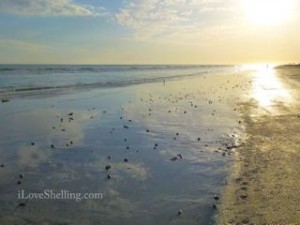 Most of the FIGHTING CONCHS are alive but there are lots of other empty shells to be found as well.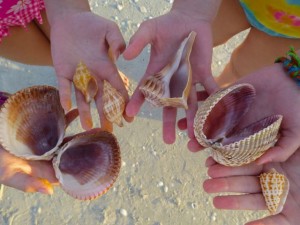 These shells were found by Anna, Grave and Sarah visiting Sanibel from Ohio…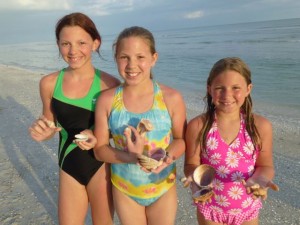 I saw Matt, Landon, Loulie and Berkeley (I met them last month on the iLoveShelling cruise!) collecting all kinds of goodies…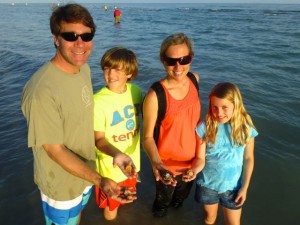 Here are their awesome best finds…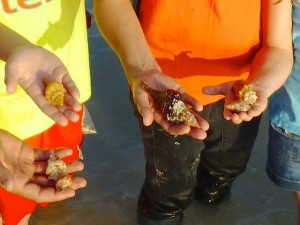 Wanna see what else they had in their shell bags? Here ya go…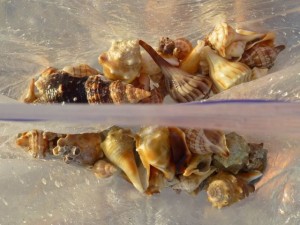 My fave find was this orange BROAD PAPER COCKLE. This photo really doesn't do it justice but it's not often I find them without a chip on the edge. I love it!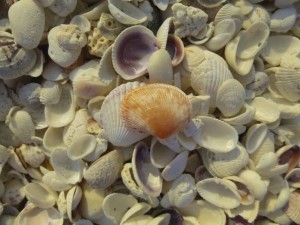 That's what has been happening on Tarpon Bay Beach (Parking is plentiful at Trost Parking lot) this week, and this is what I saw at Blind Pass Captiva today. The wind has calmed so the water is back to beautiful aqua…AND… the Sit 'N Sift shell pile back. I didn't stay long but I did see TURBANS, OLIVES and small WHELKS just to name a few.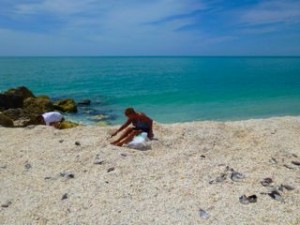 It looks like the shells are showing up on most of the beaches (Lighthouse Beach is still great for minis!)….  so I  CAN NOT wait until this Saturday April 13 for our iLoveShelling morning cruise to Cayo Costa from 9 to noon! Join Clark and me on this shelling adventure so we can share the anticipation together for our treasure hunt! CLICK HERE for more info.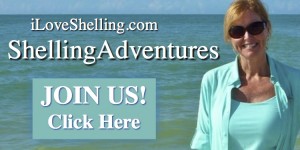 Let's do the Sanibel Stoop!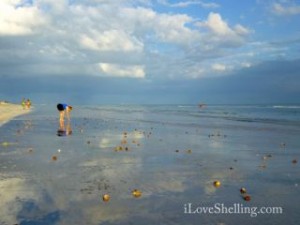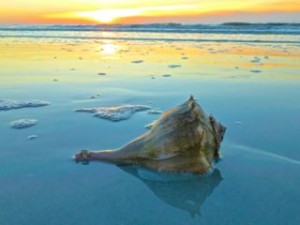 As our year of 2012 is winding down, Sanibel Island is bustling with tourists this week shellebrating the holidays with sunshine, clear skies and plenty of empty souvenir seashells on our beaches. At sunrise, low tide exposed a "whelkcome" mat of large live WHELKS, CONCHS and TULIPS at Gulfside City Park this morning to view these magnificent living creatures for just a few minutes before the incoming tide covered them up again.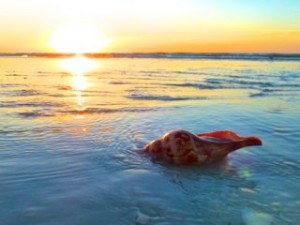 A true gift to see the miracle of a living MOLLUSK.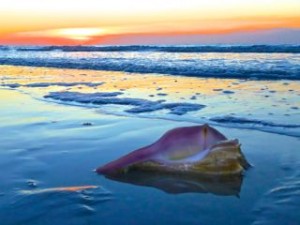 Peace.