Archive for Atlantic Wing Oyster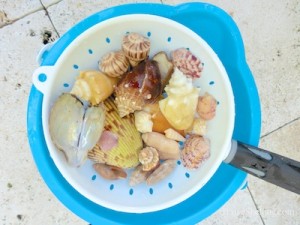 Low tide Sunday morning shelling at Blind Pass ….ahhhhhhh. Hawg heaven!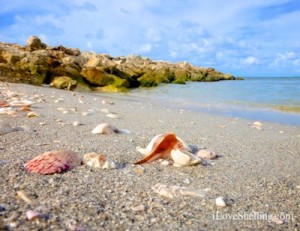 Even if there wasn't a shell in site, I would have been a happy girl just to walk on the beach, breath the salty air, feel the waves touch my toes and hear birds singing their sea songs. But I did have a bonus… Shells!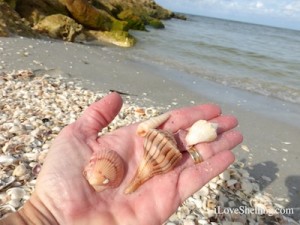 While I was finding my mermaid loot, I met Lisa and Stan (Tampa) with their 2 kids Josh and Allison finding their own treasures from the sea.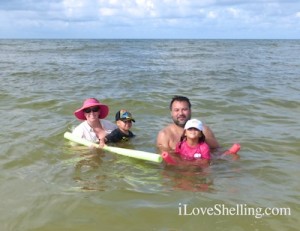 Stan was snorkeling about chest high to find some CONCHS, OLIVES and an ALPHABET CONE that he pulled out of his pockets to show me…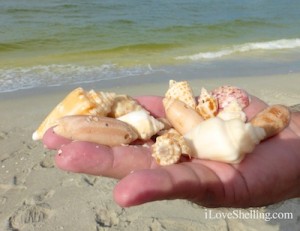 But that wasn't it! They had a big bucket filled with CORAL, PEN SHELLS, a few BANDED TULIPS, an APPLE MUREX and a nice SUNRAY VENUS.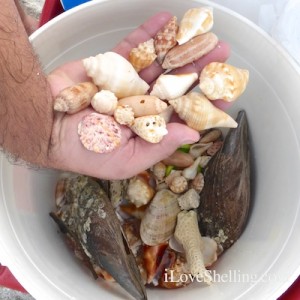 I walked over to the Sanibel side of the pass and met Holly from Sanford, Florida who found an awesome orange HORSE CONCH.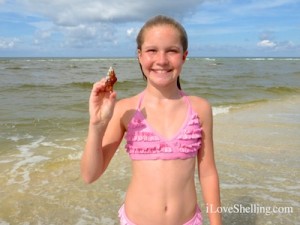 I love this mid size HORSE CONCH! There are some BARNACLES around the lip and spire but I suggested waiting to get home before trying to get them off. When those barnacles are anywhere near that fragile lip, I suggest being very delicate picking around that lip by inserting a dental tool in the middle of the barnacle to work inside out first…being very easy. I'm sure it will clean up beautifully if you take your time… its worth it- that's a fantastic find!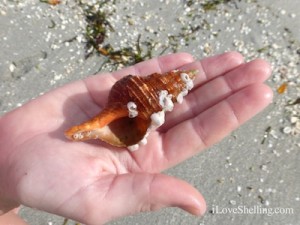 I even stopped by Gulfside City Park (mid island Sanibel) for a few minutes today too just long enough to find another tiny SAND DOLLAR. Sweet!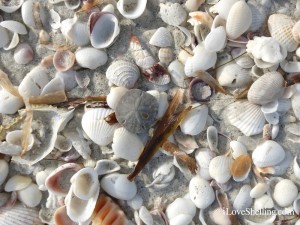 Okay, I can't wait to show you a closer view of my other finds today. I was very happy to find a double ATLANTIC WING OYSTER . I know it's not so pretty on the outside…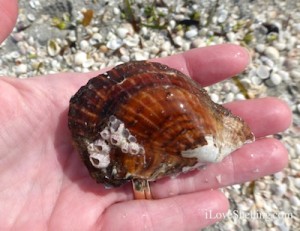 But goodness… look at that special inside. It's pearlescent!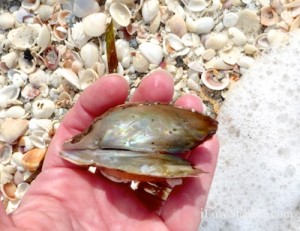 My fave find of the day is an ALBINO FIGHTING CONCH!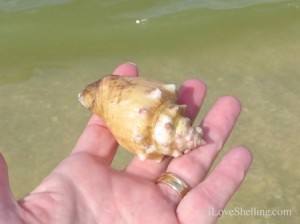 It looks a little yellow because it has the PERIOSTRACUM (the skin) still on it but if I cleaned it completely off, it would be stark white…. ALBINO! Okay- this is funny…. When I told Clark I found an ALBINO, he first congratulated me then looked at my photo of it since I left the shells in the sink in the garage. He said "That's not an ALBINO, Pam!" (Ha! He thinks he's the ALBINO expert since… well, I'll have to give it to him… he does have a knack for finding them). So I sashayed to my shell stash and brought him my shell. "Hmmmm….Oh, okay." He said. HAHAHA
I haven't decided yet if I want all of the PERIOSTRACUM off yet so I'm going to be like Scarlett Ohara so… "I can't think about that right now. If I do, I'll go crazy. I'll think about that tomorrow."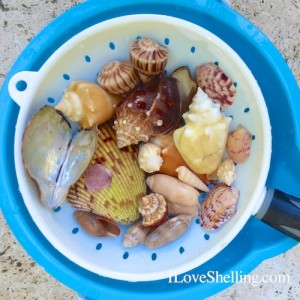 PS- Did you see "land" snail in my bucket too? I found a ROSY WOLF SNAIL (bottom left about 7 o'clock) on the path back to my car. It's still "rosy".
****   Calling all shellers! We are having a SHELLATHON in January CLICK HERE for details!   ****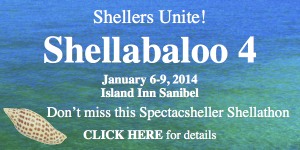 ***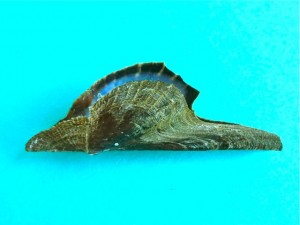 I found more shells clinging to SEA WHIPS! This time I found quite a few ATLANTIC WING OYSTERS  hitch hiking on those beautiful SEA WHIPS I talked about on my last post.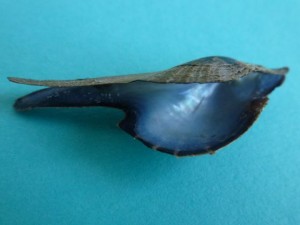 Notice how pearlescent the inside is! I didn't want to break the two valves apart but you can peek in to see the beauty.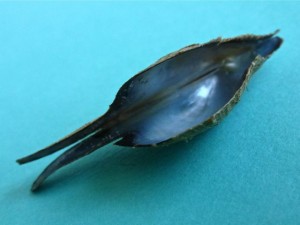 I found quite a few of these attached to the SEA WHIPS I found in the BEACH BLING last month.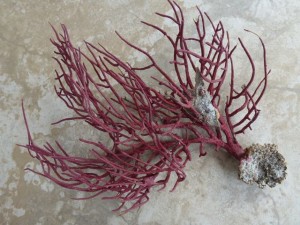 I know, this WING OYSTER doesn't look that pretty hanging on to this gorgeous purple WHIP but he would definitely clean up nicely if I chose to untangle him.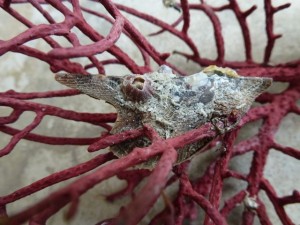 I'm just always amazed at what I've overlooked before.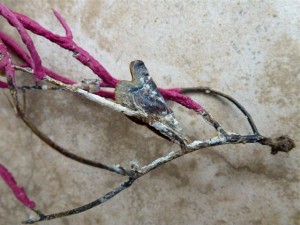 I didn't find all of these on the beach in the last month. I looked through some of my other SEA WHIPS I collected through the years and low and behold… I didn't even realized I had perfect specimens of ATLANTIC WING OYSTERS wrapped up in my WHIPS.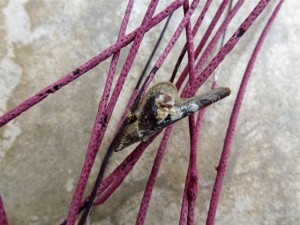 I can't believe I can't find the photo (sorry!) …. but at the 75th Sanibel Shell Fair and Show this year there was a display of an ATLANTIC WING OYSTER still attached to a SEA WHIP. I kind of laughed to myself because at first it looked like a dirty purple SEA FAN with some junk not washed off. Then I put on my cheater glasses to look at the display. Cool! A WING OYSTER treasure! I love it- I learn something new every day.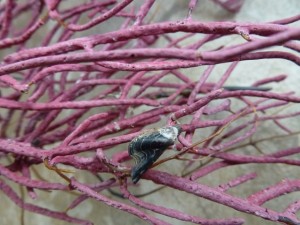 After looking closely at the larger double shells, you'll be able to see that both the sides don't match. The two valves are completely different sizes and even the shape is different too.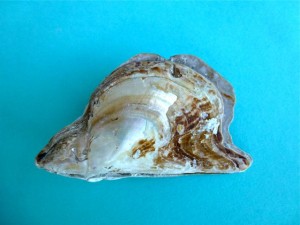 You might not think these shells are pretty enough to toss in your shell bag, but at least when you see those SEA WHIPS, you might be able to find a little hidden treasure that most other people would pass right by and never see.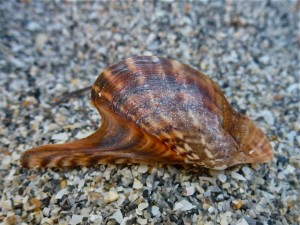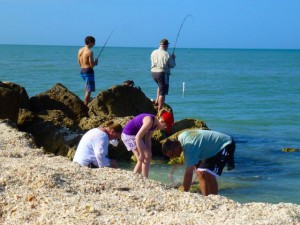 So Exciting! When I arrived at Blind Pass Captiva yesterday morning, I saw that guy catch a fish while everybody else was wallowing in the joy of the big shell pile. Happiness.
Chris (Calgary, Canada) found this very big WENTLETRAP right there! I was thinking the same thing as you are right now….. a WENTLETRAP at Blind Pass? I don't see many people find them right there so that was a really good find in my book.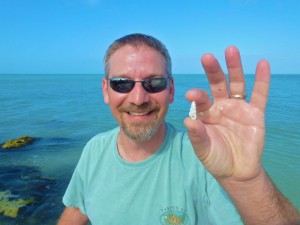 His daughter Kyla found a piece of JUNONIA. Any piece is a good piece!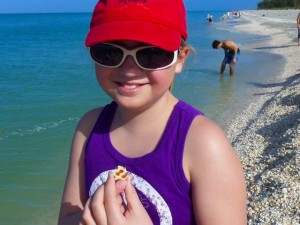 My friends Courtney and Eileen (Sanibel) were having a blast soaking in this gorgeous day with the bonus of a huge shell pile…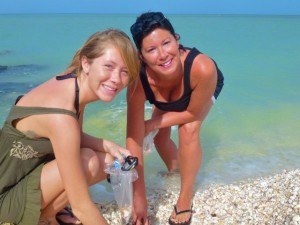 Eileen found this very colorful FLAT SCALLOP … but hold on… I know you will notice that tattoo just like I did so I'll tell you what it "says". It's her mother's signature. Is she cool, or what? She is definitely a piece of art work!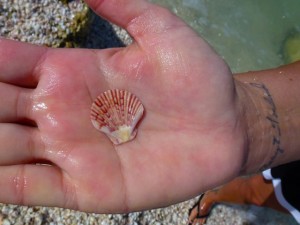 Courtney found my favorite shell of the day.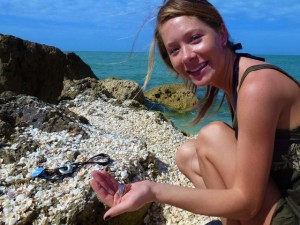 I hope yall dont think I'm crazy but it's an awesome ATLANTIC WING OYSTER with both sides still attached.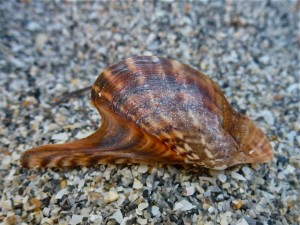 Look at the inside of this shell…it's like opening up a beautiful pearl!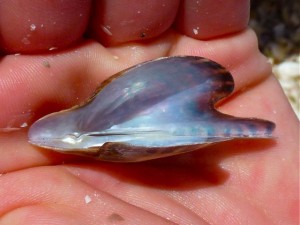 I found lots of The Sanibel Six shells but only one ALPHABET CONE. It has this crazy pointy hat on top! I know it's old and worn but I still really like it.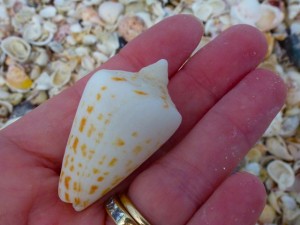 Barbara was doing an excellent job of the Sit 'n Sift filling up her kitchen strainer. So smart! One less step when she gets home to clean them.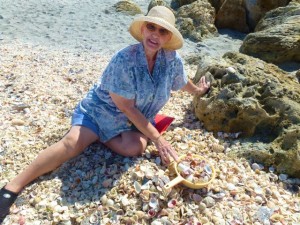 There were lots of CHESTNUT TURBANS mixed in with WHELKS and FIGHTING CONCHS…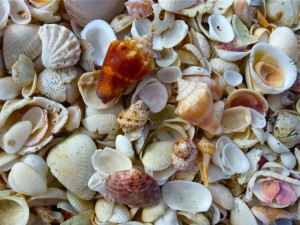 A pretty BITTERSWEET CLAM!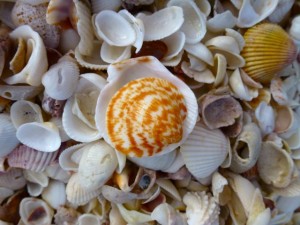 And CORAL…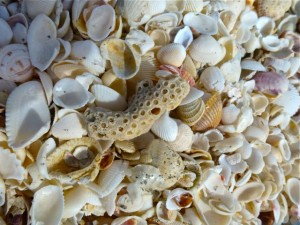 I think there was only about 5 shellers when I got the "mound" but within an hour, it was a ShellFest!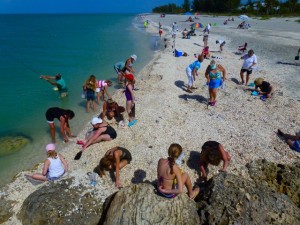 I've got several videos so I here's the first one. Happy Weekend!