Breaking The Case of Lightning Whelk Eggs
By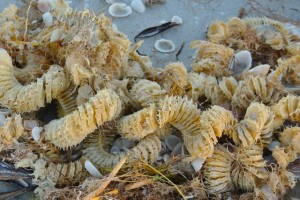 I wasn't able to enjoy the shelling while the super moon tides were at the lowest this weekend since I was tied up with other "stuff". But high on the wrack line there are still so many LIGHTNING WHELK EGG CASES on the east end beaches of Sanibel.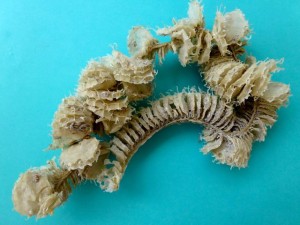 Since I've been dissecting some of the BEACH BLING I've found over the last week (like the SEA WHIPS), I decided to go ahead and open up one of the dried out LIGHTNING WHELK EGG "disks".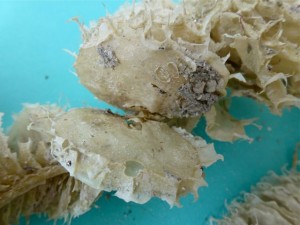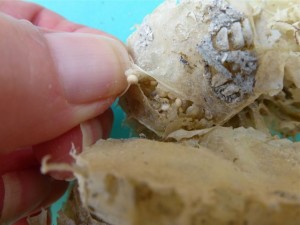 There are teeny tiny little LIGHTNING WHELK shells in some of the disks.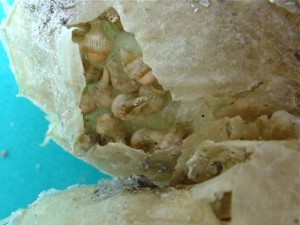 Isn't that just a wonder? Talk about miniatures!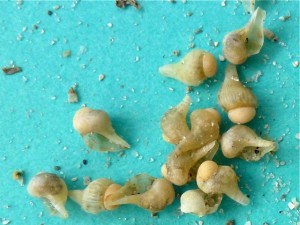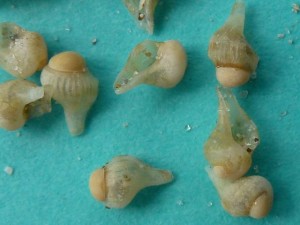 I didn't find that many discs with baby WHELKS in them in this case because it looks like most of them "hatched" already. You can see a little round hole on top side of the discs… this is escape hatch! They use this when they are ready to explore their brave new world.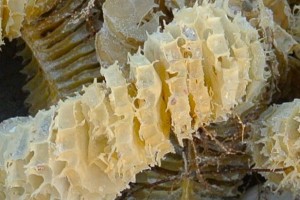 Just to show you how teeny tiny the WHELKS I popped out of the case were, I've added one of these little juvies in this Wheel of Whelks surrounding a penny.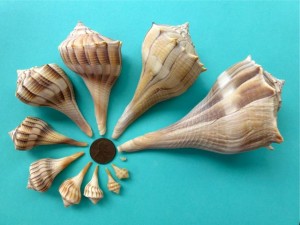 PS-Since we didn't get to shell the super moon tides, I thought I'd show you what Donnie and his girls found…. a GOLDEN OLIVE!
He also sent a photo of all his goodies. Dang! I hate that I missed it.
PSS- I've been on a researching binge lately so now I've broken another Sanibel mystery case wide open…  stay tuned!