Archive for November, 2010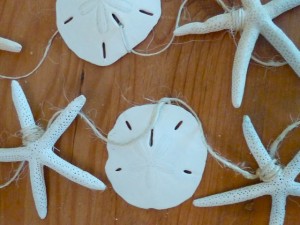 Time to Shellebrate the Holidays! This little Seashell Elf has been busy making SAND DOLLAR  and STARFISH garland strands for the Christmas tree in our iLoveShelling.com golf cart on December 4, 2010 at 3:30. I'm making this a very simple design so I can add red ribbon and some white SCALLOP SHELLS as well to fill in every inch of my tree. Of course, I have to have lots of seashells!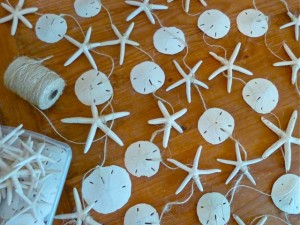 I'm using sand dollars that we have collected over the years but I bought these starfish "seconds" (I don't mind that they aren't perfect…. who is?) from Seashells.com here on Sanibel. I'm not using any glue. I just wrap the twine around a starfish arm and knotted the back then string through one of the holes in the sand dollars and repeat. Easy! This next project was easy too……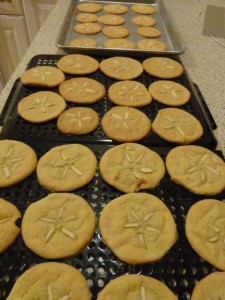 Sand Dollar Cookies!!! I'm not a good baker but my friend Tiia helped me make over one hundred of these adorable sugar cookies Thanksgiving night. Okay, we made life easy and sliced pre-made sugar cookie dough then decorated them with five slivered almonds. That's it!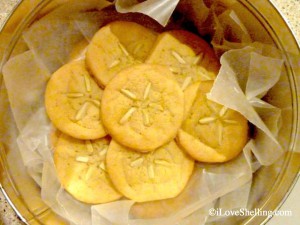 Aren't they so cute? You can have one too since I'll be giving them out at the Captiva Holiday Village Luminary night (December 2010) after the parade. I've packed them in the freezer for safe keeping until then. Come by to say "Hi" and get a sand dollar cookie and a real shell!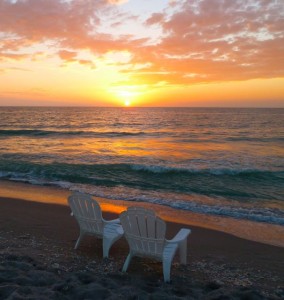 I haven't had time to do a lot of shelling, but we did make it to the beach yesterday to witness this beautiful Captiva Island sunset. If you've never seen this spectacular event, you are in luck because I took a video. Yes! I'm in full Shellebration for the holidays!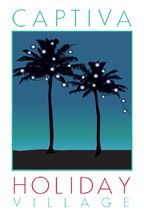 Beachcomber Carol found and rescued a live SEAHORSE! I introduced Carol on my November 7 post Shellicious Shelling because she showed me the SERPENT STARFISH and then we saw the LONG-SPINED URCHIN together. She's also the one that gave me the packaged west coast SAND DOLLAR.
A couple days after we shelled the beach together, I got this note from Carol-
"I wanted to tell you about my adventure the very next day on the beach where we met. Things were slowed way down Monday in the shell dept on that same beach.  When I crossed the sand bar, however, things picked up.  I noticed some strange markings in the sand and then the creature that had made them:  a seahorse!!"
She picked "him" up and took this sweet guy to the safety of water where she witnessed his recovery. What a rescue! Carol said she snapped photos (above) as soon as she saw the SEAHORSE  and then realized he was alive.
SEAHORSES are fascinating fish! Here's a couple of Fun Facts….. Did you know that the males carry the reproductive eggs then "births" them? Did you know that some species mate for life? To see live SEAHORSES you can visit Tarpon Bay Explorers on Sanibel.
On this Thanksgiving holiday, I am thankful for so many things. I am especially thankful for my family, friends, being able to meet people like Carol and to be surrounded by so many beautiful gifts of the sea. Happy Thanksgiving to you as well!