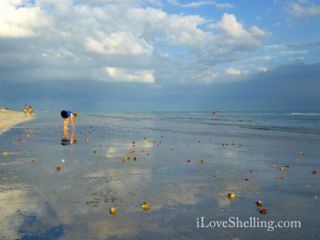 Beaches change every day so always remember beachcombing is a treasure hunt! Enjoy the whole experience of the hunt so keep an open mind and a good attitude. For me, the best time to go shelling is… Any chance I get! If its high tide, low tide, morning , noon or night- any time to have an excuse to get to the beach is a good one. So here's a few shelling tips for different times and beach conditions to use as clues for your treasure hunt for your favorite seashells.
#1 Shelling Tip- Look at the tides for the days you will be shelling. If you can get to the beach an hour before and after low tide is a great place to start. Low tide exposes more of sand, mud, rocks, etc so you can walk further out to explore more of the area you want to comb.
#2 Shelling Tip- Look at the moon phase. A full moon or new moon have the most extreme tides so this is a great time to shell.
#3 Shelling Tip– If it is possible, stay at a hotel or inn close to the beach. Your odds at getting more time shelling are much greater with easy access early in the morning and evenings with hassle free parking.
#4 Shelling Tip- Look at the weather conditions and wind direction. If the wind is blowing from the water to the shore, most likely the wind and waves will wash beach bling on the shore to hunt through. Shelling after a storm with winds coming from the water direction is normally better than most other times.
#5 Shelling Tip- If you are interesting in a certain shell, go to the Search button or Category menu of this blog, click on your favorite shell, then look at the locations where they were found. For example, if you interested in finding wentletraps. Look at the bottom of the categories menu (it's alphabetical order) then click on Wentletrap. It will give you every post which I've talked about wentletraps.
#6 Shelling Tip- If you have a shell, beach, or name you want to search for in any post, go to the search menu, enter the name of what you are looking for, then click on the "search" button.
#7 Shelling Tip-If you are not seeing big shells, look for a shell line- even if it is small- then refocus your eyes for smaller shells. Dont forget about the Beach Bling. You will be so surprised they are amazing too!
#8 Shelling Tip- Cleaning your shells is a huge part of your shelling experience. My shell cleaning page is still under construction since there is so much information to consider. The good news is… I have a post with a video to help you out right now. Please read all of the comments from so many other shell collectors on this post since there is so much information and also dangers of some ways of cleaning your shells. Go to How To Restore Color To Your Seashells Tutorial
#10 Shelling Tip
THE ART OF SHELLING
SMELL the salt in the air.
FEEL the sand on your toes.
LISTEN to Beach Sounds by Mother Nature.
LOOK at the seascapes and seashells.
RELAX.
"I shell all the time," says Rambo, who hits the beach at least five times a week for several hours at a stretch. And while she delights in every find, from Angel Wings and Shark's Eyes to Hairy Tritons and Wentletraps, her shelling takes on a much broader and rewarding dimension. "You see different things at different times," she says. "The birds, the wildlife, the sea life, the beach bling"—her term for items that wash up along with shells. "It's all about the walking, the smell of it, the sound of it. Shelling is a reason to get out there and see everything."
TIPS FOR SHELLING SUCCESS
Rambo, who says every day brings new discoveries, shares some insider tips for bringing home keepers.
Stay Close: If possible, stay at a hotel or inn close to the beach for easy access early in the morning and later in the evening. Bonus: No parking hassles.
Chase Storms: The richest days for hunting are one to two days after a storm, especially when the winds were directed shoreward. On Florida's west coast, for example, winds from the west dump thousands of shells on its westward-facing beaches.
Go Low: Low tide (occurring twice every 24 hours), leaves the most shoreline exposed for hunting; peak times are one hour before and one hour after low tide. Local newspapers often publish tide charts. Online, search for the beach (or island) in question and click on "tides."
Shoot the Moon: Full and new moons have the most extreme tides, providing ideal conditions for shelling. Check online for moon cycles.
Get Wet: If seas are reasonably calm, roll up your cuffs and get a little wet in the shallows. (The distance varies from beach to beach; shallows extend up to 100 yards in some places). Lucky shellers might scoop up a treasure before it's exposed to the air.
Anybody Home? Always check each shell for an inhabitant. Only empties should leave the beach. (This is an important rule for any shell you pick up.)
Get Weedy: Rookies overlook clumps of seaweed, where many fine shells hide out. Don't be afraid to get your hands dirty.
Pre-beachcombing: Be sure to check out state shelling regulations in advance, especially when visiting state parks, national parks and wildlife refuges. Some areas post limits or prohibit collecting certain types of shells.