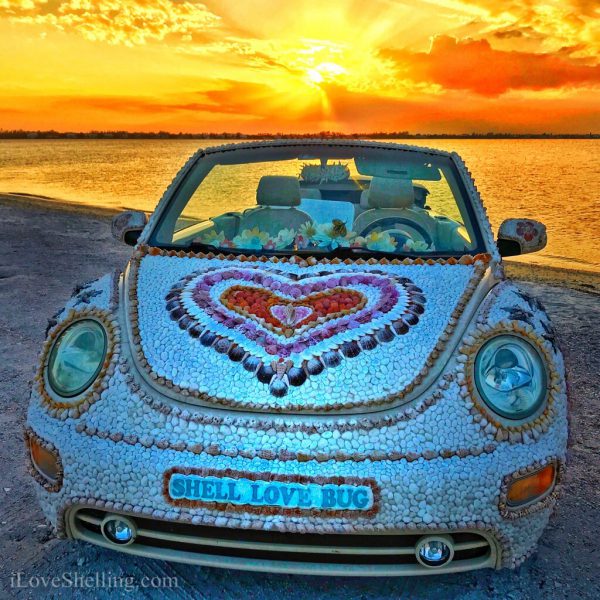 It's been a while since I've shared my shelling stories of lovely walks on Sanibel's beaches finding beautiful treasures. I've had quite a few people send sweet notes making sure I'm okay and if my husband Clark is okay.
So to answer the question of how we are doing? We're both getting better. Thank you all for asking and I'm so sorry I couldn't write back. I was exhausted to the point I had no voice.
After 1,337 blog posts, 204 YouTube videos, countless Instagram and Facebook posts during 9 years- I've only posted positive, happy, uncontroversial and yes, at times I've been known to get embarrassingly silly. There are so many beautiful and fun things in this world to talk about so why not have fun learning about them?  It's difficult enough to navigate through regular life, so it shouldn't be so difficult to navigate through the internet to find a happy place as a retreat. I created iLoveShelling to always be a happy place one can count on to always bring a smile- an internet safe zone for shellers, beach lovers and families.
It breaks my heart to tell you an ugly story- so instead, I want to share with you a story that I hope will empower you to stand up for yourself no matter how big the "political arena" may seem. We are never alone- especially in the shelling community! Shellers have an eye for seeing beauty that most other people just walk passed without noticing. We shellers focus on the details on not just our surrounding environment, but the objects in our environment, the situations involving our environment and then learning how to embrace the ever changing environment because we have to trust it. We have to trust in our environment and at times, we have to trust people. We all know we shouldn't trust everybody… but one would hope we could trust our own county in which we live and love. So here's where my throat closes up and my heart gets weak… I shouldn't have trusted my own county. My last straw was drawn when Lee County refused to display Shell Love Bug at the 81st annual Sanibel Shell Festival. Shell Love Bug was born on Sanibel with the blood, sweat and tears of the local community… and of course our seashells.
Citizens of this community and the shelling community entrusted with me their heartfelt seashells from their personal collections so I could weave their memories and mine into Shell Love Bug to be part of Sanibel history. I have to protect those memories for them and my art they worked so hard on as well. With my friends by my side, I'm standing up to Lee County to bring our Shell Love Bug back to Sanibel!
UPDATE! March 24, 2018-
Please sign a Petition to help me!!! CLICK HERE TO HELP ME bring Shell Love Bug home!
UPDATE: March 22, 2018-
After reading so many of your heartfelt comments below, I wanted to write you a letter….
My dear family of shellers,
My heart is filled with love from every single one of you. There are no words I can express right now to thank you. Unfortunately, I have to unplug from the internet for a few days to make sure I remember how to breathe properly to stay healthy. This is all too overwhelming for both Clark and me.
So many people want to help so if you've asked the question " How can we help, Pam?", I have taken that question to heart. So if you choose to help I have these suggestions….
1- Help me monitor iLoveShelling.com.
If there's an inappropriate comment that you wouldn't want your children to read, I'd like to know about it. Please write "Inappropriate" as the name of your comment replying to the questionable commenter. You can write your name in there too if you wish but just add "Inappropriate" as the author of your comment so it will be a red flag for me. Always stay true to being the bigger person. I will delete anything that is appropriate.
2- Help me monitor iLoveShelling Facebook page. Things get out of hand quickly on Facebook as we all know. Same thing – anything inappropriate for children.
3- Just remember at all times, please try to say things in a positive way and be respectful. We never know who is on the other end of a post- they could be very young and impressionable. They may not know how this should be handled professionally and respectfully.  We shellers are not vengeful people- YES WE ARE MAD but we just want the truth to be shown to Lee County Commissioners so they can resolve this.
4- Jan (and I think Bryan- sorry it's hard to take everything in) left a comment saying they were Lee County voters and tax payers so they were writing all 5 Lee County Commissioners to tell them how they felt about Shell Love Bug situation.  You could do that too- but please remember to be respectful (as you give them a piece of your mind). They are the ones that can get this resolved so we don't want to sound like a hateful mob. That's not who we are- we are not a hateful mob- we are upstanding people who are the best stewards of our beaches.
Most of all I want to thank ALL OF YOU again for your words of encouragement! Thank you ALL for wanting to know the truth and having my back. Thank you to the amazing friends that came out to the Lee County Commisioners board meeting and standing up for me and all the people who helped Bring Shell Love Bug to life . Thank you to Donnie and the Shellinators for correcting the untruths.
That's how things can get resolved – how wrongs can get righted. We are people who want to see justice prevail! Shell Love Bug should be returned to me so I can share her with Sanibel and the shelling community.
SaveSave
SaveSave
SaveSave
SaveSave
SaveSaveSaveSave
SaveSave
SaveSave
SaveSave
SaveSave
SaveSave
SaveSave
SaveSave
SaveSave
SaveSave