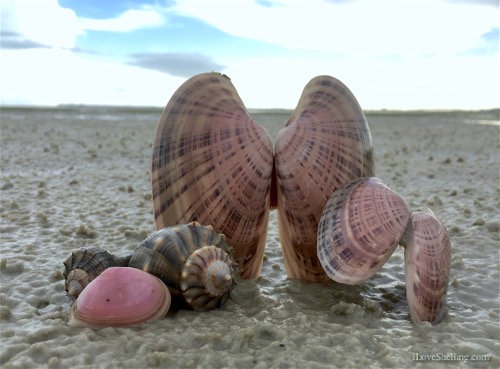 There are many beaches to explore in Southwest Florida to observe a variety of wildlife and find great shells, but it's always a fun to make a trip to Bunche Beach in Fort Myers at low tide to roam the mud flats.
Seriously, it's like an Easter egg hunt out there at a low tide zig zagging through the muddy sand as you walk up on to flash of pink to find gorgeous SUNRAY VENUSES with both valves still held together.
So as you can see by my photos, these "mudflats" aren't really muddy dirt made of soil but they're actually sandy tidal areas meeting with mangrove forests and many different grass beds. When the tide recedes, we get to see lots of other natural occurrences as well … like spotting the unmistakeable colors and pattern of a half buried empty LIGHTNING WHELK shell.
And like a itty bitty empty SHARKS EYE shell.
Among hundreds of live healthy KINGS CROWNS, I found this one empty fabshellous beauty.
Such a fun trip with friends Ada, Ann and Kathy to take a quick trip just off Sanibel.
PS- Not sure if you heard-  on August 16, National Geographic published an article online by the very talented journalist Gillian Kendall with the title….  "10 Reasons to Visit Fort Myers and Sanibel, Florida". It's a beautiful piece featuring our beaches, islands, wildlife, fishing and…. errrrr…. and then there's #2…. A Shellebrity. Oh Holy Cowrie! I'm still a little shell shocked! LOL But I'm so incredibly honored and honestly, oh I don't know… a little embarrassed? Anyway…. it's an awesome article and I guess it's taken me a few weeks to post it since I feel a little… oh, I don't know. It's craziness!!! (blush, blush)
http://www.nationalgeographic.com/travel/destinations/united-states/florida/ten-reasons-visit-fort-myers-sanibel-island-florida-beach-trip/
Oh… and PS again – If it turns out well, I'll show you photos of my new and improved Shellaboratory I'm remodeling. I'm painting seashells on the concrete floor while we wait for the big storm in the gulf to bring us real shells! Here's a sneak preview …