Shell Love Bug is born!
After thousands of hours, over 20,000 shells, over 65 volunteers, over 60 tubes of glue and millions of decisions… Shell Love Bug has graced the world.
I made this 2005 convertible Volkswagen beetle the ultimate symbol for the love of seashells and shelling… hence the name Shell Love Bug.  Most of the shells used to make this shelldazzled masterpiece are from our personal collection and the Sanibel Shell crafters but there have been oodles of shells donated by other obsessed shellers like us. We've made the biggest mobile Sailors Valentine on the planet!
Y'all, I can't tell you how over the moon shell I've been to recruit people in this community to create this work of art….  so many of my shelling friends, Lynette and Johnny and a few other talented ladies at Sanibel Shell Crafters. We only had 6 weeks to shelldazzle this car… but when shellers step up, things get done.
There are soooo many amazing stories I want to tell about "her"… the different shells she has, the people who helped, the glue, the shell crafting, where and when you can see her, whats gonna happen to her… and on and on. I promise, I will try to get you all the information. But first…..
We'll be on Good Morning America tomorrow morning at 7am with Ginger Zee (This was June 20, 2016) ! Make sure you tune in to ABC or set your DVR to watch the live broadcast…. with Shell Love Bug! Oh ad Shell Love Bug has her very own website now so check it out….  ShellLoveBug.com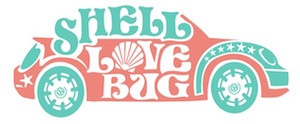 SaveSave
SaveSave