——————————————–
Charge up your shellphones, y'all.
Start typing out a few coconut shellegraphs.
Use all your shellecommunication skills to tell all your friends about the first annual….
National Seashell Day on June 20!
Shellzam! I am sooooo excited to have an official day to shellebrate our greatest obsession … seashells. So when I heard the folks of Lee County Visitors Bureau were going to officially proclaim that June 20th would be National Seashell Day, I joined them at the courthouse donned in my JUNONIA costume and loudly sounded my CONCH horn to shellebrate this awesome day. haha
Oooohhh and we have so many surprises for June 20, 2016 too. The biggest one?
Ginger Zee with Good Morning America will be here for the shellaganza!
Can you believe it? She's on Dancing With The Stars this season as well – isn't she so dang cute? Of course we have some spectacsheller events planned to welcome her and everybody at Good Morning America.
Ok and there's one more HUGE  fabshellous project I'm working on using lots and lots of seashells .
So stay tuned…. We will unveil this big, huge shellmongus seashell "sculpture" on June 20th …. National Seashell Day!
Join us on National Seashell Day.
UPDATE: So this was my secret project! Can you believe it? I made a car shelldazzled with over 20,000 shells then named it Shell Love Bug.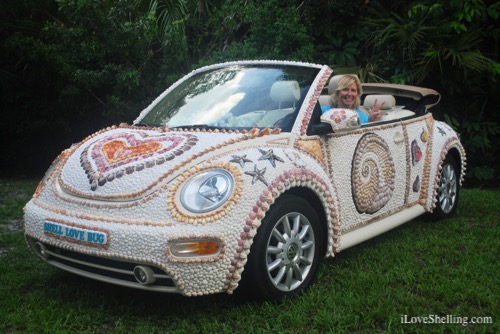 Read all about the making of Shell Love Bug HERE
SaveSave