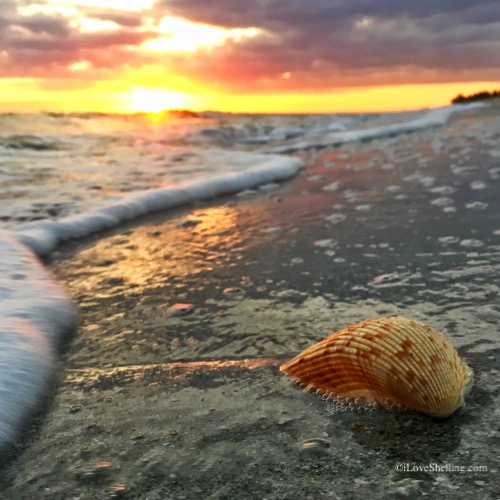 It's the ebb and flow of shelling that keeps me going to the beach over and over again. I always see something different with every tide… like the orange sun setting over an orange COCKLE or this brilliant purple opening of this APPLE MUREX.
At any given moment, the tide may bring DOLPHINS in so close to the shore they may swim right next to a sheller (like this week!).
In the next minute, the tide may recede to reveal fresh beautiful shell treasures left on the sand.
These are a few shell souvenirs Amanda and J.J (from St Mary's Island, Georgia) found at Blind Pass…. ALPHABET CONES.
It was also lovely to meet Carol (TN) under the Blind Pass bridge while we scooped up a few shells in the current as the tide was coming back in.
I'm so sorry I haven't been making more videos lately, but …. to make it up to you… here's a short video I filmed just moments before I met Carol. I love days when I catch the tide just right as the water is shallow and calm enough to see the shells roll by in the current. So take a break from your ebb and flow of your own world and come cybershelling with me for a just a minute. I think you'll see that change is a beautiful thing.