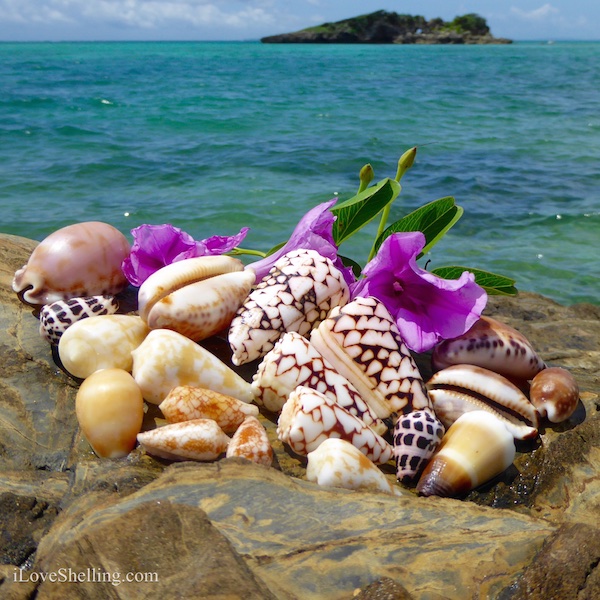 I'm still in awe of the beautiful beaches and treasures we saw on the Japanese island of Okinawa.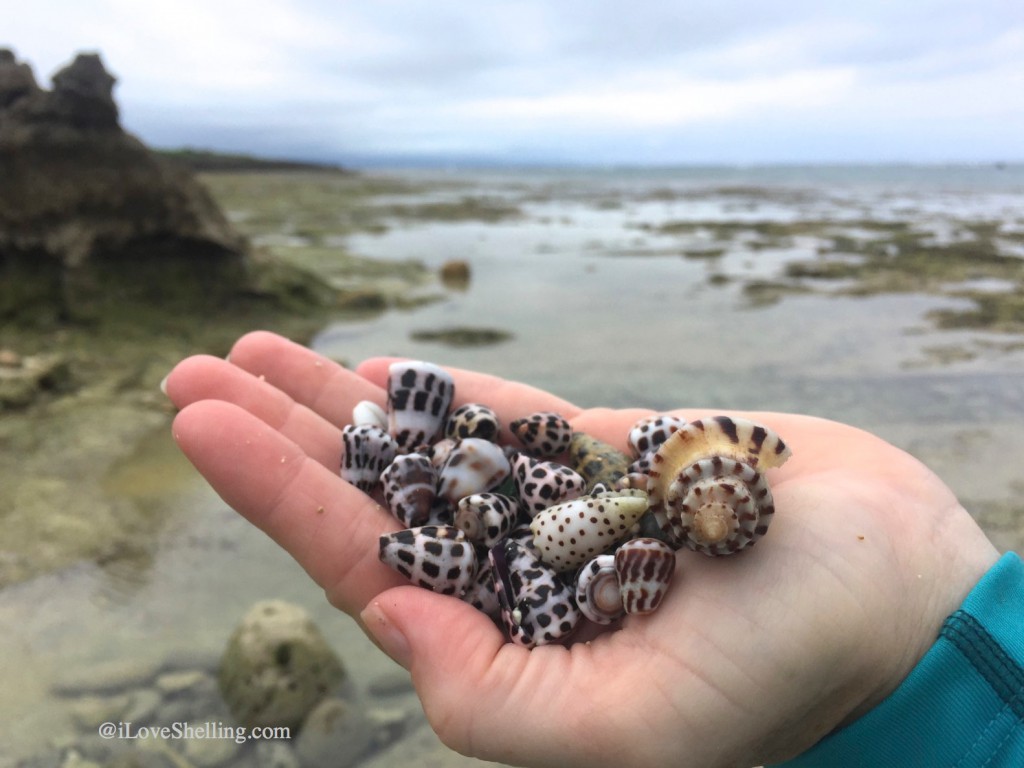 We found soooo many amazing shells we felt like we had to share it with someone. Days before we left Sanibel for our shelling vacation to Okinawa, I saw a fantastic photo of shells with hashtag iLoveShelling (#iLoveShelling) while I was on Instagram (follow me on Instagram iLoveShelling) . That photo had another hashtag on it too… #Okinawa. Whoa. I sent a note to the girl who posted it and we hit it off right away. Before you know it, we were shelling together in Okinawa! Timing is everything, right?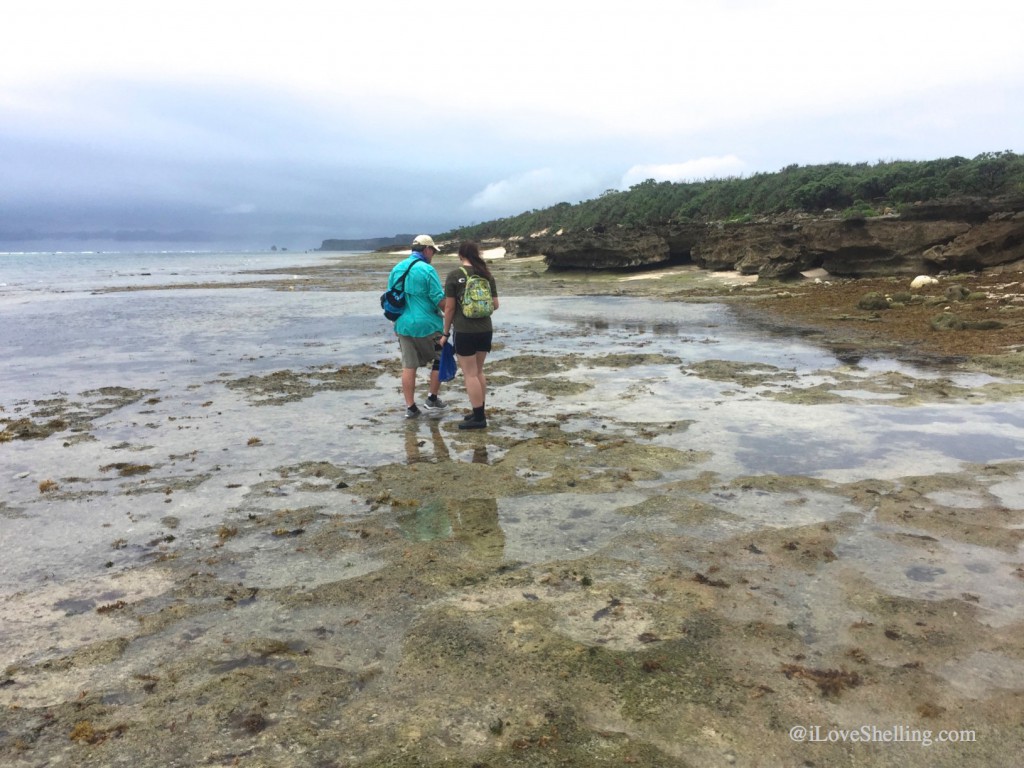 Clarissa (from New Hampshire) is a 20 year old United States Marine stationed in Okinawa for 2 years who loves beach combing. She tries to get to the beaches as often as possible but transportation isn't always easy from the bases so we picked her up to hit the beaches to look for shells with us.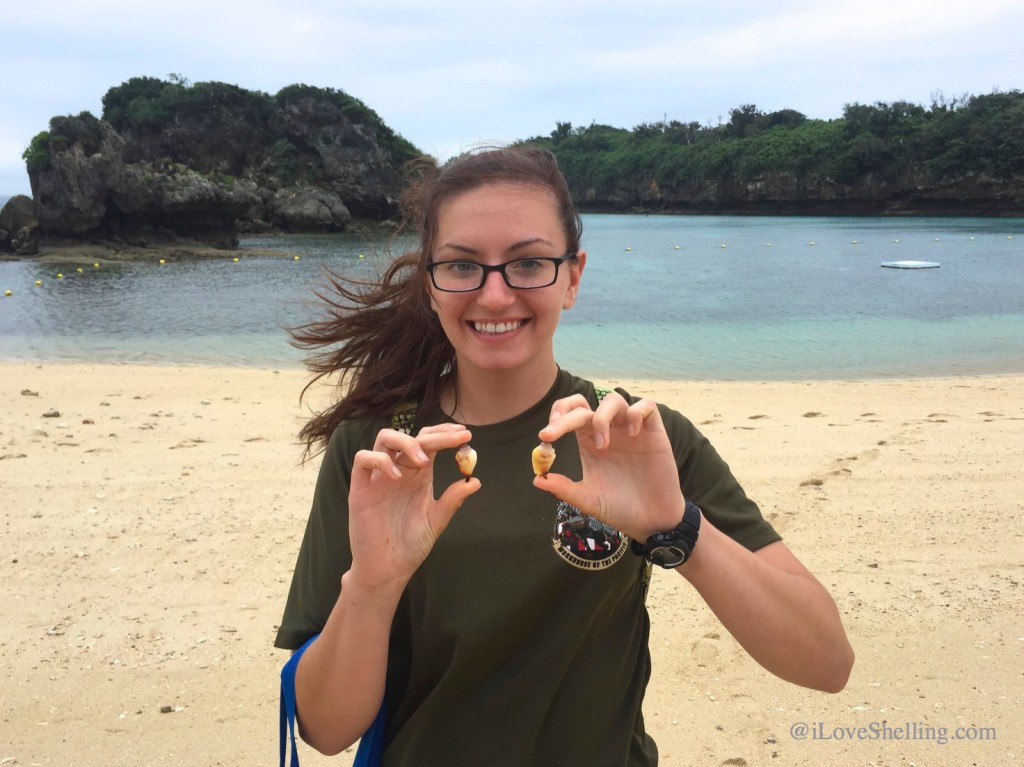 We found shells! It was such a special day to hang out and find a few treasures to remember this amazing adventure while in Okinawa. Good luck, Clarissa, with your future service plans and your travel plans… and thank you.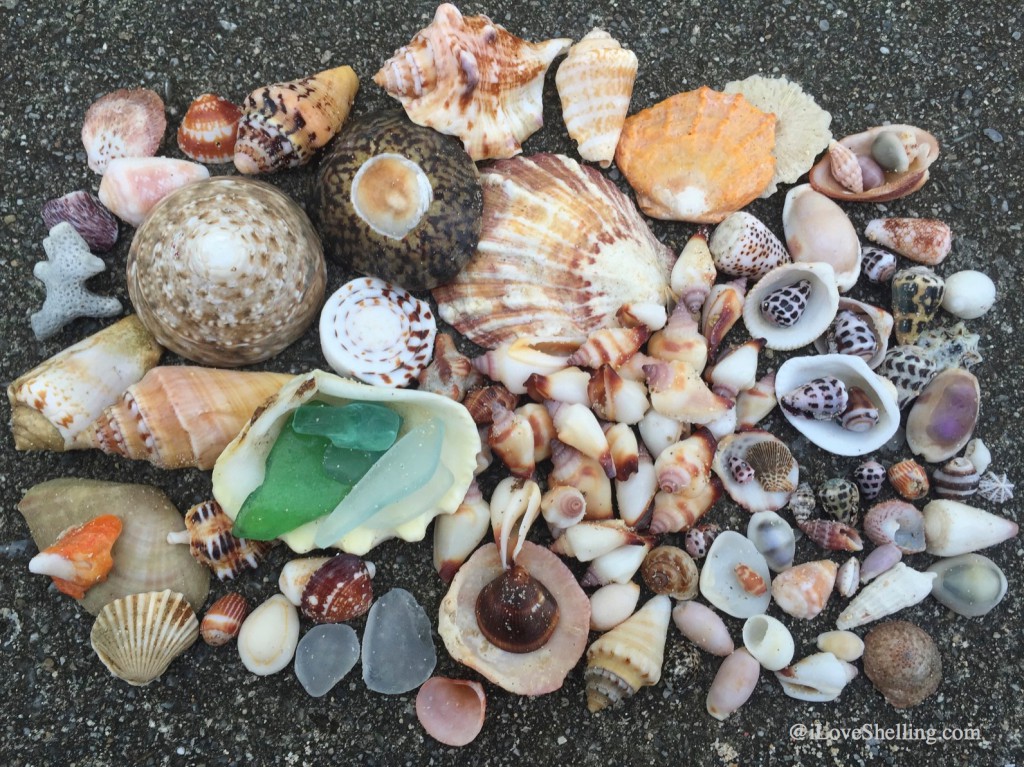 Now that we are back on Sanibel Island, we have been trying to organize the loot we brought home. It's abshellutely mind blowing how many different shell species we brought back so we've been trying to break them down in to some sort of organized chaos to identify each one. This might take a while so I figured I'd show y'all what we've done so far… but let me apologize for the photos… they're aren't great but it shows you how we are trying to sort.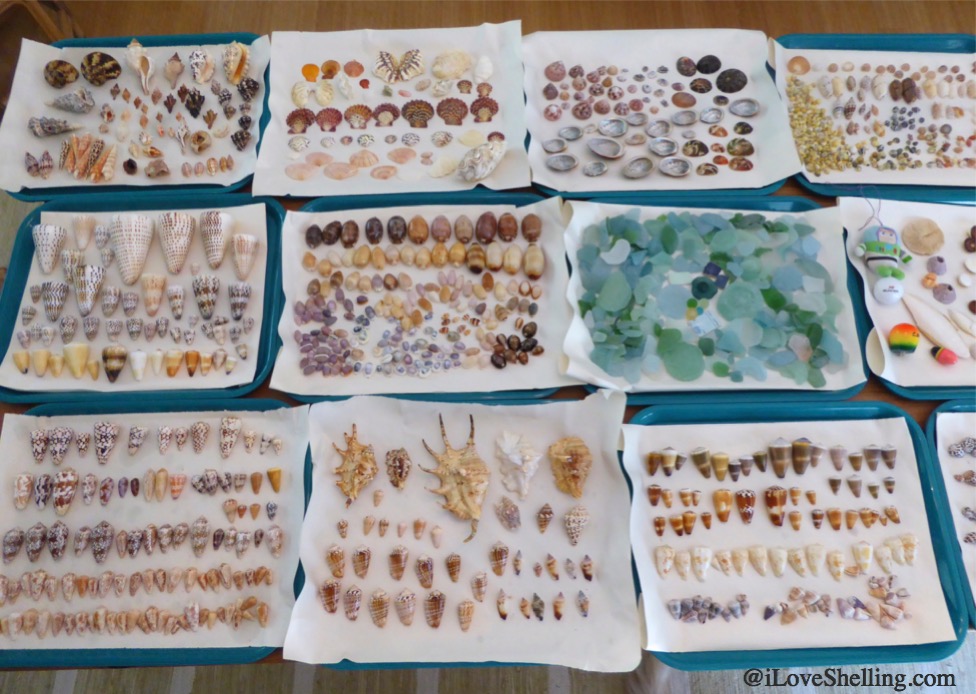 This is the first tray of CONES. OMG We have LEOPARD CONES, LETTERED CONES, IVORY CONES, WESTERN IMPERIAL CONES, FLEA-BITE CONES, VIRGIN CONES, OAK CONES, SOLDIER CONES and LITHOGRAPH CONES.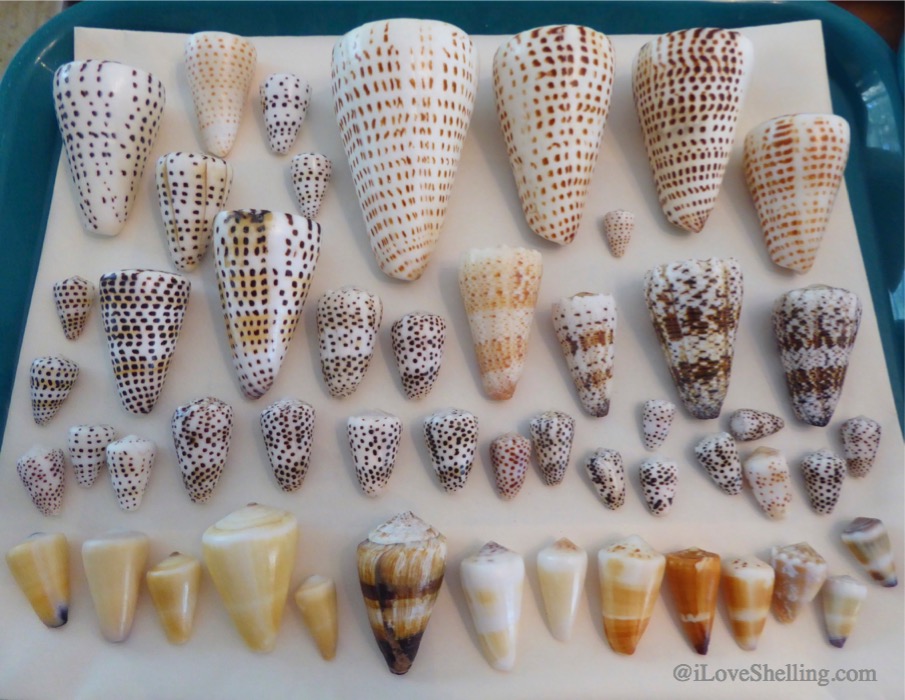 And that's not it…. MARBLE CONES, STRIATE CONES, TULIP CONES, NUSSETELLA CONES, TENDER CONES, TESSELATE CONES, SAND-DUSTED CONES and lots of TEXTILE CONES.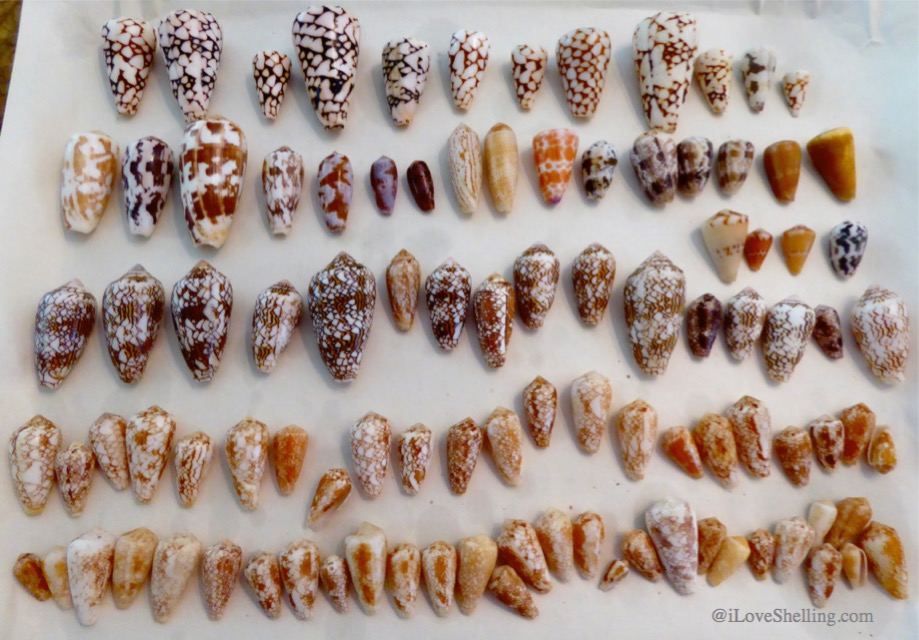 I could go on … but I'm overwhelmed by even more CONES…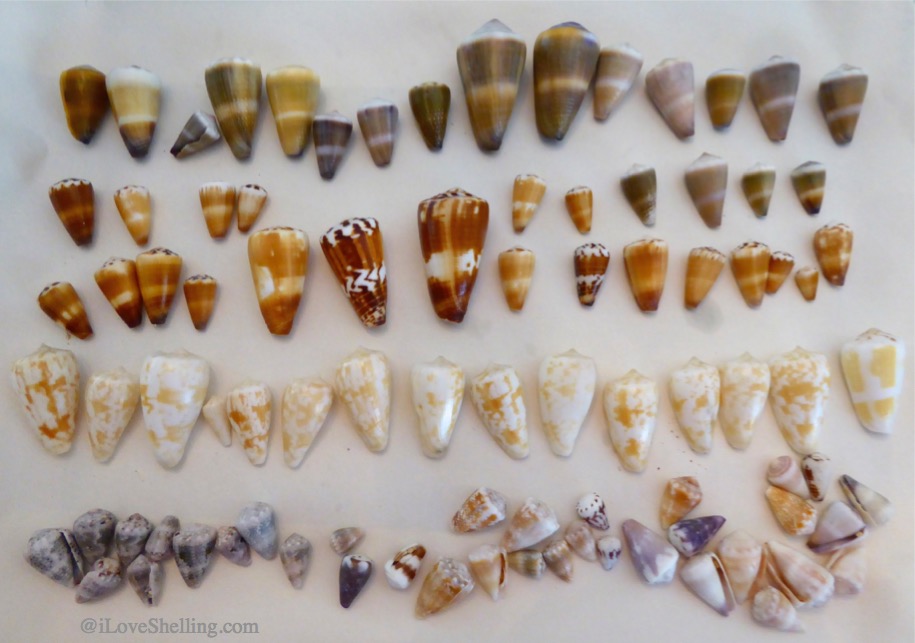 Because then… there's the CONCHS. SPIDER CONCHS, STRAWBERRY CONCHS, a BUBBLE CONCH and lots of LITTLE BEAR CONCHS.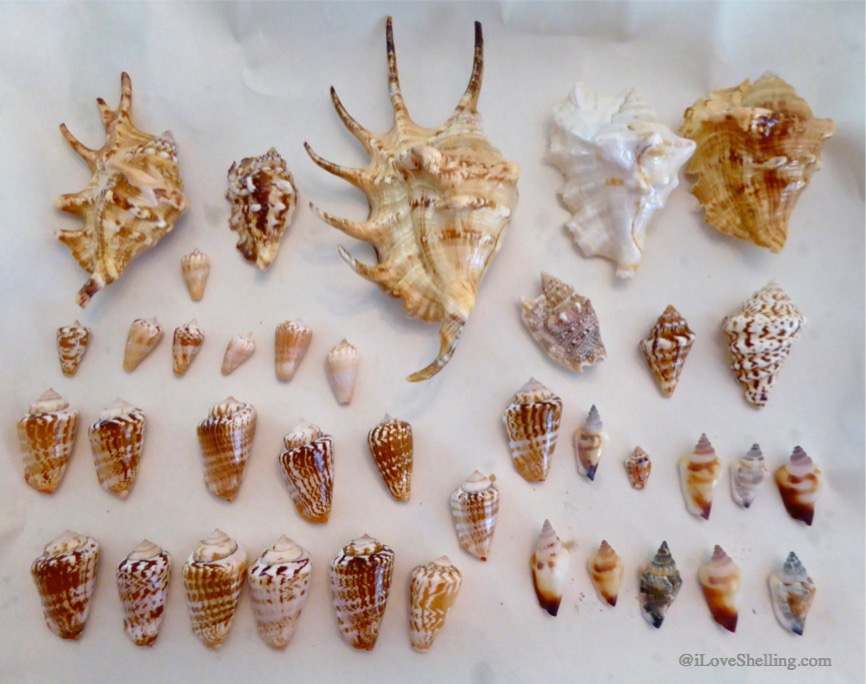 Look at all of these amazing shells!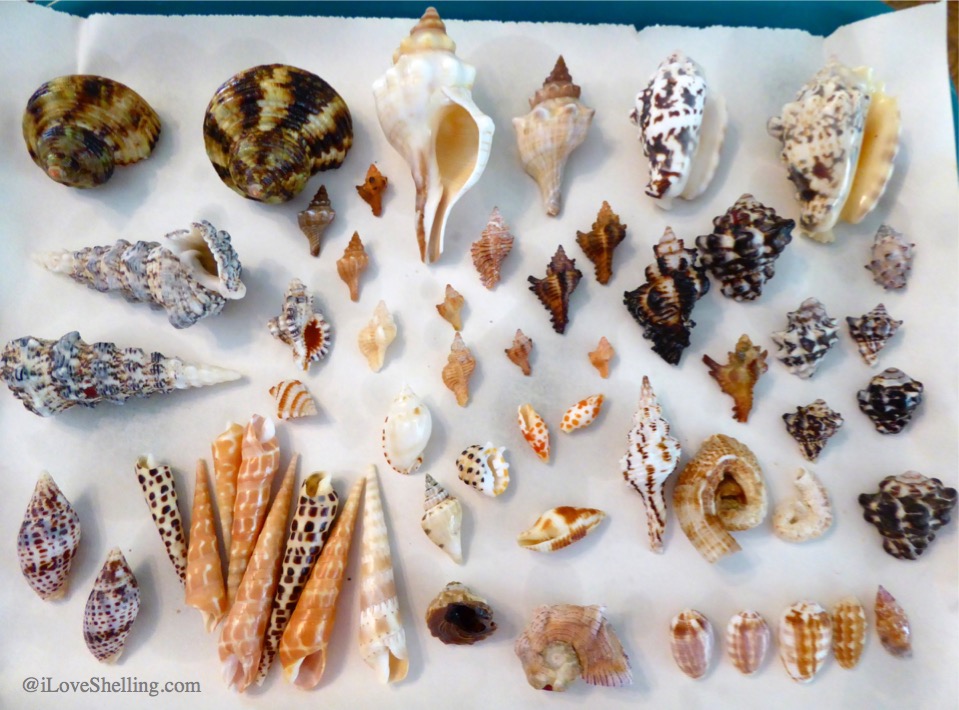 And even more… ABALONE, LIMPETS, TOPS and TROCHUS.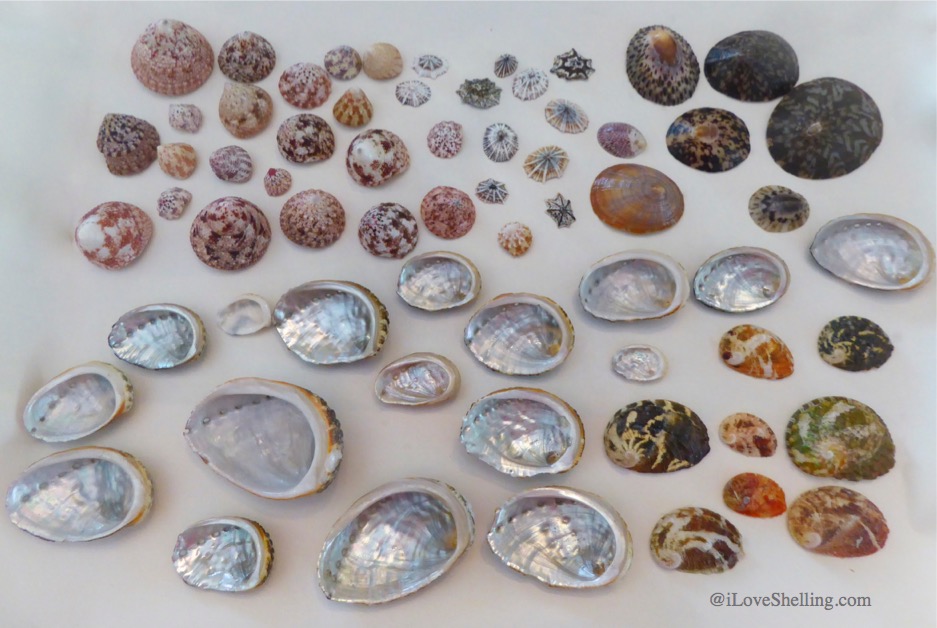 MOON SHELLS, OLIVE SHELLS and all sort of wonderful minis. Some look like lemon drops and kernels of corn- I'm in love.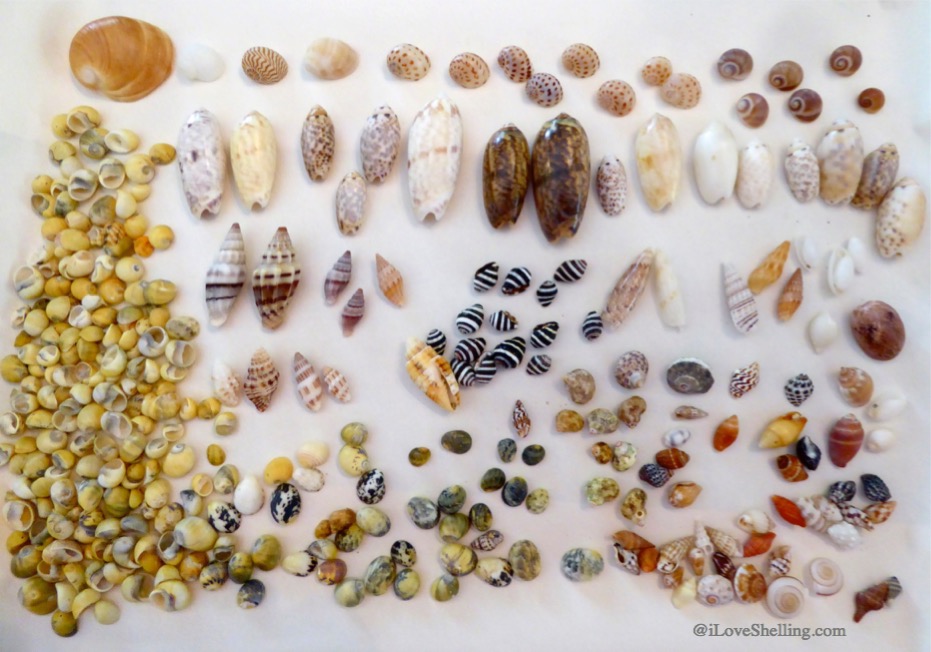 And…. Holy COWRIE! Look at these COWRIES. OMG The colors.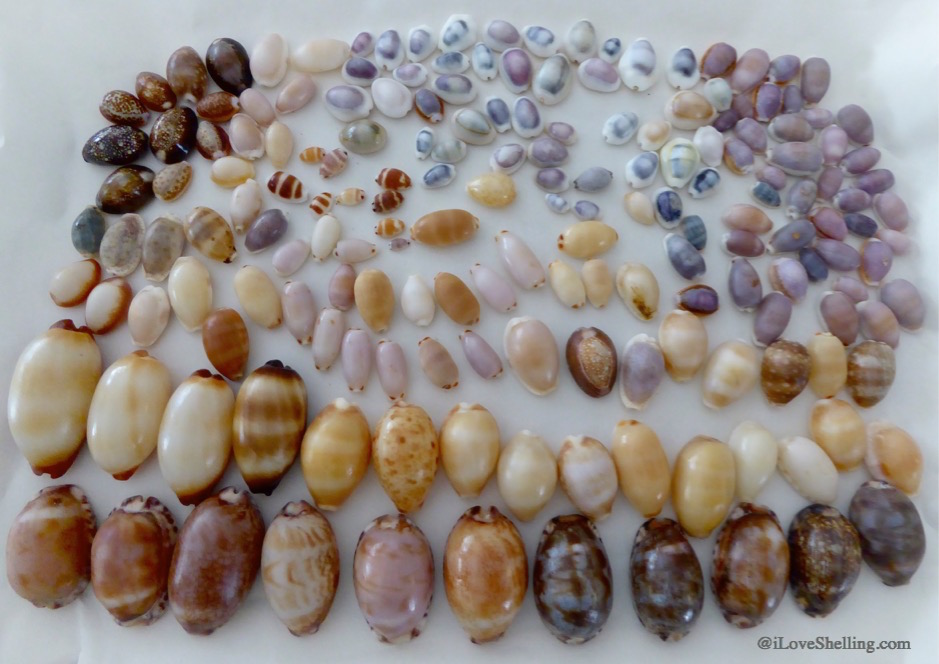 And then… the BIVALVES. They are to die for.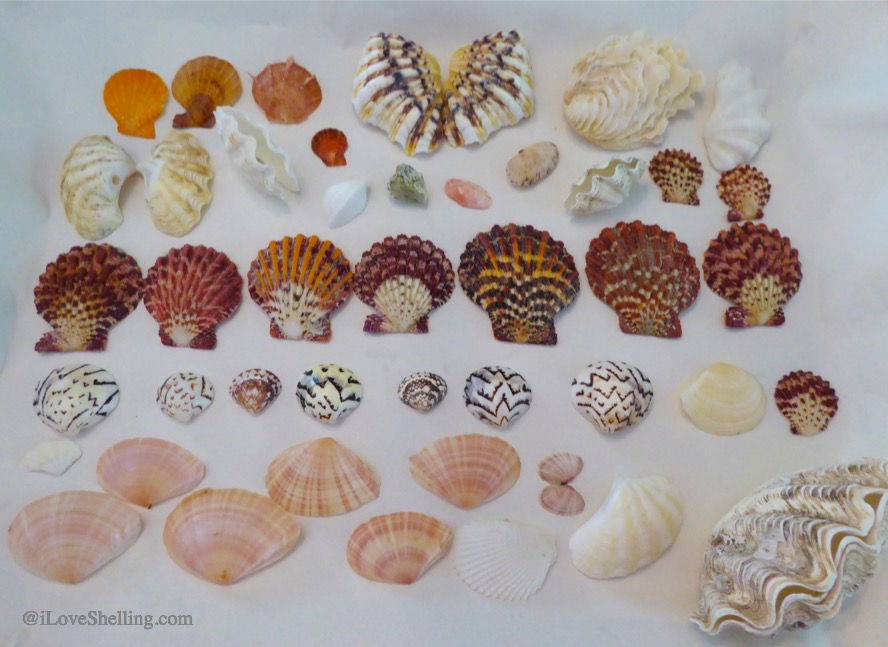 Whew. So those were the shells that we collected and brought home with us. Aaaa-mazing. We actually collected more than double that but brought home only the best. We gave away 10 gallons of shells that we couldn't bring home. Yes we did. We bought two 5 gallon buckets at the grocery store while we were there so we could clean our shells every day. Once we decided which shells we were going to leave in Okinawa, the buckets came in handy.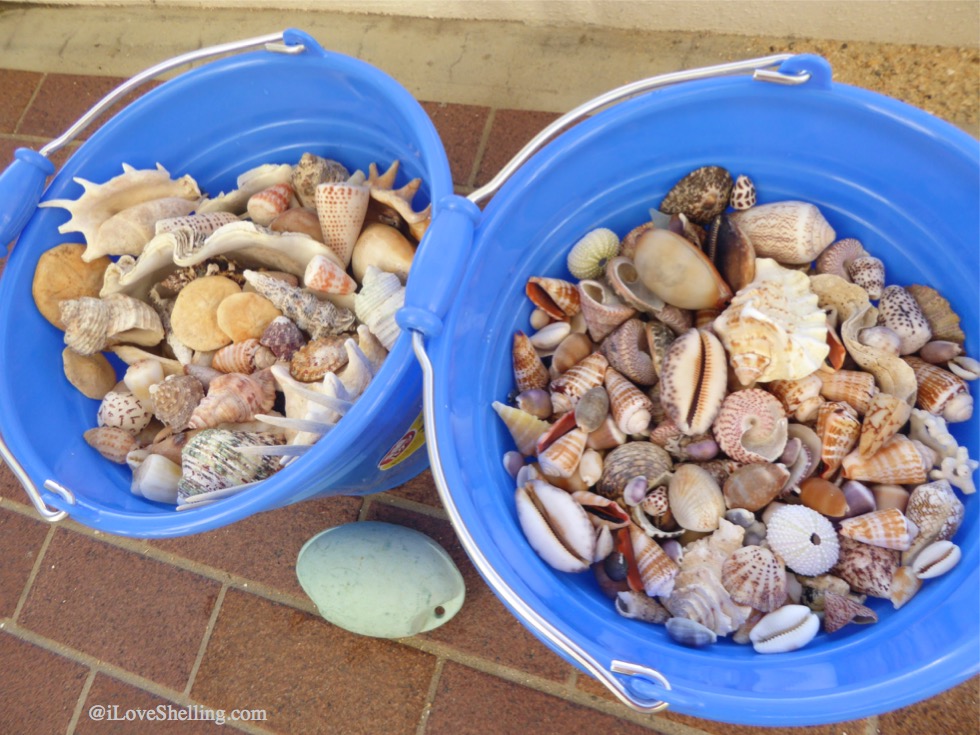 We gave some to the very friendly folks at our wonderful hotel (we actually LOVED our hotel AJ Kouki) but we gave the bulk of them to Manahu Higa, the owner of our favorite restaurant Island Marine Cafe & Bar. His whole restaurant was decorated in local shell art and crafts that his wife and daughter made. We loved it!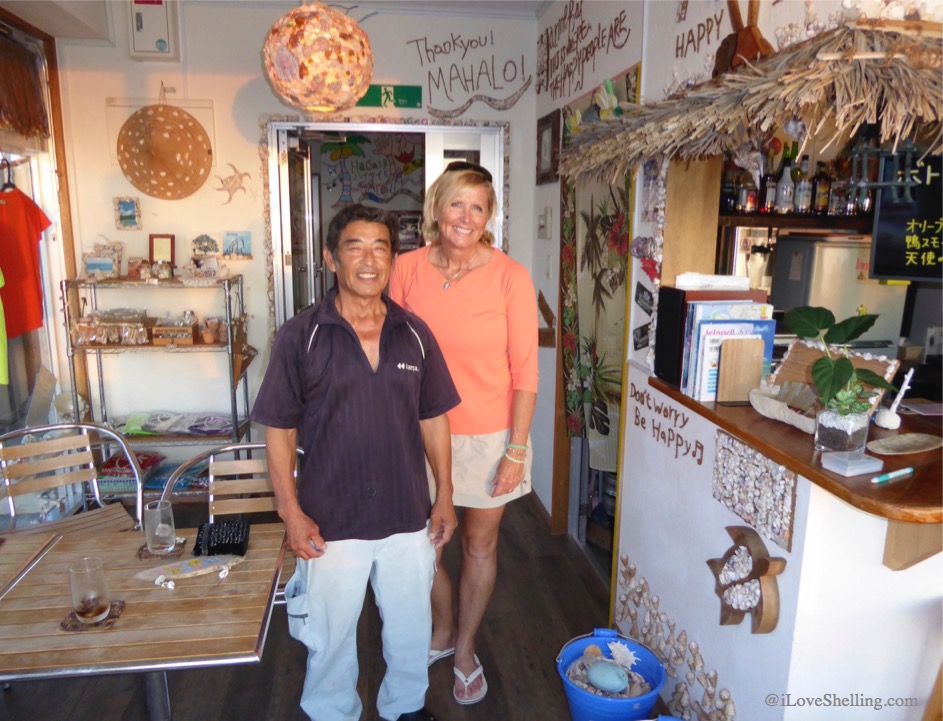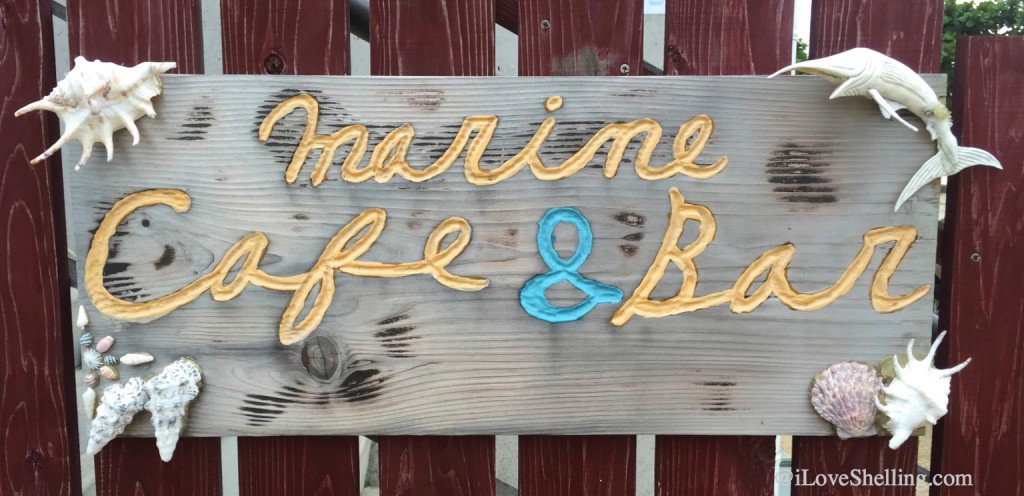 See why we loved it? Every inch was decorated in shells. We knew they all went to to good home.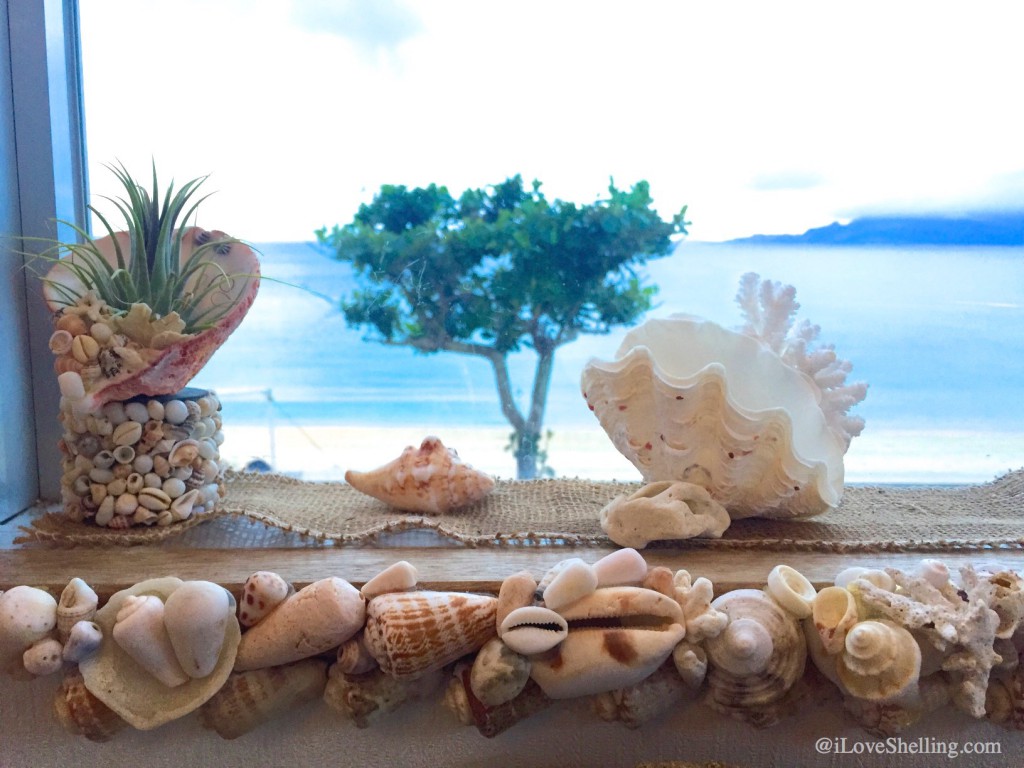 And I still have more to show you… did you see all of that SEA GLASS in that one photo? The SEA GLASS will be coming up soon- it is sooooo beautiful.
To see all of my posts on Okinawa ...
Our Exshellent Beach Combing Adventure to Okinawa Japan– http://www.iloveshelling.com/blog/2015/06/19/our-exshellent-beach-combing-adventure-in-okinawa-japan/
Sea Glass Beach Finds While Beach Combing Okinawa– http://www.iloveshelling.com/blog/2015/07/06/sea-glass-beach-finds-while-beach-combing-okinawa/
Gone Extreme Shelling- Across the World– http://www.iloveshelling.com/blog/2015/06/15/gone-extreme-shelling-across-the-world/