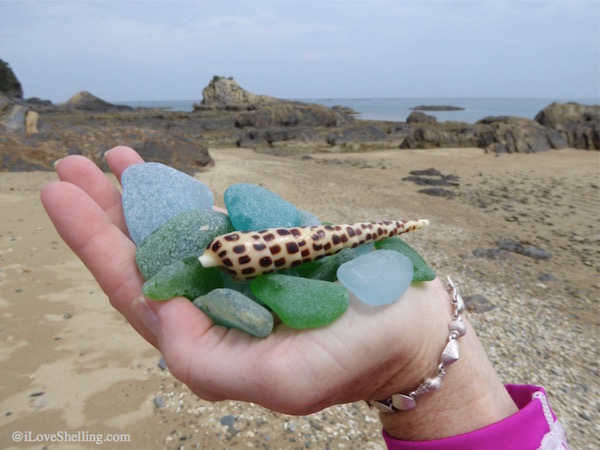 Finding turquoise, aqua and shades of green SEA GLASS scattered all over the beaches of Okinawa, Japan was enough to make my heart skip a few beats. But… to find THE most amazing shells washed up in the sand and in between rocks? My heart almost leaped out of my body!

I'm not even sure how I kept it together after I found these shells in the next photo while taking an hour stroll on the beach before breakfast. And yes… I said "on the beach" – can you believe it?  All of the shells we found were on the beach or just at the water's edge. Pinch me!
Every day we woke up to this stunning view in Nago, Okinawa looking down from our room at that beautiful beach where I found that awesome SPIDER CONCH, DIMIDIATE AUGER, PAINTED SCALLOP and BEAR PAW CLAM.
Our heads were spinning as we stared at our shell loot from our first day shelling. I know… what?
That was Day 1. Ready to get your mind blown away? This was Day 2 in Okinawa…
To explore the entire island, we rented a car to find sweet little paths leading to the spectacsheller shell filled beaches.
From there, we hiked miles of beaches and climbed mountains of rocks to get to another Shellgri-la.
Each step took us to another Shelltopia.
Every afternoon, we sifted through our treasures to ogle at our fortune.
Okinawa has been on our bucket list since we visited our friends Lee and Susan when they lived in Guantanamo Bay, Cuba. While we were visiting them, they showed us their collection of shells they found in Okinawa… OMG… they had those SPIDER CONCHS and huge CONES they found on the beaches. Immediately Clark and I looked at each other "We HAVE to go there!".
I'm telling you, each day filled us with excitement and joy to discover a new world of beauty.
I want to share more photos with identifications of more shells and beach bling but after traveling more than 30 hours back home to Sanibel… I'm a little off my game right now. But to tide you over if you have questions, here are maybe a few answers …
Hotel? AJ Kouki Resort
Airline? American/JAL/Jetstar
Car? Times Car Rental (FYI- Clark did an awesome job driving on the other side of the road!)
Food? Loved it! We stuck to places around the hotel with of course lots of chicken, fish, rice and noodles… not as much sushi as we thought we'd find. (Funny, they have soup and salad for breakfast)
Traveling with shells? As with all of our trips, we only bring home what will fit in our carry-on suitcases. So yes, we brought home lots of shells with no problems going through security. We didn't however take a big wardrobe so we would have room for our loot. I did take like 5 different shelling shirts (I washed them every night in the tub) but it seems all of my pics have that pink one on- hahah. Maybe thats my new lucky color? Naaaaa- I'll stick to my aqua- ;)
Snorkeling? We snorkeled for maybe 2 hours one day… it was so weird… although it was extremely clear and pretty, we didn't see any shells. I picked up one empty OLIVE- thats it. We saw a few live STRAWBERRY CONCHS which are very common (we called them FIGHTING CONCHS while we were there since they were every where- haha) and then felt like we were waisting time since all of the empty shells were on the beach. Well, and plus- I snorkeled with my waterproof backpack which failed and leaked… with my iPhone with the Lifeproof waterproof case on it inside the backpack… the case failed too. I drowned my iPhone- ugh. That was the end of snorkeling for our trip but trust me- that did not slow me down. iPhone schmiphone- there was no time to worry about that- there were beaches waiting for me to explore!
Check out more info about this trip to Okinawa and lots more photos on ..
Gone Extreme Shelling- Across the World– http://www.iloveshelling.com/blog/2015/06/15/gone-extreme-shelling-across-the-world/
Sea Glass Beach Finds While Beach Combing Okinawa– http://www.iloveshelling.com/blog/2015/07/06/sea-glass-beach-finds-while-beach-combing-okinawa/
Indo Pacific Seashells Of Okinawa Japan– http://www.iloveshelling.com/blog/2015/06/24/indo-pacific-seashells-of-okinawa-japan/