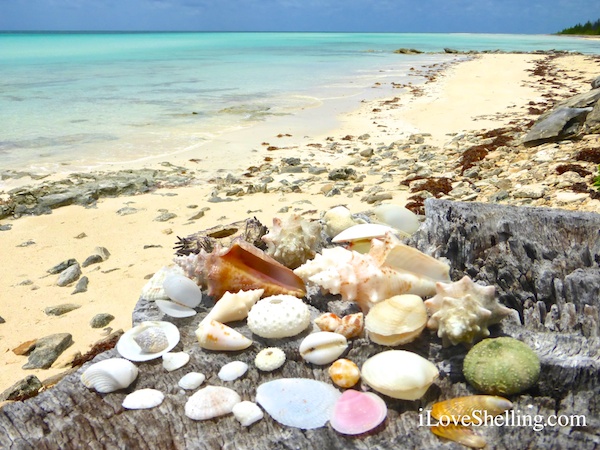 Life is short… go shelling!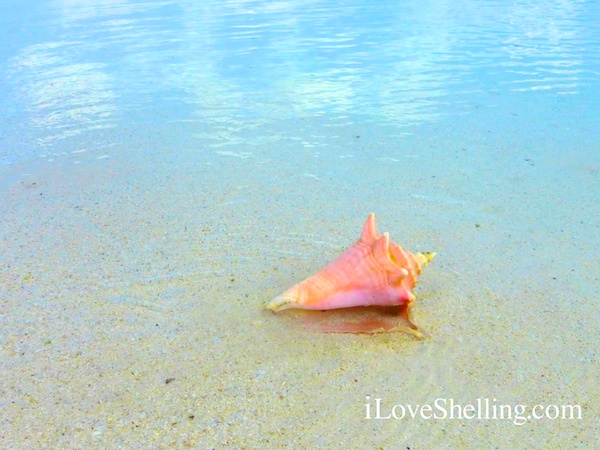 Whenever we get an opportunity to go shelling in a different part of the world, we jump at the chance.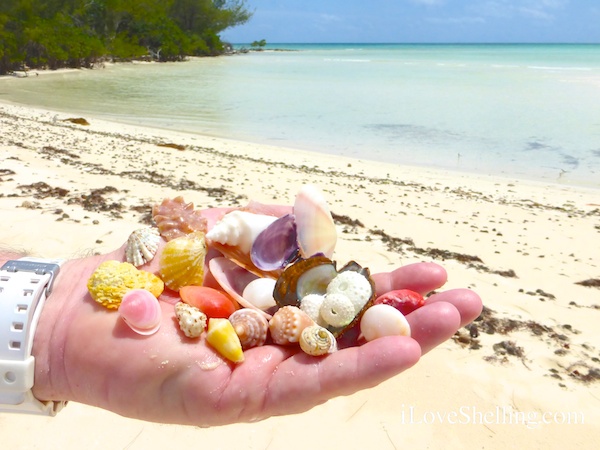 Fortunately, the opportunity to travel to Grand Bahama Island for a shelling trip was just a bonus. My husband Clark is very involved in a service organization called Rotary International which helps create positive lasting change for communities around the world. Grand Bahama Rotarians along with several Florida Rotary Districts met for a conference at the Grand Lucayan Resort in Freeport for several days to … well … do their Do-Gooder deeds. Yep, that's what I call them… Do-Gooders. LOL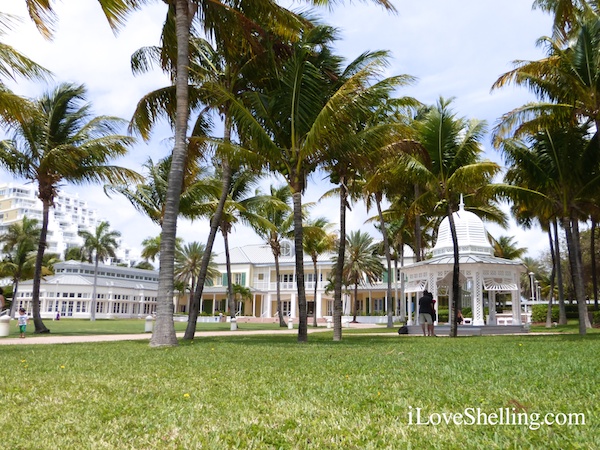 So after the DoGooders finished doing their good work for the world, we stayed a couple of extra days to explore the island for seashells.  At most of the big resorts in the Bahamas,  it seems they clean the beaches every morning to make it look sandier and nicer. For regular tourists, I guess that's a pretty look for them but for beach combers like you and me… we want to see those wrack lines! Yes, they need to pick up the trash left by humans but the beaches are actually much healthier if the beaches stay natural with shells and plant matter remaining on the beach. Needless to say, we didn't find many shells or bling near our resort so we rented a car to find the ungroomed beaches. We didn't have much time to research the best shelling locations so we took a stab in the dark and headed to the east end of the island.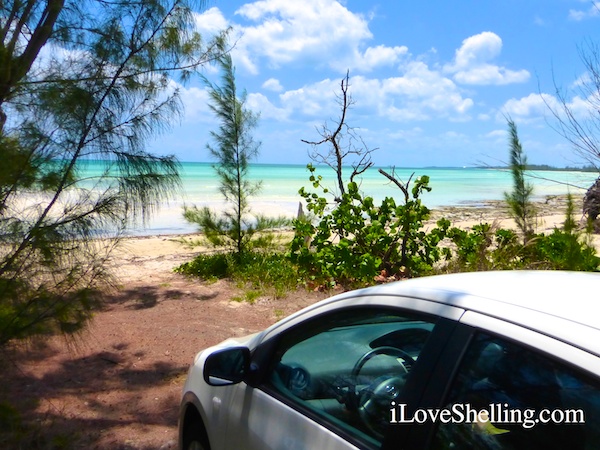 We stopped at several different beaches to find interesting shells and beach bling…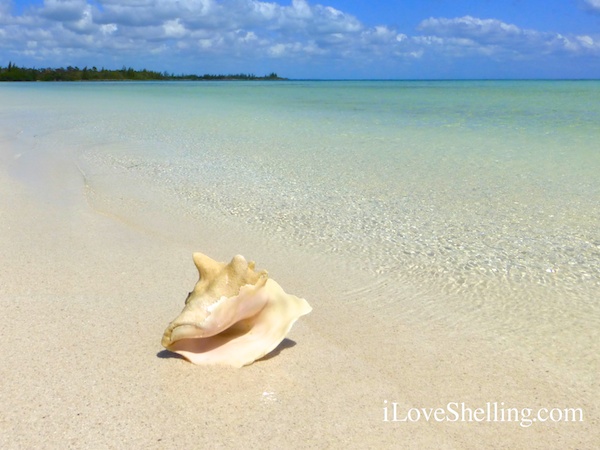 And stopped at every cute little shell shack.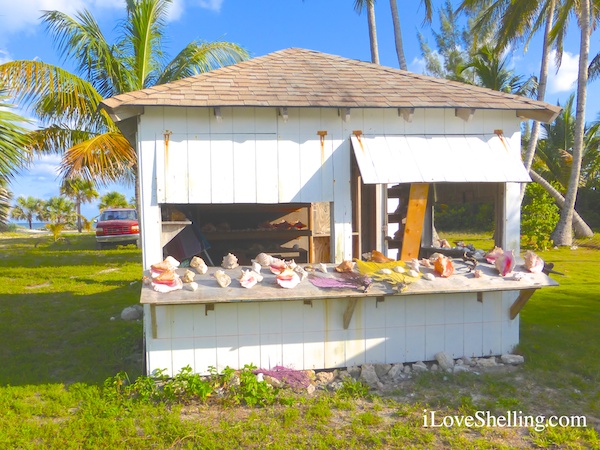 And as luck would have it, we pulled into McLean's Town to this dock…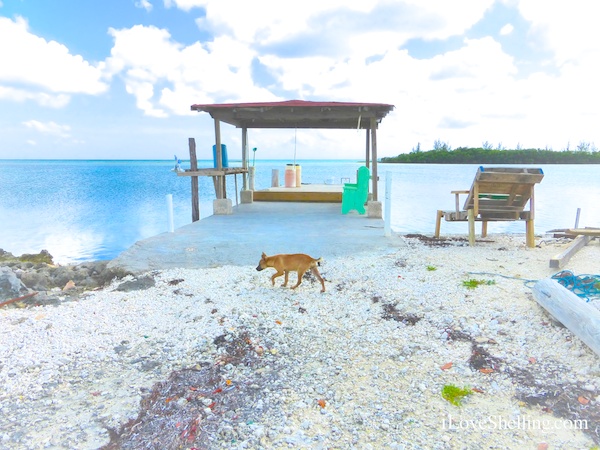 We asked a few of the locals if we could find a boat captain to take us to some of the out islands to find seashells. Oh Yay-ah! We stopped at the perfect place. We found out that Joe-T is the best bone fisherman in town and he introduced us to his son Joe-L who grew up on the water boating to the best beaches and flats areas to find shells. So let's go shelling!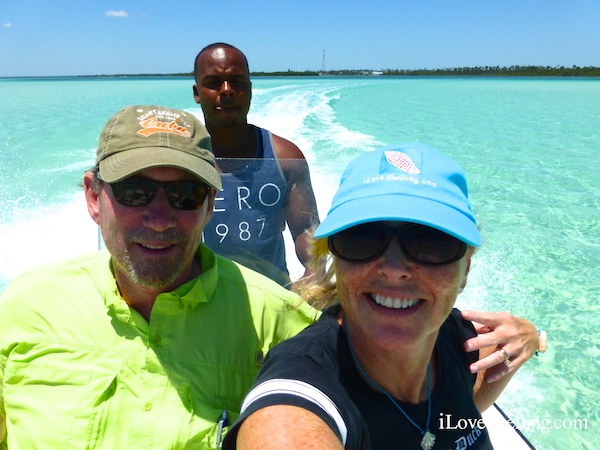 After a gorgeous boat ride, Joe-L pulled up to a sandy beach with lots of wrack lines and rocks.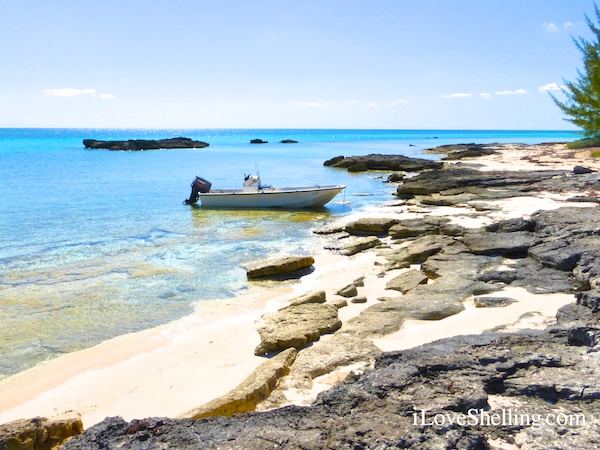 He showed us where to look to find empty shells like this WEST INDIAN CHANK SHELL …. which they call a LAMP SHELL. Nice find Joe- L! (and thanks for giving it to us!)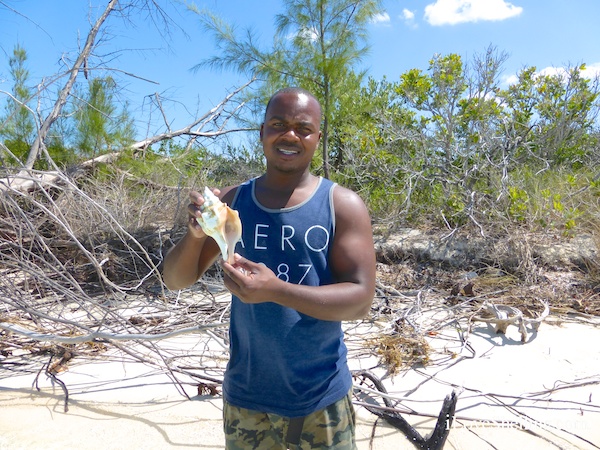 I was over the moon when my first shell of the day was this FLOWERY WEST INDIAN LACE MUREX. My very first one of this species with the brown color form and it was empty!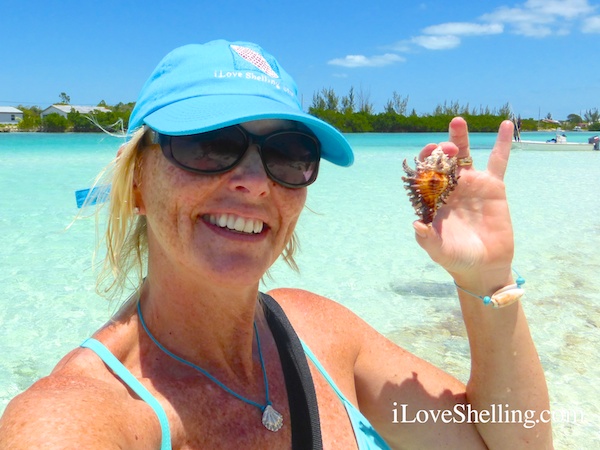 It's perfect and completely empty.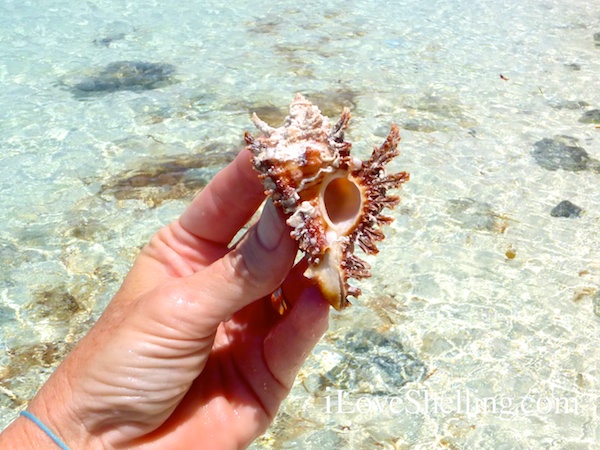 Clark was happiest to find this awesome ANGULAR TRITON. He reminded me right away how much bigger this one is compared to the best one I found in Turks And Caicos last year. heehee – Always a competition and I wouldn't have it any other way.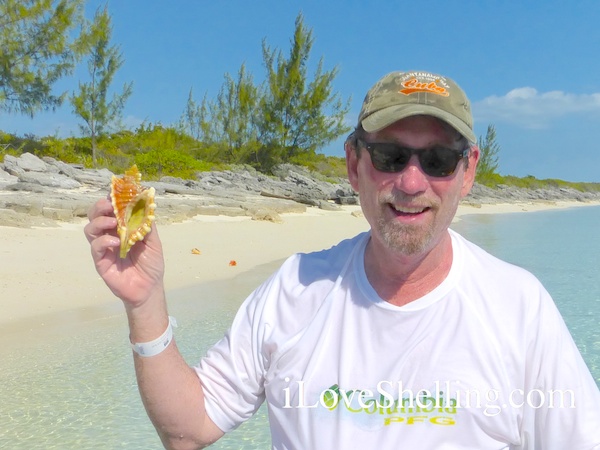 You know I loooove my beach bling so I was thrilled to find this WEST INDIAN CHANK EGG CHAIN washed up on the beach. Look how big it is! It looks like some sort of a sci-fi alien sea creature egg case.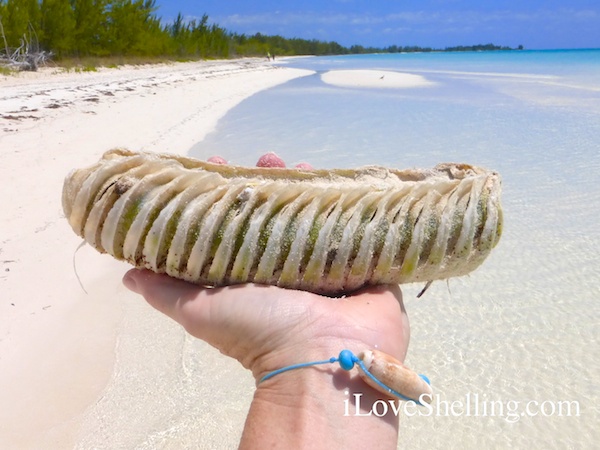 Most of the sacks were empty and filled with sand but I found a few dried tiny juvenile CHANKS inside. Cool!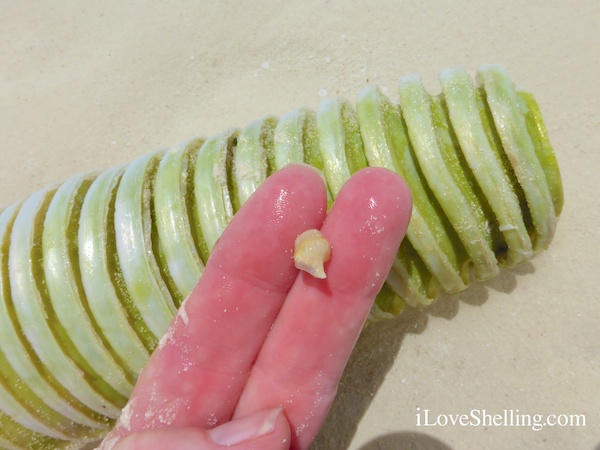 We saw plenty of beautiful fish and other live creatures but it's always breathtaking to see the live CUSHION SEA STARS…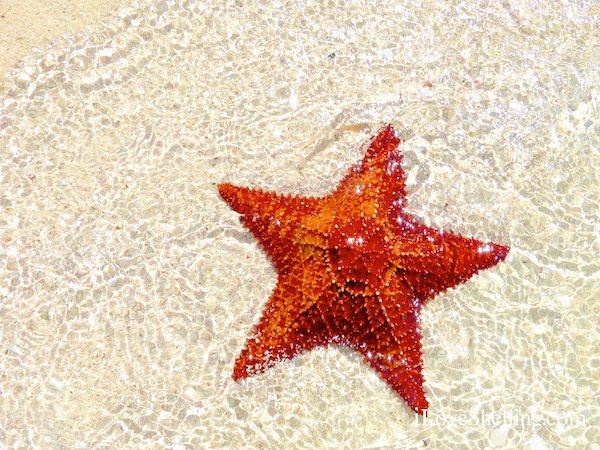 Our boating day with Joe-L was such an unexpected, unplanned delight… it's a shelling trip we will never forget. These are just a few of the many different varieties of shells we found.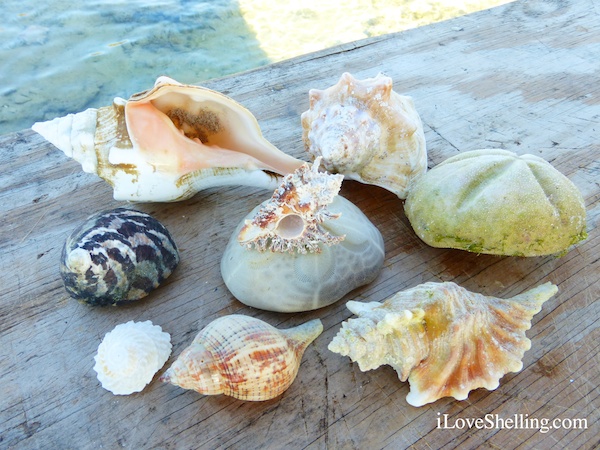 After shelling all day, we were famished. Conveniently, Joe-L's mom Eva has a restaurant at their dock so we stayed for an outrageously good lobster dinner worth every reasonable penny.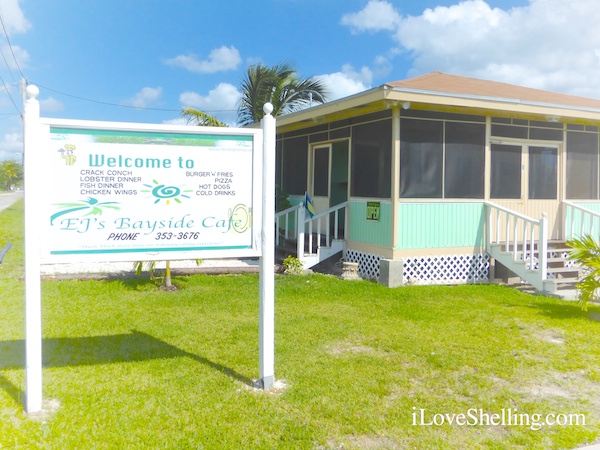 Since this was such a short trip, we didn't have time to check out the west end of the island for shells but I can only imagine we could find some secrets spots there too. It's such a sweet little island I hope we return really soon. Oh and when I get our shells cleaned up and organized, I'll post another photo.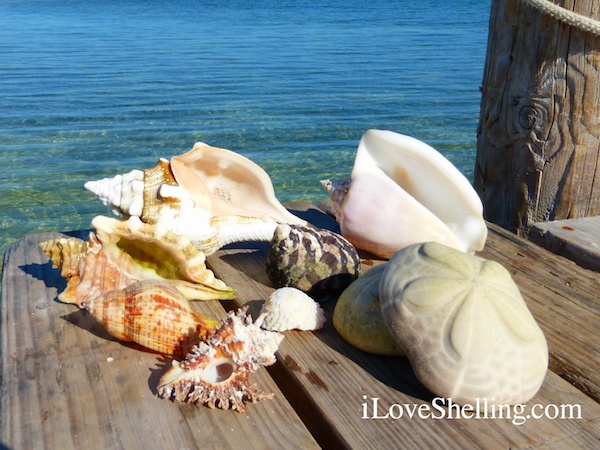 Update- May 11, 2014… Now that we've had time to get home and clean up our shells and BEACH BLING… this is our loot!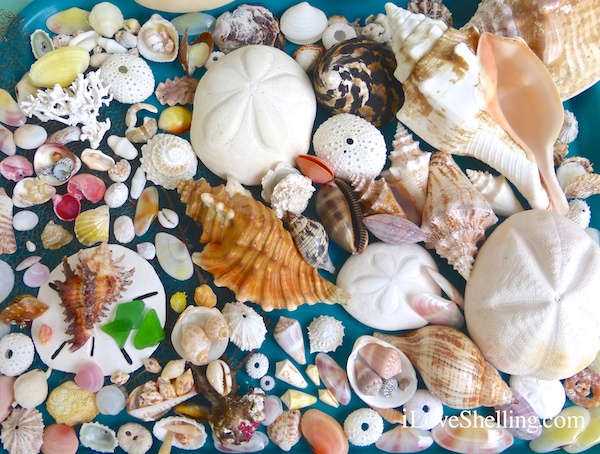 Not bad for 2 days, right? Here's another closer photo of the smaller shells and bling so you can see how many different species we found. They are sooooo beautiful!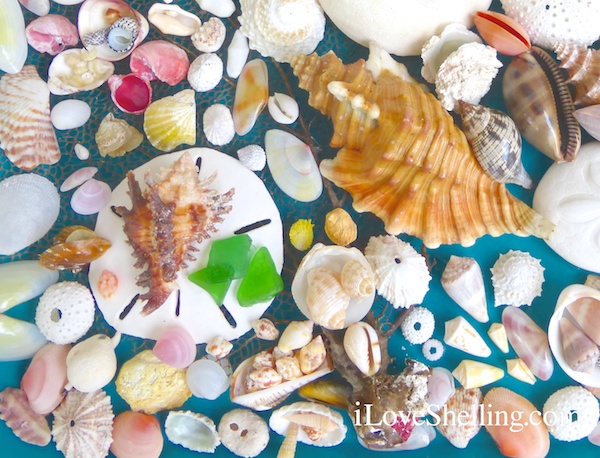 If you decide to go to Grand Bahama Island, this might be useful information…
To reach Joe-L or Joe-T for a shelling trip, here's the email address- baysideexplorers@gmail.com or phone is 242-353-3676 or 242- 375-5219.
The hotel concierge gave me the car rental info Island Jeep and Car Rental– I thought it was reasonable and the car was great. Oh and by the way, the roads are in fantastic shape compared to some of the other islands (like Cat Island and TCI) but you still have to drive on the left side. (I drove the car the whole time- its easy)
The Grand Lucayan was very nice, reasonably priced, had lots of options for restaurants, shopping, etc and only a little over an hour's drive to McLean's Town and even less to the west end.
And before you ask about transportation… we didn't fly over to the island. Part of the Rotary Convention was held on a cruise boat… the Bahamas Celebration. It was pretty cheap for transportation to the island from the Port of Palm Beach but Clark and I aren't really overnight cruise boat kind of travelers. We want to get where we are going … so we could have skipped the cruise boat if it wasn't part of the organized group. Next time, we will find a fight or maybe even check into the Fast Cat which isn't an overnight cruise.
Hope you enjoyed the cyber trip to the island, mon!