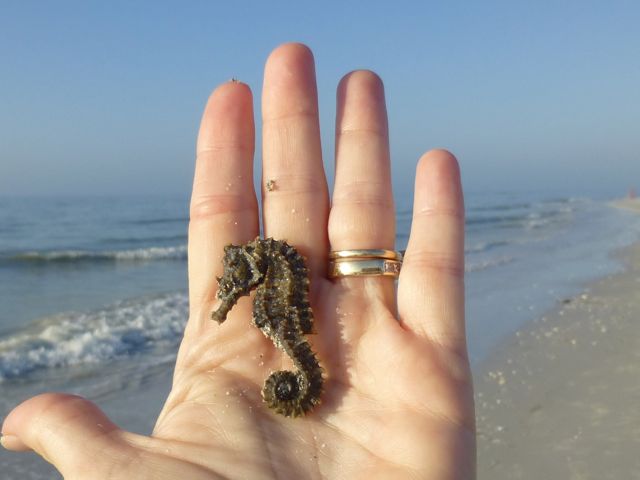 I found a SEA HORSE! It was laying in the sand near some washed up sea grasses at Gulfside City Park. Yep, just laying in the sand and I screamed when I saw it. haha
I wanted to show my friend Diane where those little tiny SAND DOLLARS (sand "dimes") were that I found the other day on my post Uber Cute Sand Dollars To Dimes . Unfortunately, we didn't find the SAND DOLLARS but I did get to see Diane's friends Cathie and Mary from St Louis, Wendy from The Keys and cutie Callie on the leash.
Since we didn't find the minis, we started looking through all of the BEACH BLING. Wendy found a CRUCIFIX SHELL! She's an experienced sheller so she  knew immediately what it was when she saw it.
We were also finding MERMAID'S PURSES (SKATE EGG CASES). Sckeppy told me the other day "I've heard of skate egg cases being called "sailor's purses", with the observation that they are usually empty!".
We found so many other EGG CASES as well! From left to right… a PEAR WHELK, LIGHTNING WHELK, PAPER FIG, BANDED TULIP and TRUE TULIP. We coudn't find a TRUE TULIP to put under the egg case but we found half a BANDED TULIP to put underneath the EGG CASE (that grew around some sort of stick).
So when you see all sorts of BEACH BLING lining the beach, always look for special treasures like this SEA HORSE !
There's always something to new to see and always new awesome friends to meet…