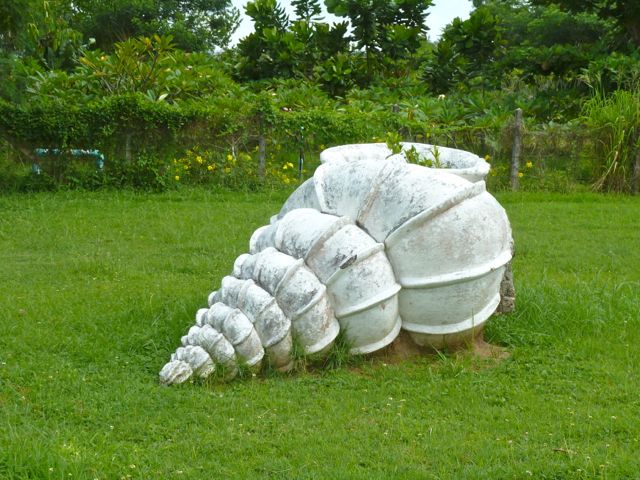 On our trip to Thailand, we not only found seashells on the beaches, we found shells adorning the yards on the island of Phuket. We were very fortunate to be invited to the home of  international shell enthusiast Tom Rice who now lives in Phuket. As we arrived to his house, I was thrilled to see his garden lined with "yard shells". I love to line my plant beds with old large shells too!
Tom is from Port Gamble, Washington where he opened Of Sea And Shore which is a shell museum exhibiting some of his collection over the past 50 years during collecting trips to more than 40 countries and through exchanges with collectors and purchases from dealers around the world. If "Of Sea And Shore" sounds familiar, he used to publish a magazine by the same name. The museum is still open but Tom moved to Rawaii Beach on Phuket about 10 years ago and seems to have found a pretty good island life.
Not only does he have shells in his museum, he has shells he hasn't even finished identifying, organizing or cataloging. This is just one cabinet of shells! LOL He has so many shells, he is now selling his precious collection. To see his list CLICK HERE.
After having a great time talking shells and island life, Tom had a surprise for us so we hopped on the local transport- the Song Taew.
It's really just a covered bed of a pickup truck with a couple of benches but it's the cheapest way to get around….if you have lots of time to wait for it to just "happen" by.
Our surprise? He gave us a tour of the Phuket Seashell Museum! Tom's friends, the Patamakanthin brothers opened this privately owned museum about 12 years ago.
Both Clark and I were surprised to see that there are over 2000 species on display. That's a heck of a collection of shells!
Have you ever heard of a GOLDEN PEARL?
Neither had we until we saw this very rare MELO MELO PEARL that is not produced by an oyster but from the Melo melo or the common name BAILER SHELL. It got the common name because the native fishermen use it to bail out the water in their boats by scooping it out with this shell. They DO look like big scoops! Check them out…
Remember Clark found a SPOTTED TUN? Well, holy smokes! Look how big some of these different TUNS can get…
More shells, more eye candy…
 Oh you know I love my wormies!
Look at these gorgeous WORM SHELLS from the Philippines…
 We can't thank you enough Tom, for such a wonderful day! We would never have gotten to meet if it wasn't for our good friend MurexKen for introducing us to Tom… a BIG thank you to MK for being so thoughtful. It made out trip even more enjoyable.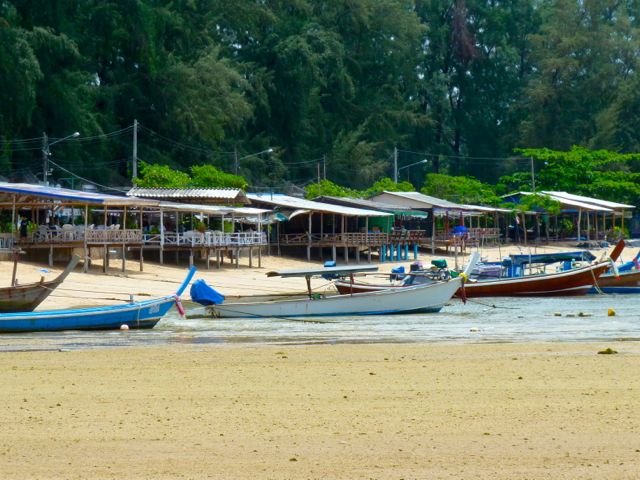 PS-  It has been storming in Florida all weekend with Tropical storm Debby and she will be pounding us for even another couple of days. Right before the lighting show began, Clark and I scoured the Sanibel beaches but we didn't see loads of shells yet.  Lightning storms are not the time to be on the beach shelling so when Mother Nature stops with her thunder warnings and things calm down a bit, I'll give you another report. Until then, I'll show you CONES and MUREXES we found on our Thailand trip on my next post. (well, unless I have a local report that can't wait!)