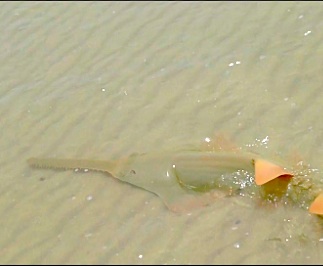 Can you believe we saw that SMALLTOOTH SAWFISH on Kice Island and were lucky enough to get video? Check it out!
And don't worry, it's not a SHARK! It's part of the shark family but it is more like a modified RAY with a very cool nose. It's a close relative to the COWNOSE RAYS I videod in 2010 (click HERE). The SAWFISH use their "saws" to probe the sand or mud in shallow waters using electrical fields to detect, locate, stun, and kill fish or mollusks (no humans!). We felt so lucky to have seen this while we were visiting Marco, Florida for several  hours especially now that I found out that it is an endangered species. So if you ever see a SAWFISH too, make sure he stays happy and healthy so it can produce more babies so we don't lose this extraordinary creature.
PS- I reported this to the National Sawfish Encounter Database which I found on Mote Marine Laboratory's website. Please report any encounters with SAWFISH by clicking HERE.